The Russian Ambassador has told an Oireachtas committee that there is an "almost daily drumbeat of so-called imminent Russian invasion of Ukraine", when there are no facts on the ground to support that invasion "fantasy".
Yuriy Filatov appeared before the Joint Committee on Foreign Affairs and Defence this evening.
He said there was absolutely no reason for Russia to invade Ukraine, and the dangerous game of "shadow boxing" is being driven by Western political agendas, and risks causing a "catastrophic" event.
"The most pressing issue facing Russia, Europe and beyond is the threat to Russian national security resulting from the eastward expansion of NATO," he said.
This "is unacceptable and has to be dealt with," he added.
Russia has "legitimate and reasonable concerns", Mr Filatov said, as NATO aims to "contain Russia" and has "expanded 1,000km eastwards" in a bid to "achieve military supremacy in all spheres".
Russian Ambassador Yuriy Filatov has told an Oireachtas committee that there is an "almost daily drumbeat of so-called imminent Russian invasion of Ukraine", when there are no facts on the ground to support that invasion "fantasy" | https://t.co/6a3l6EkgYN pic.twitter.com/gHavLX4EEz

— RTÉ News (@rtenews) February 2, 2022
NATO conducted 15 drills in the Black Sea last year, almost double the number in 2020, he said, and he warned that the "irresponsible policy" of expansion "increases the risk of armed conflict".
"Security can either be, one for all or none at all", he said, and cannot apply exclusively to members of NATO.
The most important thing the West can do to secure peace in Ukraine is to force the Kyiv government into implementing the Minsk Agreement, Mr Filatov said.
The ambassador told the committee that there has been no build-up of Russian troops on its border with Ukraine, and that Russia does not trust "any US intelligence pointing to the contrary".
The Russian troops "are in positions of permanent deployment" on Russian soil, he said. There "have been no escalations over recent months".
Mr Filatov said: "There is no question, Ukraine is an independent sovereign state.
"By any means war is not in our plans and if there is a war it is not because of Russia. Our way of doing things is by dialogue."
Mr Filatov told the committee that Russia is being subjected to an "intelligence, propaganda, disinformation campaign".
He accused certain Western powers of inciting radical nationalism and anti-Russian sentiment in Ukraine, in order to provoke instability in the region.
Ireland can play "a distinctive" role because of its independent perspective and the principles it shares with Russia which make it a "force of good", the ambassador said.
He asked Ireland to help to generate dialogue, and "to tone down rhetoric", and not to "share verbal shells".
The only result of aggressive headlines, warning of sanctions, and saying "We will crush Russia", is to spoil the atmosphere and to hamper progress, he said.
In relation to proposed exercises off the Irish coast, Mr Filatov said that they were "not a big deal" and "no message is involved here to Ireland or elsewhere".
He added that two ships are "not enough to send any message" and that the drill was planned "two years ago".
Mr Filatov said there were no "frantic" exchanges with the Irish Government.
Last Saturday, the Russian Embassy confirmed that the proposed exercises were to take place outside Ireland's Exclusive Economic Zone. The exercise was due to get under way tomorrow.
We need your consent to load this rte-player contentWe use rte-player to manage extra content that can set cookies on your device and collect data about your activity. Please review their details and accept them to load the content.Manage Preferences
No military exercise in Russian drill, committee told
Russia's planned naval drill which will not now involve a military exercise, an Oireachtas Committee has heard.
The Irish Aviation Authority (IAA) has told the Oireachtas Transport Committee that it had previously been informed by Russia that it planned to engage in "artillery firing and missile firing" up to 11,000 meters into the air.
Yesterday, the IAA was informed by its British counterpart - NATS - that Russia now plans a "sea-going exercise" only, that will not involve any air activity, although the exact time and place for that is not known.
Peter Kearney, CEO of the IAA, said the authority was not notified of the cancellation until Monday, when it was informed by its British counterpart.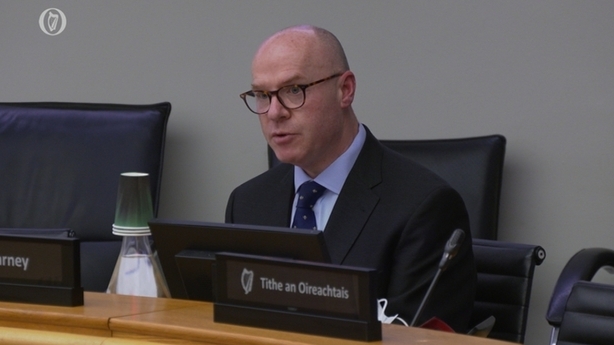 "We followed up with the UK because we had some questions in relation to it," he said.
"They made some queries and the information that came back was that the next part of the exercise would be a sea going exercise. They have been formally advised, they don't know what date that will take place," he said.
Earlier, the Fianna Fail TD Cathal Crowe criticised Minister Coveney's handling of the issue, saying he "could and should have done a lot more on this".
He said: "Rather than thanking the Ambassador for his friendly withdrawal of this ballistics test, I think we should be far more robust as a nation.
"I don't think we should be tipping our cap all the time to larger nations and be bullied in the school yard of geopolitics."
Fianna Fáil Senator Timmy Dooley said he was "somewhat surprised" that there wasn't some communication between the board of the IAA and the [Russian] ambassador" to discuss the issue when it arose.
Mr Kearney said that the IAA currently handles around 800 aircraft a day, down from 950 in 2019 before the pandemic hit.
Committee Chairperson Kieran O'Donnell, Fine Gael, and Senator Dooley paid tribute to the fishermen who spoke to the Russian Ambassador, and to Minister Coveney.
Additional reporting Mary Regan