Russia is to relocate planned military drills so they take place outside Ireland's Exclusive Economic Zone, the Russian Embassy has confirmed.
Ambassador Yury Filatov said in a statement: "In response to the requests from the Irish government as well as from the Irish South and West Fish Producer's Organisation, the Minister of Defence of the Russian Federation Sergey Shoigu has made a decision, as a gesture of goodwill, to relocate the exercises by the Russian Navy, planned for February 3-8, outside the Irish exclusive economic zone (EEZ), with the aim not to hinder fishing activities by the Irish vessels in the traditional fishing areas."
The Irish Aviation Authority said that its notice to civil aviation remains in place until it is officially advised of new locations of ships from Russian authorities.
Minister for Foreign Affairs Simon Coveney earlier said Russia would relocate the drills, and tonight said that he made the case to Russia that Ireland would "appreciate" if their planned military exercises took place away from the EEZ.
"We've had a lot of contact with the Russian embassy this week and we decided to write to the Russian Ministry of Defence to ask them to consider moving or delaying the military exercises out of Ireland's Exclusive Economic Zone."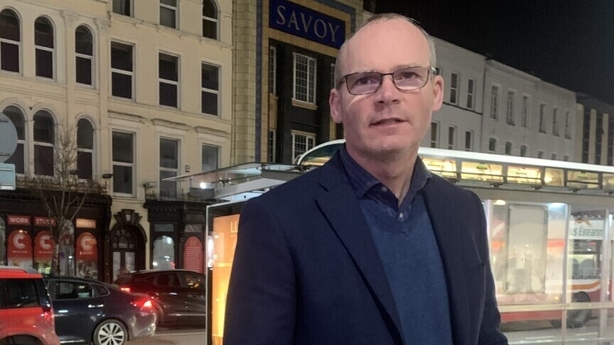 "Clearly the intention to have military exercises there was causing unnecessary tension. Fishermen quite rightly highlighted that this is a very active fishing ground so I made the case clearly and strongly to them that Ireland would appreciate if these military exercises moved away from Ireland's Exclusive Economic Zone and would be delayed if possible.
"We don't know where they plan to have military exercises, but it certainly won't be in international waters that Ireland has responsibility for."
He said going forward Ireland would try be a voice for compromise to help avoid a war between Russia and Ukraine describing any conflict as potentially being the largest land war in Europe since World War II.
"There is a much bigger issue of course at play in the context of Ukraine. We have been involved, as indeed every European country has, in trying to find a way to resolve differences through diplomacy and through political dialogue rather than war.
"It would be an extraordinary loss of life, first of all, in the context of a full-scale land war but also I think the politics and relationships between the European Union and Russia would be so badly damaged by that, that I think that is an aspect we don't want to see in any circumstance.
"Our focus is on diplomacy, on talking, but I think the Irish issue, if you want to call it that, in terms of Russian military exercises in our Exclusive Economic Zone for now at least is an issue that has moved off centre stage which is a good thing."
We need your consent to load this rte-player contentWe use rte-player to manage extra content that can set cookies on your device and collect data about your activity. Please review their details and accept them to load the content.Manage Preferences
Earlier, Independent TD and former army ranger Cathal Berry had joined calls for politicians to monitor the Russian military exercises off the south west coast next week.
The Kildare South TD said this would be essential to ensure the Dáil and Seanad had accurate information about the Russian training.
Before this evening's announcement from Mr Coveney, the military drill was set to take place in international waters - but within Ireland's exclusive economic zone - 240km off the southwest coast.
Senators Gerard Craughwell and Diarmuid Wilson had said that they wanted to partake in a monitoring mission on board an Irish naval vessel.
Minister of State Damien English told RTÉ's Saturday with Katie Hannon that he was unsure what such a mission could achieve.
However, Mr Berry argued it could gather vital information which would then be put to the Russian authorities.
The TD said the "live fire exercise" organised by Russia means that everyone will have to stay away from the area inside what is termed the "red manoeuvre box".
He added that this area is very close to the world's highest capacity underwater cable connecting Europe and North America.
"This is the Achilles' heel and Ireland does not have any military radar to monitor what is happening," he said.
The TD argued that Russia was letting the US and the EU know what it would do in the event of a major conflict.
Meanwhile, the Chairman of the Oireachtas Foreign Affairs and Defence Committee said he is hopeful the Russian Ambassador will appear before the committee soon.
Charlie Flanagan said he fully acknowledges that no ambassador is accountable to the Irish parliament.
"But there are issues of significant public interest, both national and international, that I feel the committee should be briefed on. In that context I am hopeful that Mr Filatov might attend," he said.
Additional reporting from Conor Kane