A 16-year-old boy from Cork, who has Cerebral Palsy and scoliosis, has said he lives in constant physical pain as he waits for an operation.
John Cronin from Crosshaven has said he is worried for his future and cannot enjoy sport anymore.
Speaking to RTÉ News, John said: "Powerchair football is the only sport I play and I find now that it is hard to play it or I can't even play it because of the pain I get when I'm in the chair.
"Also I'm getting pain while I'm in school and I'm just saying what's coming next I'm worried for the future.
"I feel very worried because I feel it's going to continue and it's going to get worse and it's worse enough as it is."
John's orthopaedic surgeon Pat Kiely said in February it was "imperative" that his surgery was carried out within six months.
But John's mother Mary Cronin said he has yet to receive a date for surgery and has had a number of pre-operation appointments cancelled.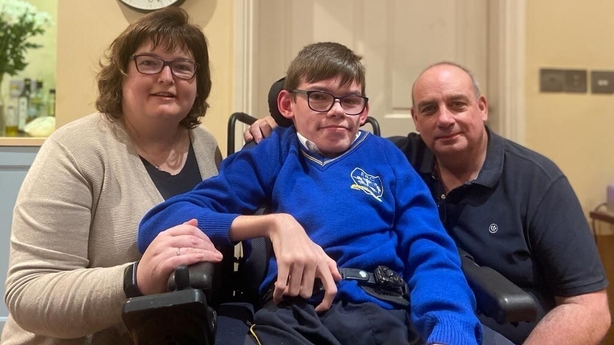 "If he is not operated on within six months we could be dealing with a severe deformity and huge complications for John so we feel hugely frustrated and absolutely worried now," she said.
It comes as an Oireachtas committee heard that around 200 young people are currently waiting for operations for scoliosis.
'Dishonest' to blame pandemic for child surgery delays
A leading paediatric orthopaedic surgeon has said it is "dishonest" to blame the Covid-19 pandemic and the cyber-attack on the HSE for children waiting long periods for surgery.
Connor Green, who carries out scoliosis surgery at Cappagh and Temple Street hospitals, said the care of children with scoliosis Ireland is inadequate.
He told the Oireachtas Committee on Health that those factors made it "more challenging", but "the problems were already there" well beforehand.
Mr Green said while the care of children with scoliosis is inadequate, "the care of children with other orthopaedic conditions is just as bad.
"This is alarming when I tell you that scoliosis only represents about 20% of our practice. Therefore, the real crisis is everything else."
This includes children with Spina Bifida, who "while waiting for surgery have gone from walking independently to wheelchairs, from full-time school to home school and from wearing shoes to open sores".
Mr Green said it also includes children with cerebral palsy "the majority of whom should be able to live independently and through their abilities improve Ireland of the future".
Instead, he said: "Treatable foot and hip deformities are progressing until children live in daily pain; thus losing their education; losing their future and making Ireland a lesser place."
There are currently 203 children on waiting lists for scoliosis-related procedures at Children's Health Ireland (CHI) which includes Crumlin, Temple Street and Tallaght children's hospital.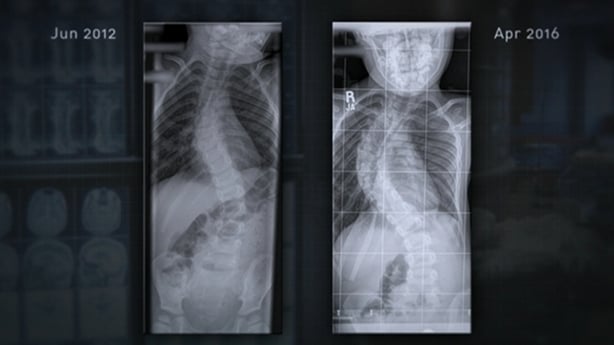 Orthopaedic surgeon Professor Damian McCormack told the committee that children should not have to go abroad for treatment.
He said some Irish surgeons are the best trained on the planet and the country should be proud of that.
"We should be embarrassed if any children have to go abroad. We should be better than that. It should be a manifestation of a healthy system if nobody has to go abroad," Prof McCormack said.
He said the problem was insufficient staff numbers, including nurses and consultants, and making theatre capacity available.
Prof McCormack said there are no paediatric orthopaedic surgeons in the west or the northeast, there are two in Cork and none in the midlands.
"We are significantly deficient in skilled, appropriately trained orthopaedic surgeons," he said.
Consultants prefer to go into adult private surgery "where it is easier and less competitive", he said.
The issue, he said, is that doctors have to train in adult orthopaedics first and then go on to train for paediatric surgery.
"A very small number will go on and do what I would say is the most difficult sub-speciality within orthopaedics, which is paediatric orthopaedic surgery. It is a difficult, technical area. So the majority don't want to. The solution to that is we separate from the adult training programme and we train our own," he said.
Professor McCormack also described how, three years ago, he started carrying out surgery at weekends for which he was not getting paid but nursing staff were.
But, he said, that was stopped for "bureaucratic reasons" and instead, theatre is being used five days out of seven.
Chief Executive of Children's Health Ireland Eilish Hardiman said the annual target of 382 spinal treatments in children was "decimated" due to Covid in 2020.
While progress was made to recover activity in 2021, she said, "the cyber-attacks in May severely impacted services".
Ms Hardiman said waiting times for scoliosis surgeries in children "have deteriorated primarily due to Covid".
"We apologise for any additional stress or strain this causes for children and their families," she added.
National scandal that children 'left in agony' waiting for scoliosis surgery
Social Democrats co-leader Róisín Shortall has described as a "national scandal" that children waiting for scoliosis are being "left in agony".
She said the "main problem" with the provision of paediatric orthopaedic services is that the public health service is in competition with the private sector.
Speaking on RTÉ's Today with Claire Byrne, Ms Shortall said: "It's a very disturbing session that we are having here this morning, hearing the detail of the scale and nature of the problems that so many of our children are facing and their parents also obviously."
She said that children are being "left in agony" and it is a "national scandal and no other way of describing it".
Ms Shortall said that "it's about how our health service is organised and how it is run", adding that Prof McCormack "provided a very refreshing and impressive analysis of why we have these problems".
He explained that the "main problem is that we are competing with the private sector," she said.
"The private sector is taking both consultants and nursing and other support staff. They are competing with the public service for that and they seem as if they have open access to public health."
Ms Shortall added: "We have 12 paediatric orthopaedic consultants here - we need 21." She added that paediatric orthopaedics are "competing" with adult orthopediatric services.
Additional reporting Mary Regan