The Government is aiming to pass a single piece of legislation before Christmas that would combine the public health measures scheduled to expire on 9 February.
The measures include the requirement to wear masks in certain places and the rules around Covid passes for hospitality and international travel.
A Government spokesperson said the legislation is to ensure the State can react to the pandemic and Government would not look to have these additional powers for longer than necessary.
However, it does raise the possibility that the measures could be extended at some point beyond 9 February.
Sinn Féin health spokesperson David Cullinane said tonight that his party would study any new legislation, but would not give the Government a blank cheque.
Earlier, the Taoiseach told Cabinet colleagues that Covid-19 rates across the country are high and have been increasing at a concerning rate, especially in the 19-24 age group.
The growth rate of cases is currently estimated at an average of 3.3% a day.
There is a risk of increased serious illness, though the booster roll-out in older age groups will help reduce this, ministers heard.
But there was a fall in the ratio of case numbers that translate into hospitalisations from 35 admissions per 1,000 cases to 25 in recent weeks.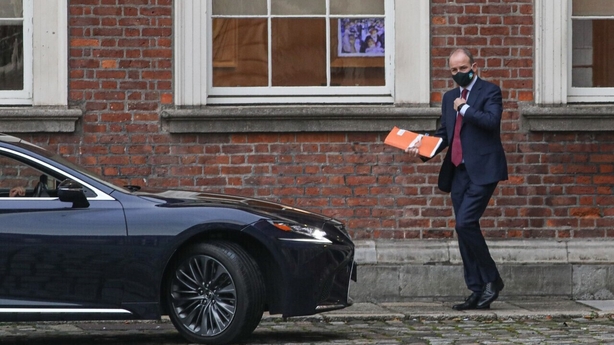 However, the Government believes it is too early to know if this is an established trend and it could be because of case numbers in younger populations and boosters for older age groups.
The Cabinet was told that even in optimistic scenarios, numbers in ICU are unlikely to fall below 50 until December at the earliest, and could rise again.
In regards to the vaccination programme, the booster campaign for long-term residential care facility residents is now substantially complete.
Booster vaccinations for those aged 80 and older living in the community is expected to be close to completion by mid-November, with 129,000 completed to date.
This is being done mainly by GPs and community vaccine teams for the housebound.
As of 31 October, an estimated 43,000 people of the 73,000 identified as being immunocompromised had received their booster.
The HSE's operational plan for those aged 60 to 79 is under way with the 336,000 in the 70-79 group set to get boosters from a GP.
Those aged 60-69, around 475,000 people, will be done in vaccination centres by the end of December.
There was also information presented around compliance with the most recent Social Activity Measure survey showing more people reported not getting their Covid certificates checked when dining indoors.
The HSA carried out 645 compliance checks between 26 July 2021 and 29 October 2021.
It found 96% of indoor venues were in compliance, with 14% of them requiring additional measures and 4% were non-compliant.
The HSE undertook 11,948 compliance checks up to 29 October and of those 7318 were completed.
Some 70% were in compliance, 3% non-compliant and 27% needed further compliance measures.