Fianna Fáil TD Barry Cowen is understood to have told a meeting of party colleagues that party leader and Taoiseach Micheál Martin cannot take his position for granted.
The former Minister for Agriculture made the remark during the Fianna Fáil parliamentary party think-in which is considering a lengthy internal review into its past performance in Co Cavan this evening.
Mr Martin has told his party at the meeting that it must attract more young people into supporting the party by emphasising how it wants to make the country more progressive.
Earlier, the Taoiseach said Fianna Fáil needs to learn the lessons from last year's general election and align itself "with the emerging modern Ireland of the 21st century."
He said his party's immediate priority had to be "implementing the programme for government" because "our membership... want us to deliver."
He said it was important to note that there had been an "unprecedented investment" in health and housing over the past twelve months.
Fianna Fáil TDs and Senators are now examining Junior Minister Sean Fleming's review of recent performances in General and European Elections, which has had input from 2,700 party members.
An analysis of the 2020 vote said that a majority of members aged under 65 believe that Fianna Fáil does not have a distinct identity.
It found something akin to an identity crisis that stems largely from the confidence and supply agreement that pushed the party too close to the last government.
The review stated that many voters felt Fianna Fáil had become indistinguishable to the party in government.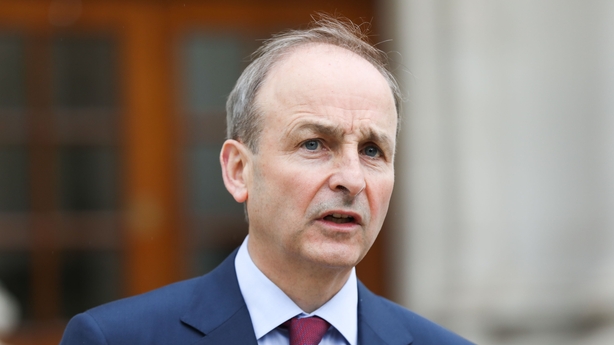 Many Fianna Fáil TDs and Senators arriving for the meeting were reticent to speak, although one TD who has in the past been critical of the party leader did voice confidence in Micheál Martin this morning.
Cork East TD James O'Connor said today will offer a chance for productive discussions.
While critics of the party leader are expected to voice their feelings vociferously, the author of the internal review, Minister of State Sean Fleming, said he did not expect anyone to challenge Mr Martin's leadership today.
"I don't see any prospect of that happening," he said.
Taoiseach Micheál Martin says Fianna Fáil has lessons to learn and the party must align itself with the emerging modern Ireland | https://t.co/uYPqdmW3RR pic.twitter.com/TgsheirmOQ

— RTÉ News (@rtenews) September 9, 2021
Speaking to journalists on his way into today's meeting, Taoiseach Micheál Martin said he accepted that the confidence and supply deal with Fine Gael "proved problematic towards the end".
However, he argued that Fianna Fáil "... did put the country first, because of the Brexit situation that had arisen."
Regarding ongoing questions about Fianna Fáil's identity, Mr Martin said that he was "very clear" that they were "... a pro-enterprise pro-European party".
He said: "We believe in strong state involvement in public services, particularly around the equality of opportunity as manifested in our historic contribution to education, down through the decades, health and house building."
He added: "For me, as a person who grew up in a working-class area in Cork, we saw that Fianna Fáil gave us opportunity.
"My family - we were the first generation to get second level education. We were the first in our family to go to third level education.
"That, to me, summed up in essence of what Fianna Fáil was about."

On his own future, Mr Martin confirmed his intention to become Tánaiste, after stepping down as Taoiseach at the end of next year as per the deal agreed upon entering Government.
He said: "I will be taking-up the position of Tánaiste. We have entered a coalition Government. We have made commitments in respect of that, and we're going to follow through on those commitments."
Senator Lisa Chambers has said that there are "lots of positives" being discussed at today's meeting.
Speaking on RTÉ's Drivetime, Ms Chambers said the meeting has been "going very well".
"It's been brilliant actually to get back with colleagues face-to-face. We haven't done that in a very long time and we haven't had a chance to have that retrospective on the election from last 2020," she said.
"We've just completed the presentation by Sean Flemming and there were a lot of positives to take away from that."
She added that Mr Martin told the room that the party is "doing well in Government".
Additional reporting by Mícheál Lehane