Tánaiste Leo Varadkar has said that criticism of how the Government has been communicating is reasonable, has been heard loud and clear, and will be taken onboard.
He made the comment when addressing a meeting of Fine Gael TDs, Senators and MEPs tonight where there had been significant disgruntlement over how the coalition was articulating its message.
It's understood there was some sharp criticism of both Taoiseach Micheál Martin's speech yesterday, as well as the recent media performances of the Minister for Health Stephen Donnelly.
Mr Varadkar also told the meeting that everything must be done not to jeopardise the safe return of schools and childcare, adding he was hopeful of what the future would bring.
On the vaccine roll-out, Mr Varadkar expressed confidence that 100,000 vaccines a week would be administered in March, more than 250,000 a week in April and heading towards 300,000 in May and June.
At the Fianna Fáil parliamentary party meeting, concern was also expressed about coalition communications but this time the Tánaiste Leo Varadkar was the subject of some criticism of today's Morning Ireland interview.
Concern was also expressed that Mr Donnelly was overloaded with work.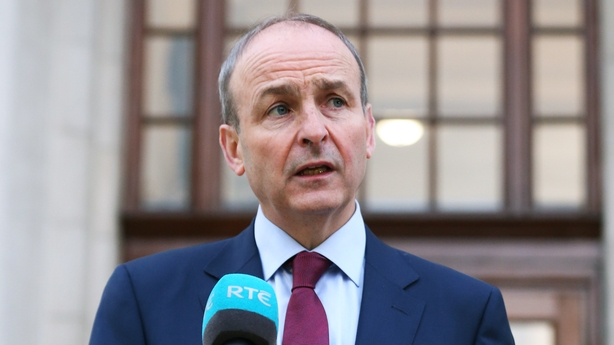 Taoiseach Micheál Martin told his TDs, Senators, and MEPs that he realised the current situation was very challenging for people due to prolonged Level 5 restrictions which is leading to stress and anxiety.
However, he said that the Covid-19 variant B117, which was first identified in Britain, was driving the cautious approach of both the Government and NPHET.
The Taoiseach said its transmissibility was a significant factor leading to longer stays in hospital, more severe illness - adding household close contacts had gone from one-in-five to one-in-three.
He said that the vaccination programme was having both a positive and dramatic impact on infections in hospitals.
At the meeting there was also strong support for a motion, which was passed, on the need for a public service obligation for An Post to support post offices around the country.
Some called for the Government to see if there were countries which might be prepared to advance additional vaccine supply to Ireland - especially given some manufacturers were not delivering on time.
The provision of additional vaccine centres, providing assistance to carers to get shots earlier than currently planned, and supports for the hospitality sector were also discussed.