At the beginning of this Dáil debate, the focus was on Helen McEntee. By the end, it was all about Leo Varadkar.
The Tánaiste is drawn into this controversy which, you might forget, began when the Government's newly appointed Supreme Court judge Séamus Woulfe attended a controversial Oireachtas golf society event in August.
That saw other attendee Dara Calleary lose his job as Minister for Agriculture, while Phil Hogan stood down as EU Commissioner.
Then, attention turned to Séamus Woulfe and how he was appointed by the newly formed Government.
Today, the Minister for Justice outlined a previously unknown informal exchange she had with the Tánaiste in which Leo Varadkar volunteered that he felt "Seamus Woulfe would make a good judge".
That disclosure was combined with the minister stating there were "no specific criteria" when it came to judicial selection and so she used her "own judgement".
That wasn't necessarily new. It was certainly widely suspected, but the phrasing was stark.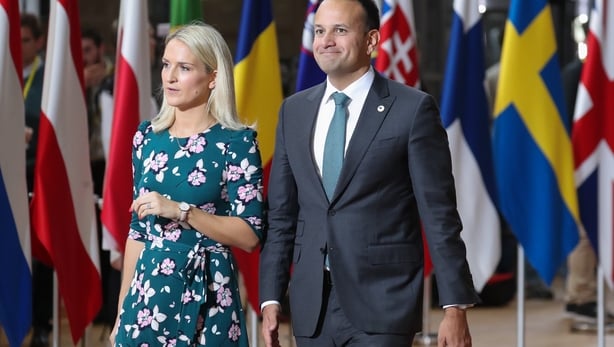 For the opposition, this means this row is going to roll on, rather than dissipate due to the following facts:
Leo Varadkar, as outgoing Taoiseach, informed his soon-to-be-successor Micheál Martin that former Attorney General Seamus Woulfe had been vetted by the Judicial Appointments Advisory Board
Leo Varadkar, as Tánaiste, proposed Helen McEntee as Minister for Justice
Leo Varadkar informally told the new Minister for Justice that Mr Woulfe would make a "good judge"
That advice from Leo Varadkar was taken on board, according to the Minister for Justice
And, using her own judgement, Mr Woulfe was later recommended to Cabinet
It has to be stated that the Minister for Justice contended that the Government "acted appropriately at all times".
Helen McEntee said she had abided by all rules and, most importantly, took the decision herself. She didn't try to defend the selection process but, instead, expressed her determination to reform it.
The opposition parties simply don't believe the minister's contention that she didn't talk to anyone else.
There are still questions for Ms McEntee.
In particular, the contention by Brendan Howlin that previous coalitions engaged in "considerable scrutiny" and it was never the sole right of a justice minister to choose a judge.
However, that will be eclipsed by the questions that arise over the role of the Tánaiste in the judicial selection process.
All sides can agree on one thing - the format for the selection of judges needs a radical overhaul.
If that requires constitutional referendum, so be it.