Opposition parties have reacted to the Government discussions on Covid-19 restrictions with Sinn Féin saying that people will find the situation confusing.
The Cabinet is to set to reject the National Public Health Emergency Team's recommendation to place the entire country under Level 5 restrictions.
Instead, it is believed every county will be moved to Level 3 Covid-19 restrictions with improved enforcement.
If approved by Cabinet, this will mark the first time the Government has rejected significant public health advice from NPHET and chartered its own course.
Sinn Féin's health spokesperson David Cullinane has said that the Government has a responsibility to explain its decisions regarding Covid-19 restrictions.
He said people will find all of this very confusing - that NPHET recommends one thing, and the Government ends up doing something else.
Sinn Fein health spokesperson @davidcullinane on government rejecting NPHET advice to go to Level 5 restrictions is "very confusing" pic.twitter.com/zJHQkWrRgl

— RTÉ Politics (@rtepolitics) October 5, 2020
Deputy Cullinane said the Government needs to "once and for all" deal with the big issues; invest in testing and tracing and invest in acute hospitals and stop putting us in a situation where we have to have increased restrictions because we are not getting ahead of the virus in the way we should.
However, Minister of State for European Affairs Thomas Byrne said on Twitter: "Every time a change is made or proposed to be made in public health policy Sinn Féin deliberately use the word 'confusing'. This time, they haven't even waited for a government decision."
The Labour Party leader Alan Kelly has said there is an issue with ICU bed capacity which he said should have been dealt with over the last few months.
He said he understood the deal with private hospitals for extra ICU bed capacity was "left on the desk" of the Minister for Health and he wants to know what has happened with that deal.
Deputy Kelly said "what is the roadmap for if we are not going to use it?"
He said he wanted to know what has changed in three days - "people out there working today don't know if they'll be working tomorrow - that's how dramatic this is".
He said the news of a potential Level 5 breaking last night was woeful and a "PR disaster", he said people were distraught last night going to bed.
The Social Democrats co-leader Róisín Shortall said: "It is imperative that the Government make the correct decisions at this crucial time, to avoid further serious consequences for our people, our health services and our economy.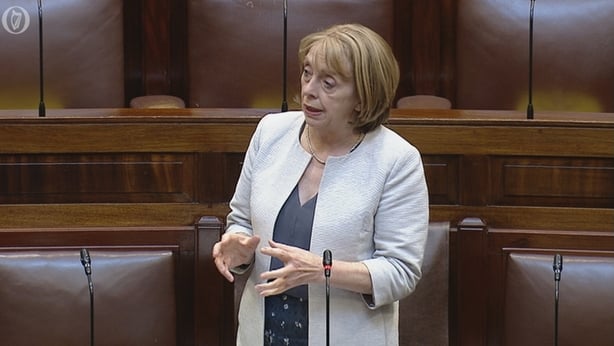 "We believe that the Government must provide people with hope, with something to aim for, as we navigate through this very tough phase.
"We suggest the Government set an objective for the additional restrictions people have to bear of being able to have a Christmas where they will have family or friends around them."
People Before Profit TD Richard Boyd Barrett has said while the thought of more severe restrictions is pretty awful for everyone, we cannot gamble with the lives of our older and more vulnerable citizens.
Speaking on RTÉ's Drivetime, Deputy Boyd Barrett said if we do not go to Level 5 now, "this thing is only going in one direction and we'll find ourselves in a more severe situation in a couple of weeks' time."
The Dun Laoghaire TD said: "We have to act now, it's unfortunate, but I don't see what choice we have."
The fact that the number of cases are increasing in the over 65s, he said, made it "clear we have got to do something to protect vulnerable people".
Last night, Independent TD Mattie McGrath criticised NPHET for the leaking of information on their recommendations that the entire country should be moved to Level 5.
Mr McGrath said such news is "detrimental to the business community and wider society" and he called on NPHET to be held to account for the damage that the announcement has had.
"It is exactly this type of scenario that we were supposed to avoid by having the 'Living with Covid' plan to ensure that business and society could operate effectively with restrictions and plan ahead as we move gradually through the different levels," said Mr McGrath.