The Cabinet has agreed to reject the National Public Health Emergency Team's recommendation to place the entire country under Level 5 restrictions.
Instead, every county will be moved to Level 3 Covid-19 restrictions with improved enforcement.
It will mark the first time the Government has rejected significant public health advice from NPHET and charted its own course.
The decision to move the whole country to Level 3 restrictions will take effect from midnight tomorrow night.
The restrictions will be reviewed by ministers in three weeks' time.
Wet pubs are set to remain open outside Dublin under Level 3 restrictions. However, there will be no indoor seating permitted in pubs. Instead there will be a maximum of 15 patrons allowed outdoors. Wet pubs in Dublin will remain closed.
A senior Government source said we are "in a very dangerous place" as the decision is being represented as "politicians versus doctors" when it "never ever should have been allowed to get to this point of showdown".
The source added that there are "serious questions and [a] major fallout".
RTÉ also understands that while ministers took NPHET's concern about the exponential growth of the virus "very seriously", there was "resistance" to moving to Level 5 "at this time".
We need your consent to load this rte-player contentWe use rte-player to manage extra content that can set cookies on your device and collect data about your activity. Please review their details and accept them to load the content.Manage Preferences
Earlier today, the three coalition party leaders met the Chief Medical Officer Dr Tony Holohan for two hours and 15 minutes.
Confirmed - Cabinet to meet 17:30 this evening to decide on whether to back NPHET recommendations on moving Ireland to Level 5 #Covid19 restrictions. @rtenews

— Paul Cunningham (@RTENewsPaulC) October 5, 2020
NPHET had recommended placing the entire country on Level 5 restrictions - the highest level in the 'Living with Covid-19 Plan'.
Level 5 would see all but essential retail outlets closed, social gatherings would be restricted and people would only be allowed to exercise within 5km of their homes.
The recommendation to move to Level 5 follows what health officials called a significant escalation in the profile of the virus in Ireland over the last week.
Questions continue to swirl around political circles about the dramatic change in NPHET's advice.
It is understood the coalition leaders were looking for a clear understanding of the rationale and the data, which led to the Level 5 recommendation yesterday, when last Thursday it was deemed there was not a need to move the country to Level 3 restrictions.
Sinn Féin leader Mary Lou McDonald questioned what additional supports will be available for families, workers and businesses as every county moves to Level 3.
"What resources for our health services? NPHET advice to move to Level 5 strongly influenced by lack of capacity in health service. Taoiseach and Government must hear this message and act," she said on Twitter.
What additional supports for families workers & businesses in counties moving to level 3? What resources for our health services? NPHET advice to move to level 5 strongly influenced by lack of capacity in health service. Taoiseach and govt must hear this message and act #COVID19

— Mary Lou McDonald (@MaryLouMcDonald) October 5, 2020
Social Democrat co-leader Róisín Shortall said the Government's priorities should be an all-Ireland response and tackling the issue of international travel.
Labour Party leader Alan Kelly has said that an explanation based on rational data is needed to illustrate what is "the dramatic change" that has happened over the last three days to support NPHET's proposal to move to a Level 5 alert.
Concerns raised over impact of further restrictions
In a tweet this morning, Health Service Executive CEO Paul Reid said while there are concerns over the trends in the rise of Covid-19 cases the impact of severe restrictions on people's mental health as well as the economy need to be considered.
There's obvious concerns about the trends on #COVID19. But we also know the impacts of severe & regular restrictions in society on the public health, wellbeing, mental health and the economy. Level 5 recommendation to Government has to be considered in this context too. @HSELive

— Paul Reid (@paulreiddublin) October 5, 2020
Minister for Further and Higher Education Simon Harris said "leaks and speculation don't help" and clarity was needed today. 
Doubt many of us got a night's sleep. So many worries & questions on people's minds. Leaks & speculation don't help. Today needs to bring clarity. Until then let's focus on what we can control & what we can do - keep distance, reduce contacts, wear face coverings #Covid19

— Simon Harris TD (@SimonHarrisTD) October 5, 2020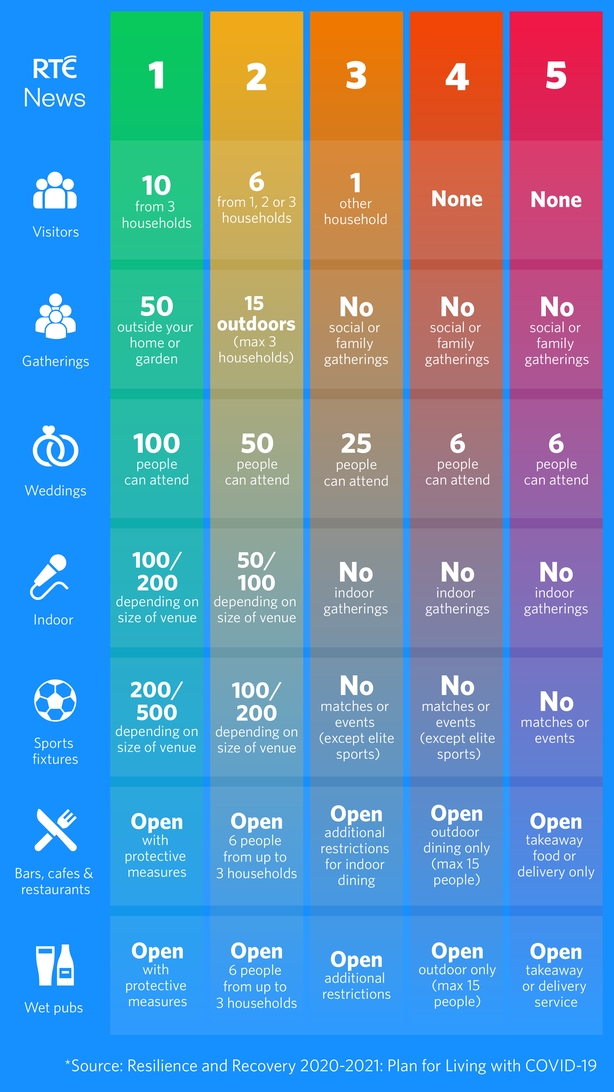 Teachers' unions call for engagement if levels change
The three trade unions representing teachers in primary and secondary schools have called for an urgent review or engagement with them should there be any national move to a higher level of Covid-19 restrictions. 
The Association of Secondary Teachers, Ireland, said if a decision is taken to implement the NPHET recommendation, a comprehensive review of the medical and related guidance being implemented in schools should immediately be undertaken to ascertain if it is safe for second-level schools to stay open.
It follows a similar call from primary teachers' union the INTO yesterday evening. 
"We are writing to the Minister for Education and Skills this morning to request that she initiate a review immediately. We will also be requesting that the second-level stakeholders meet to discuss all associated issues," said ASTI President Ann Piggott.
"The health, safety and welfare of all members of our school communities is of paramount importance"
The Teachers' Union of Ireland said it is seeking urgent engagement with the Department of Educations and the Government on any national move a higher level of restrictions.
TUI General Secretary Michael Gillespie said: "Our members are extremely worried by current events and their health and safety in the workplace. We have many members with serious underlying health issues and also many members who share a household with people with underlying health issues.  
"We require urgent engagement in relation to what increased protections will apply to teachers in an escalation to Level 4 restrictions".
Additional reporting Fergal Bowers, Paul Cunningham