This time last year Barry Lenihan reported all the drama of local election results from across Ireland - here, he looks at how 12 talking points from those elections have developed in the 12 months since.
1. Sinn Féin disaster
Sinn Féin endured a disastrous local election losing 79 seats, with historic breakthrough wins of 2014 all evaporating before their eyes. The party suffered major losses in Dublin, Cork and Galway - as well as haemorrhaging seats in the strongholds of Cavan and Louth as it slumped to 9.5% of the vote nationally.
Attention turned to the performance of new party leader Mary Lou McDonald.
"The test comes when things don't go right," she said as the results came in, "we will learn lessons and I am determined that we will be back again. Any seat that we have lost, we will be back to win them and win some more."
Little over seven months later, McDonald entered the reckoning as a potential taoiseach as her party went on to win the popular vote and claim a record 37 seats in February's General Election.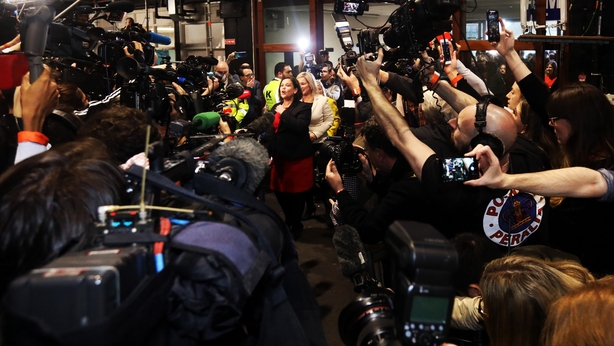 Remarkably, five councillors who lost their seats last May by a combined 3,634 shy of the quota, all took Dáil seats. A sixth new TD, Clare's Violet-Anne Wynne, had finished eight of nine candidates in Kilrush with a paltry 385 votes.
New Cavan-Monaghan TD Pauline Tully had been the party's director of elections in Cavan, where it dropped three of its four seats in the locals. Johnny Mythen went from losing his council seat in May to topping the poll in Wexford with a 6,204 surplus.
Sinn Féin's huge reversal in fortunes and the victories for six of its failed local election candidates are likely to be referenced by beaten parties and vanquished candidates for years to come.
---
2. Ireland's oldest councillor
Independent Ian McGarvey maintained his mantle as Ireland's oldest councillor when he retained his seat on Donegal County Council, a month shy of his 89th birthday.
In January 2019, McGarvey had four stents put into his heart but still reportedly knocked on more doors than ever before ahead of polling. In the weeks leading up to the election, a plaque was erected to McGarvey in a German vineyard - even though he's a teetotaller.
McGarvey eventually thwarted Fine Gael's hope of a seat in the Milford Electoral Area after a close fought battle, with just six votes separating him from Emer Friel at a crucial point.
Twelve months on, Ireland's oldest councillor says he's as busy as ever as he deals with locals' concerns around coronavirus.
"People imagined I wouldn't run last time", recalls the former professional footballer this week, "the opposition went around saying I was too old. But I could list off 40 numbers here off the top of my head for engineers and other key people on Donegal Council."
McGarvey will be nearly 94 years of age when the local elections come around again, and insists he has no intention of standing down anytime soon.
"I've a genuine interest in the welfare of people in my county and my country, that will always be my emphasis."
---
3. Last woman standing
Fine Gael's Peggy Nolan was the odd one out - the sole female elected to Longford County Council.
Nolan was joined in the Council Chamber by 17 men in what was described as a "dark day" for women in politics. Ten women had put their name on the ballot in Longford, with former TD Mae Sexton among those to lose out.
The result in Longford was symptomatic of what the National Women's Council lamented as a "disappointing election", with female candidates securing 24% of the seats. In Carlow, there were twice as many men named 'John' elected than there were women.
A year on, the picture isn't much better. General Election 2020 returned 36 female TDs - one extra than 2016.
However, several high-profile female TDs and ministers lost their seats. Fine Gael returned no women among its 12 senators in April's Seanad Elections in spite of a plea from the Taoiseach to vote for female candidates.
Peggy Nolan is no longer the last woman standing in Longford though, after Fianna Fáil's Remu Adejinmi was co-opted to the council in March.
---
4. One-vote winner
The difference a vote makes.
The Bantry-West Cork Electoral Area provided the most gruelling and compelling count of last May's election.
After eight counts, Independent Finbarr Harrington led the Social Democrats Holly Cairns by one vote for the fourth and final seat. But after two recounts and four days, Cairns ultimately prevailed by a single vote in her maiden election outing.
Speaking at the count centre, Social Democrats co-leader Róisín Shortall described it as "by far the tightest battle that I have ever witnessed".
Fast forward 12 months, and Cairns is one of six Social Democrats TDs in the 33rd Dáil, taking a seat at the expense of Fine Gael in the Michael Collins heartland of Cork South West.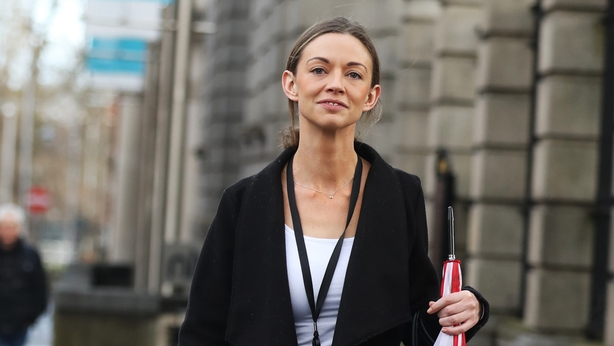 The Agriculture spokesperson's epic win was of one of 19 Social Democrats seats last May in the party's first local election campaign - a harbinger for a successful general election for both party and councillor come February.
---
5. Quarrel in Killiney
Much of the post-election analysis focused around a swing at Dublin's Dean Hotel, with Fine Gael leader Leo Varadkar admitting revelations during the campaign of Dún Laoghaire TD Maria Bailey's personal injury claim caused his party reputational damage.
With votes still being counted, Bailey gave that interview to RTÉ's Sean O'Rourke during which she addressed the presenter by name 38 times in 20 minutes.
"I was clutching my pearls … in a quarter of a century covering politics I don't think I've ever heard anything like it," opined columnist Alison O'Connor in the immediate aftermath.
Whilst the interview inflamed an already fraught situation for Bailey, it was the local election results in the electoral area she served as a councillor - Killiney-Shankill - which ultimately proved pivotal in her removal from the Fine Gael general election ticket.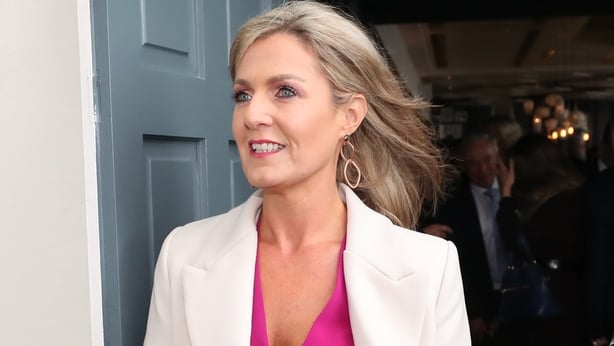 Prior to the election, Fine Gael HQ was keen to tip Jennifer Carroll MacNeill not only as councillor but also a future TD and minister - and she duly delivered in her first electoral outing.
Fine Gael was on track to take three of the seven seats in Killiney-Shankill, until Frank McNamara fell short by just 26 votes. Given the narrow margin, some Fine Gael figures in Dún Laoghaire laid the blame for McNamara's defeat squarely on Bailey.
Bailey's political fate wasn't far from the national spotlight throughout 2019, but closer to home her local party organisation was divided on the issue - with a significant faction highly sympathetic towards her.
However, the presence of Carroll MacNeill allied to McNamara's defeat provided those who wished to deselect Bailey with both a ready-made replacement and hard evidence as to what would happen at the ballot boxes should she run in the general election.
Fine Gael ultimately left it to its members in Dún Laoghaire to decide Bailey's fate, and they voted to deselect her as an election candidate. She was replaced by Carroll MacNeill in November.
A year on from the emergence of swing gate, Bailey is no longer a TD with Carroll MacNeill taking her Dún Laoghaire Dáil seat. However, Fine Gael lost two seats in what was once its "premier constituency". Frank McNamara was co-opted to take Carroll MacNeill's council seat.
Sean O'Rourke recently retired and revealed how Maria Bailey "sent him a nice text". He insists he doesn't regard her infamous interview as "a career high".
---
6. RTÉ Investigates trio re-elected
Three councillors who featured in the RTÉ Investigates 'Standards in Public Office' programme in December 2015 hit headlines again last May, when they were all comfortably re-elected with an increased mandate.
SIPO ruled the trio had breached ethics law during meetings with a reporter positing as a representative of a wind farm investment company.
Independent John O'Donnell topped the poll in the Milford with 25%, and come February, found himself in the reckoning for a Dáil seat in Donegal. The Kilmacrennan businessman polled 6% and bowed out at the penultimate count - but will fancy an even bolder bid at the next general election.
Ex-Fianna Fáil Joe Queenan intimated to SIPO he'd been distracted by proffered Chocolate Digestive Biscuits and the cleavage of the fictitious Icelandic investor during undercover filming. He garnered 647 extra first preferences in Ballymote-Tubbercurry in 2019 compared to 2014.
In the 12 months since, Queenan has campaigned against the erection of 5G masts in Sligo.
Former Fine Gael stalwart Hughie McElvaney marginally increased his vote in Ballybay-Clones, having been first elected in 1974. He used his acceptance speech to describe how a "monkey was tied around my back with the visit of RTÉ" and that monkey should "go back to the swamp with the reptiles and the snakes...and leave me alone".
In January 2020, SIPO ruled against Cllr McElvaney - after he'd asked "for loads of money" when filmed by the undercover journalist. He dismissed SIPO's findings as "aul news".
---
7. New Irish
The local elections saw an upswing in the fortunes of "new-Irish" candidates, with nine migrant councillors elected. Just two had been successful in 2014.
A star of Gogglebox, Yemi Adenuga, became Ireland's first ever black female county councillor when she struck for Fine Gael in Navan. Fianna Fáil's Abul Kalam Azad Talukder created history as Limerick's first-ever Muslim councillor.
However, the momentum of 12 months ago has since stalled - if not reversed.
Just a handful of migrant candidates put their names forward in February's general election, with none making it to Dáil Éireann.
Concurrently, two high-profile Independent candidates who made controversial comments about immigration were both comfortably elected; Noel Grealish in Galway West and Verona Murphy in Wexford.
Earlier this month, the Immigrant Council of Ireland called on political parties to intensify efforts to diversify membership and support migrant candidates. It also noted how Ireland has "very poor representation" in comparison to many EU countries.
---
8. Capital gains
Fianna Fáil retained its title as the leading party in local government, but it was Fianna Fáil's showing in Dublin which really had strategists smiling with satisfaction at party HQ.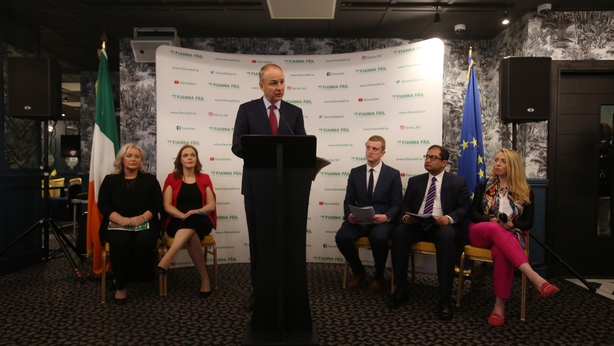 The party made key strategic gains with an eye to the general election and boosted its vote in many old heartlands - such as Finglas, Donaghmede and Donnycarney - as it became the largest party on Dublin City Council.
There were wins too south of the Liffey, with Charlie O'Connor bringing in a running mate in Tallaght and a whopping 35% vote share in Firhouse.
The results gave the impression Fianna Fáil was inching ever closer to power, with the party on track to pick up Dáil seats in the electoral cockpit of Dublin. It had been left with no TDs in the capital in 2011 following the death of Brian Lenihan.
Come February's election, the party was confident of a seat in all 11 Dublin constituencies but May's results were a false dawn. The party made a net gain of just one extra seat in the capital, coming back with seven Dublin TDs.
Mary Fitzpatrick's poll-topping local election result again failed to yield a coveted seat in Bertie Ahern's old stomping ground of Dublin Central, while Paul McAuliffe's vote remarkably declined in Dublin North West as he narrowly gained a seat.
Twelve months on and with fraught times ahead, last May's election may ultimately prove the high point of Fianna Fáil's rehabilitation project in Dublin.
---
9. 'Hooligan'
One of the more eye-catching first-time councillors last May was Sinn Féin's Paddy Holohan. The former MMA fighter, known as 'The Hooligan', was a former sparring partner of Conor McGregor and topped the poll in Tallaght South with 15% of the vote.
With votes still being counted, Holohan outlined the extent of his political ambitions: "I would love to be President of Ireland one day. It's a crazy dream, but who knows. I may be the first ever councillor to get to the Áras."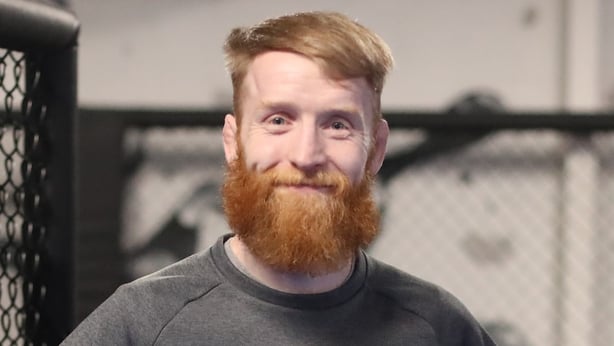 The 31-year old's success represented a rare bright spot for Sinn Féin on results day, and come November, Holohan released an autobiography charting his switch from the Octagon to the Council Chamber.
Roll forward to January and Holohan found himself suspended from Sinn Féin after comments regarding the alleged use of sexual extortion by women on his "No Shame" podcast. This came in the middle of the general election campaign and after Holohan had also made disparaging comments about the Taoiseach's private life and Indian heritage.
Holohan apologised and insisted his comments were "misinterpreted and not in any way meant the way they have been portrayed". He's continuing his "No Shame" podcast during the pandemic. A Sinn Féin spokesperson confirmed this week that Holohan remains suspended from the party.
---
10. Green wave

The Green Party's unprecedented surge last May caught most observers by surprise and became the dominant story of results day.
The party gained 37 seats with a "Green wave" sweeping across Dublin in particular. The Greens made breakthroughs in Kildare, Westmeath, Limerick, Galway and Clare, while Pippa Hackett became Offaly's first ever Green councillor.
Green Party leader Eamon Ryan said the results showed a "green wave of thinking" had risen in Ireland, while the Taoiseach acknowledged the result was a clear message the electorate wanted more action on climate change.
The party scored its first ever by-election victory in November and followed with its best-ever general election result, returning 12 TDs to the 33rd Dáil.
However, the apex of the Green wave may have been hit last May; Eamon Ryan had been targeting upwards of 15 Dáil seats while just 6% of respondents in February's Exit Poll listed climate change as a priority.
Ten victorious Green candidates from the local elections are now TDs, with some centrally involved in government formation talks. Ironically, four Cork councillors, elected for the first-time last May, initiated the recent "Green heave" against Ryan, urging Catherine Martin to challenge his leadership.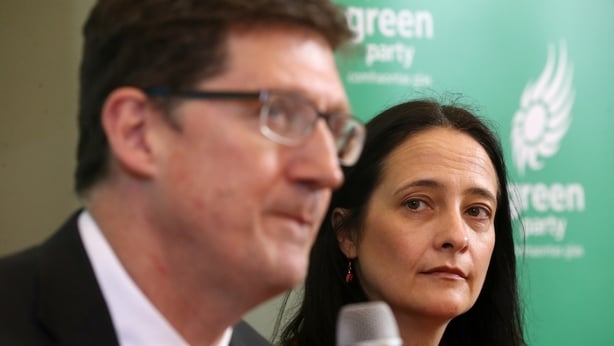 Whoever Green Party members feel was primarily responsible for last May's Green wave - Ryan or Martin - could ultimately decide the forthcoming leadership contest.
---
11. Royal domination
Meath Independent Sharon Keogan created history when she became the first woman elected to two council seats in the one election, topping the poll in Laytown-Bettystown and also gaining a seat in Ashbourne. Twelve months later, she's set to hold neither seat.
Keogan first chose to vacate her Ashbourne seat, with her fellow councillors voting on her replacement. This caused a kerfuffle when Fianna Fáil's Lisa Mellor put herself forward against Keogan's designed candidate, Amanda Smith, as, when it came to the vote, Fine Gael councillors backed Mellor - but Mellor's 12-party colleagues voted for Smith.
Smith emerged victorious but the Fianna Fáil councillors stood accused of sacrificing one of their own "for 30 pieces of silver"; after it was revealed they voted against Mellor as part of a voting pact for the Council Chair.
Keogan made headlines after applying for two State grants on the back of her two wins, claiming it was "unjust" when she was denied a second one-off €250 payment for women in politics.
She also defended a social media post questioning whether children with special needs should be microchipped following the tragic disappearance of Nora Quoirin, claiming she'd been posed the question by a friend who is the father of a teenager with special needs.
"I have always been a voice for those who are voiceless and I did that ... I didn't agree with it or disagree with it," she told her local radio station LMFM.
Keogan ran unsuccessfully for the Dáil in February, but made the Oireachtas two months later when she won a seat on the Seanad's Industrial and Commercial Panel after a marathon 31 counts. Last year's history-maker will hand over the second of her two council seats once a government is formed.
---
12. Lowest-ever vote
The first count result of the Galway City Central electoral area flooded WhatsApp groups and social media sites after Independent candidate Patrick Feeney garnered just one first preference vote.
His vote increased by 100% on the second count - then he had two.
Whilst his vote was the lowest of all 1,977 candidates last May, it was also thought the former Aer Lingus worker's vote may have been the lowest-ever in Irish electoral history.
However, Feeney was subsequently spared the wooden spoon, after it emerged that another Independent candidate, Joseph O'Brien, got zero first preferences in the Cork City South area at the 1920 local elections.
Like Feeney 99 years later, O'Brien was the beneficiary of a single transfer on the second count before being eliminated.
Feeney also ran in two other electoral wards last year, whilst in 2018 he unsuccessfully sought the nominations of four local authorities to contest the Presidential Election. During his pitch to councillors, he promised a number of Kate Bush concerts across Ireland.
This spring, Feeney unsuccessfully sought a nomination to contest the Seanad Elections.