Green Party TDs and Senators have concluded their initial assessment of the six-page letter from the leaders of Fianna Fáil and  Fine Gael.
Dún Laoghaire TD Ossian Smyth told RTÉ News that the letter from Micheál Martin and Leo Varadkar was "reasonable". 
He said he expected that the party would consider it for a number of days. 
A spokesman for the Green Party said that the parliamentary party agreed not to make any further statement on the letter today. 
The 12 TDs and two Senators are due to "reflect on the contents" and discuss it again during a teleconference tomorrow.
Mr Martin and Mr Varadkar told the Greens they would like to "tease out" in discussions how Ireland could reduce greenhouse gas emissions by 7% each year.
Both leaders made the offer to Green Party leader Eamon Ryan last night In a six-page document seen by RTÉ News. 
They wrote: "We all need to understand the impact it would have on employment, poverty, agricultural practice, public transport, regional development and on the different sections of society." 
The Fianna Fáil and Fine Gael leaders commit to enact a new Climate Bill within 100 days of forming a government and also promise to put a net zero emissions target for 2050 into law.
However, there is also a note of distinct caution on the 7% target - a key question for the Green Party. 
Mr Martin and Mr Varadkar state any new coalition "will have to significantly reboot and revive the economy".
"No party will want to introduce changes that will jeopardise employment or increase levels of poverty or have a negative impact on rural and regional development."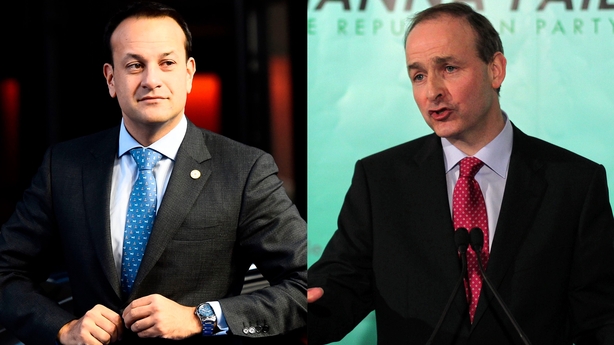 There are detailed answers to the other 16 questions posed by the Green Party last week. 
On gas exploration, the Fianna Fáil and Fine Gael leaders point to an existing moratorium on exploration licences for offshore oil exploration and said: "We are open to introducing a similar policy on offshore gas exploration."
The two leaders also address the Green Party's demand for ceasing construction of a Liquefied Natural Gas import terminal in the Shannon estuary.  
Mr Martin and Mr Varadkar state: "It does not make sense to build new large-scale fossil fuel infrastructure such as liquid natural gas import terminals." 
However, they continue that this issue, like greenhouse gas reductions, needs to be clarified and teased out. 
The letter states: "We both believe that we all would need to have a shared understanding of what is meant by new fossil fuel infrastructure, what type scale does this relate to, and whether this proposed ban would apply to State infrastructure or to private sector infrastructure as well." 
Regarding Shannon, they add: "We must consider how strategic investment in the Shannon estuary and port infrastructure could support the development of renewable energy."
Speaking in Dublin this morning, Mr Varadkar said he was "very keen" to enter formal talks on the formation of government and hopes the Green Party will give "close consideration" to joining a coalition.
Mr Varadkar said the Green Party's target of a 7% drop in carbon emissions was "extremely ambitious", but he said he accepted that the government needed to be more ambitious on climate change.
"We'd be very keen to enter formal talks on forming a government as soon as they're (the Greens) willing to do so, and if they're willing to do so," he said.
Asked if a deadline should be set on forming a government, Mr Varadkar said he did not think anyone would see any sense in dissolving the Dáil in the middle of a pandemic.
He said Fine Gael was "ready and willing" to enter government "if we can find sufficient numbers of partners to allow us to form a government. When the election happened, as a party Fine Gael stepped back and allowed other parties to form a government".
Mr Varadkar said he did not believe that parties on the left were even trying to form a government anymore, and Fine Gael was "stepping into the breach" in the interests of the country.