Of the three smaller parties invited to enter into coalition talks, the Greens are the first to give a formal response to the Fianna Fáil and Fine Gael joint policy document published last week.
The Green's six-page document conspicuously does not contain figures but, then again, neither did the FF/FG document. Instead it outlines broad policy objectives, followed up by very specific questions. You can read the document here. 
Those questions are what any Green Party member would expect, such as the very first one: "Will you [FF/FG] commit to an average annual reduction in greenhouse gas emissions of at least 7%?"  
Other topics include energy, transport, and housing. 

Some of the related questions are quite controversial. A good example is: "Will you [FF/FG] commit to ceasing the construction of new fossil fuel infrastructure, particularly Liquefied Natural Gas import terminals... ?"
So the big question is this: Is the Green Party being absolute on these matters? Do Fianna Fáil and Fine Gael have to answer 'yes' to each and every question before the Greens will consider going into coalition talks on government formation?
Well, in a letter to Green Party members on Thursday, Mr Ryan appeared to strike a political tone.  
He said the 17 questions posed by the party were "not designed to cover every issue we care about or be a list of red lines. The aim is to establish a better understanding of what these parties would be willing to do in government. It is an attempt to establish a baseline". 
Establishing a "baseline" sounds like the Greens are not being absolute, but rather signalling to Fianna Fáil and Fine Gael what their key priorities are.
Mr Ryan concluded his letter by saying the parliamentary party "will await a written response to these questions before deciding whether to enter formal negotiations".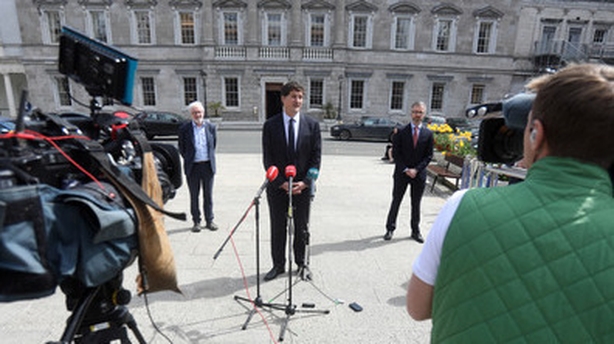 Yet on the plinth at Leinster House, and flanked by new TDs Malcolm Noonan and Roderic O'Gorman, the Green leader struck a more combative tone.
Mr Ryan said the commitment to reduce carbon emissions by 7% per annum was a red line for his party.
"I think it would be very hard for us to get to our members, not only that, but even through our parliamentary party," he said. 
That's a fair point. It will be a big ask, should a programme for government ever be negotiated, for it to pass two-thirds of both the Green parliamentary party and Green Party membership.
However, mention of red lines is going to raise considerable concern within Fianna Fáil and Fine Gael.
Other questions which appeared to harden into red lines included the planned LNG project in the Shannon estuary, a prioritisation of investment away from building roads, and meeting the UN obligation to spend 0.7% of national income on overseas development aid.
Yet towards the end of the lengthy news conference, Mr Ryan appeared to pivot back to a more positive outlook when he spoke of how the public wanted a government and leadership.
"I think we can give that," he said. "I believe our party has real strength."  
Asked if he was optimistic that the Green Party would take the next step and enter into coalition talks, he outlined a number of qualifications, but then added: "I hope we will be able to."
Mr Ryan then appeared to nearly take that step, when he said: "To answer the critics who will come, and it will be subject to criticism, this next government has to be a government of change - real change. And I think that it can be. I think it could be.

"It has to be change in terms of a massive investment in public housing... to switch to public healthcare, and it has to be change that turns this country green. That's what we need to demonstrate to the Irish public. That's what we are trying to set out in this letter - saying let's really make this radical change. Not just for the sake of it, but because the moment requires it."
The Green Party leader said he anticipated the coming weeks would be very tough. But in political terms, the Green parliamentary party appears to have opened the door to government formation talks - if Fianna Fáil and Fine Gael can adequately respond to its key concerns.  
On Wednesday, RTÉ News reported how Fianna Fáil and Fine Gael leaders plan to hold meetings with the leaders of the three smaller parties - the Greens, Labour, and Social Democrats - once they've replied to their joint document. 
So that appears to be the next step in a long and winding political road towards a new coalition government.