Four party leaders have failed to win enough support to be elected Taoiseach in the first sitting of the 33rd Dáil, with Sinn Féin leader Mary Lou McDonald winning the most votes.
In the first vote of the evening, TDs voted against Fine Gael leader Leo Varadkar being re-appointed as leader of the country.
The result was 36 votes in favour, 107 against, with 16 abstentions.
TDs also voted against Fianna Fáil leader Micheál Martin's bid to become Taoiseach, as 41 voted in favour, 97 against and 19 abstained.
Ms McDonald was the third candidate, but she too failed to win enough support, with 45 votes in favour, 84 in opposition and 29 abstentions.
TDs then voted on Green Party leader Eamon Ryan's attempt to become Taoiseach, but he only received the support of his party's 12 TDs, with 115 votes against and 28 abstentions.
As Mr Varadkar failed to win enough support to be re-appointed, he travelled to Áras an Uachtaráin to offer his resignation to President Michael D Higgins.
He will continue in the role in a caretaker capacity and will travel to the EU leaders' summit in Brussels tonight.
The Dáil has adjourned for two weeks until Thursday 5 March and the talks seeking to agree a programme for government are set to intensify next week.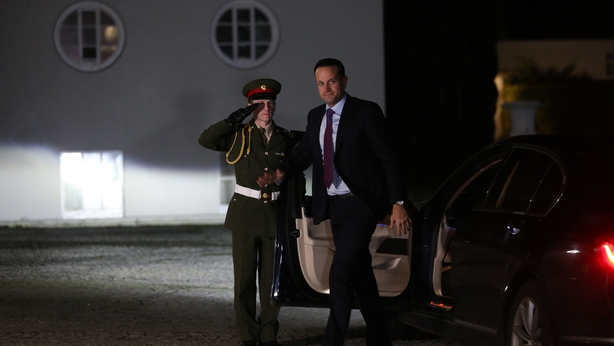 ---
Read More:
---
'Today the Dáil failed to agree on the nomination of Taoiseach': Leo Varadkar says he will tender his resignation to the President tonight, but continue in a caretaking role | Updates https://t.co/hONQ9zL2BB pic.twitter.com/Zn2zAmlW0o

— RTÉ News (@rtenews) February 20, 2020
The leaders of Sinn Féin, Fianna Fáil, Fine Gael and the Green Party were nominated by their parties for the office.
However, Ms McDonald did get the most votes with the help of support from outside the ranks of her own party.
Independent TD Catherine Connolly said she would support her for Taoiseach subject to a closer examination of Sinn Féin's policies.
The five Solidarity-People Before Profit TDs committed to voting for Ms McDonald, but Richard Boyd Barrett warned that it was not a blank cheque.
TDs Thomas Pringle and Joan Collins also supported the Sinn Féin leader.
Róisín Shortall of the Social Democrats confirmed that her party would not be supporting any candidate for Taoiseach.
She said it was meaningless to do so in the absence of a negotiated and agreed programme for government.
Earlier, Seán Ó Fearghaíl was re-elected as Ceann Comhairle. It means that Fianna Fáil and Sinn Féin both have 37 Dáil seats.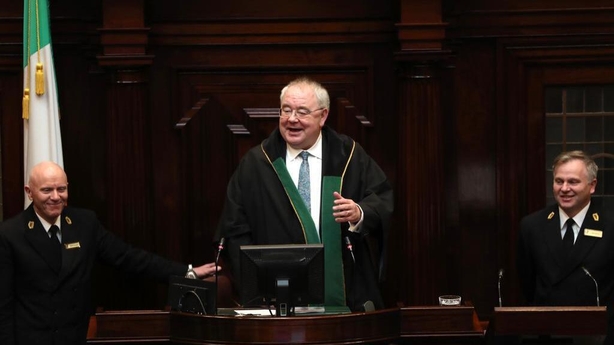 The clerk of the house, Peter Finnegan, said Mr Ó Fearghaíl reached the quota with 130 votes, beating Independent TD Denis Naughten, who received 28 votes.
Mr Ó Fearghaíl was given his gown and declared that he would execute the office without fear or favour and apply the rules of the house in accordance with the standing orders.
He went on to commiserate with Mr Naughten and said he was a parliamentarian of very considerable standing and that it was an honour to compete with him.
Addressing TDs, Mr Ó Fearghaíl said the Dáil must work together.
He added: "We must work carefully and intelligently and as urgently as possible because the problems that remain to be confronted are substantial."
Leaders address government formation talks
The four leaders addressed the Dáil after the votes, with government formation the main topic of their speeches.
Mr Varadkar told the Dáil: "The responsibility is on all of us to ensure we provide good government, and indeed good opposition.
"I think the onus is on those who have made enormous promises of change to the people during this election who are entrusted with that mandate to bring a programme of government for approval.
"If they cannot, they should say so and be upfront and honest about their failures and the empty promises they made."
He said he will travel to Washington DC for the traditional St Patrick's Day events.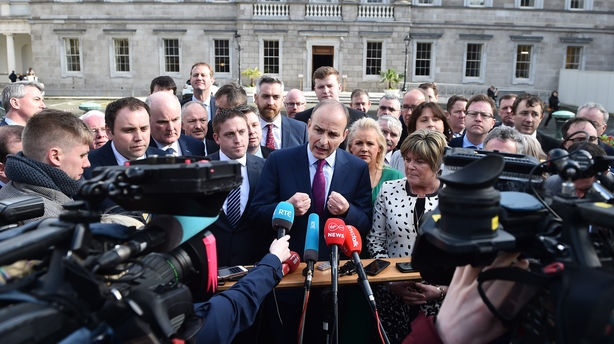 Mr Martin accused Ms McDonald of using "populist tropes" as she accused them of failing to speak to her in government formation talks.
He said: "Every party and deputy elected to this house has a right and a duty to represent the mandate they received.
"In order to deliver functioning government, compromises have to be made and this is something we have been attacked for.
"Demanding that others stay quiet as others abandon their core beliefs in order to grab power is not something we agree with.
"Whether or not you agree with Fianna Fáil, we fought this election based on a clear set of principles and policies and that includes legitimate behaviour in a democratic republic."
Micheál Martin says compromise is required to deliver a functioning govt, but rejects idea "that there is no limit to be set to the compromises you should take" pic.twitter.com/80M48VzKwQ

— RTÉ News (@rtenews) February 20, 2020
Mr Martin said he rejected Sinn Féin's manifesto promises of increasing taxes on businesses and too many incompatibilities exist between the two parties.
Ms McDonald said: "Today for the first time a nominee other than Fianna Fáil or Fine Gael has garnered the greatest number of votes. Perhaps that makes us winners again.
"I still we still live rent free in Micheál Martin's narrow and bitter mind.
"Change means a secure roof over people's heads, not having their adult children living in the box rooms.
"Change means you know you have enough to get by. Changes means dealing with the climate emergency. Change means the old order must pass.
Sinn Féin's Mary Lou McDonald: 'I think it only appropriate to note that today for the first time a nominee from a party other than from Fianna Fáil or Fine Gael has managed to garner the greatest number of votes' pic.twitter.com/GPm6qCJXW0

— RTÉ News (@rtenews) February 20, 2020
"A vote for Sinn Féin was for a different government that would have the courage and energy to actually do things differently."
Mr Ryan said he respected the mandate for Sinn Féin and respected those who voted for the party.
He also said he respected Fianna Fáil and that he would say the same to Fine Gael, as well as other groupings in the Dáil.
'I respect the mandate of Sinn Féin and I respect the people who voted for you', Green Party leader Eamon Ryan said, speaking earlier in the Dáil | https://t.co/2iZhsm0J9q pic.twitter.com/tSKJTa1HUj

— RTÉ News (@rtenews) February 20, 2020
Mr Ryan also called on all parties to work together.
Reporting Micheál Lehane, Paul Cunningham, Mary Regan, Maggie Doyle & PA