The Social Democrats co-leader Catherine Murphy has decided not to contest the election for Ceann Comhairle.  
There had been speculation that Ms Murphy would put her name forward.
In a statement, she said that after careful consideration, she would prefer to remain as a "fully active" parliamentarian.
A new Ceann Comhairle will be elected by secret ballot when the 33rd Dáil convenes for the first time on Thursday.
It comes after the Social Democrats cancelled a planned meeting with Fine Gael today because of what it describes as "game-playing" by Fine Gael.
Last night, Mr Varadkar said the consensus in the party is that they are prepared to go into opposition.
In a statement, the party said: "In light of Leo Varadkar's statement yesterday evening, the Social Democrats have taken the decision to cancel today's proposed meeting with Fine Gael.
"It is clear to all that Fine Gael are now engaged in a game-playing exercise and we refuse to participate in what is essentially theatrics by Fine Gael.
"While it was always the case that we were unlikely to find much common ground with Fine Gael, we intended to honour our commitment of engaging openly with all parties.
"Clearly Fine Gael's intention is to engage in shadow-boxing for the coming weeks and we've no interest in participating in such a charade."
Fine Gael set out the next steps as it sees them; first Sinn Féin attempts to form a government and if that does not work, then it is over to Fianna Fáil.
Mr Varadkar's party is not going to engage in programme for government discussions and he said the party expects to be in opposition.
However, the idea of a Fine Gael-Fianna Fáil coalition along with other parties as a last resort was not categorically ruled out.
We need your consent to load this rte-player contentWe use rte-player to manage extra content that can set cookies on your device and collect data about your activity. Please review their details and accept them to load the content.Manage Preferences
Speaking on RTÉ's Morning Ireland, Tánaiste and Minister for Foreign Affairs Simon Coveney said Fine Gael has made it "very clear" that it sees its future in opposition, but the party is not going to "tie their hands".
Today, the focus returns to other significant players in these attempts to form a government.
---
Read more:
The 33rd Dáil: What happens on Thursday?
Election 2020 updates
---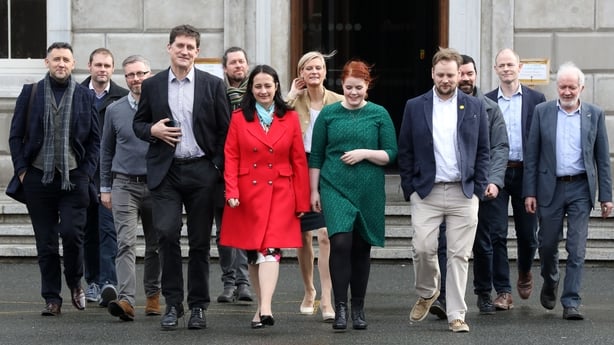 A quadrupled Green party was at Leinster House for a photo call with 12 TDs today, nine more than they had before Election 2020.
Regarded as potential king makers for the 33rd Dáil, the party hopes its policies will be taken on board by the larger parties which it hopes to form a government with.  
Leader Eamon Ryan said he was looking forward to engaging with other parties and said the party was already in the process of setting up a first meeting with Sinn Féin.
He said his party was doing what it said it would do during the election, talking to other parties.
Eamon Ryan, Green Party leader, says all parties should be talking to each other in order to form a government pic.twitter.com/0ReXknWKPb

— RTÉ Politics (@rtepolitics) February 18, 2020
Asked about the Fine Gael leader's decision to go into opposition, Mr Ryan said it was Mr Varadkar's prerogative but he warned about the danger of "going around in circles".
One of the party's new TDs, Neasa Hourigan, said Green Party members are not focusing on what Fianna Fáil or Sinn Féin might be talking about in terms of climate policies and are trying instead to work on policy issues.
She said they have a "local, act global frame of mind" and are not obsessing about the larger parties.  
Deputy leader Catherine Martin said her experience of the government formation talks in 2016 was that a "lot of weeks were wasted".  She said everyone should agree to talk to each other.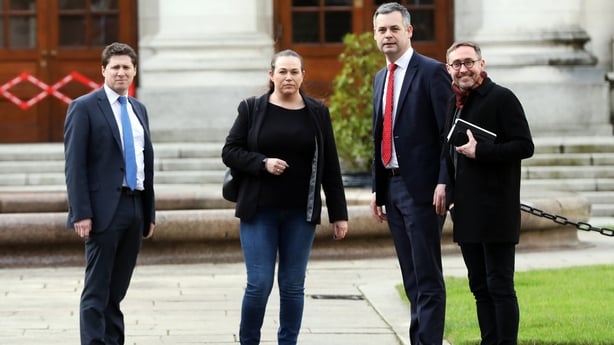 Sinn Féin is continuing its meetings with Independents and smaller parties, while its negotiating team met the Secretary General to the Government Martin Fraser this afternoon.
It is part of the the party's efforts to hone its policies on health, housing and Irish unity in advance of detailed government formation talks.
This meeting follows a discussion between Mr Fraser and Sinn Féin President Mary Lou McDonald yesterday.
The party will also meet senior civil servants from other Government Departments in the days ahead.
Additional reporting Maggie Doyle, Sandra Hurley