Voters are going to the polls today in four Dáil by-elections, but so far turnout has reportedly been low.
The votes to replace TDs elected to the European Parliament last May are taking place in the constituencies of Cork North Central, Dublin Fingal, Wexford and Dublin Mid-West.
The polls opened at 7am and will close at 10pm.
Forty-three candidates are putting themselves forward for election across the four constituencies.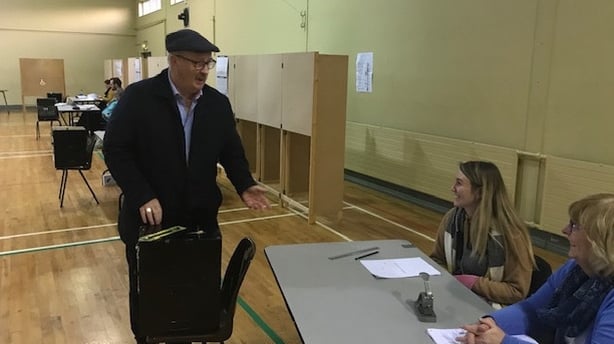 In Cork North Central, around 85,000 people are eligible to vote to decide who should fill the seat vacated by Billy Kelleher.
More than 100,000 people are registered to vote in Wexford in a contest triggered by Mick Wallace's election to the European Parliament.
The other vacancies to be filled are Clare Daly's seat in Dublin Fingal and Frances Fitzgerald's seat in Dublin Mid-West.
Turnout in these constituencies was above 60% in the general election three years ago.
---
Current Turnout:
Cork North Central:
Turnout in Cork North Central continues to be slow, with turnout estimated to be in the mid-teens at 4pm.
The constituency has a mix of urban and rural voters, covering the north side of Cork City and extending into rural areas, beyond Bishopstown, Blarney and Glanmire.
At Riverstown in Glanmire, turnout at 4pm averaged between 16-17% across six polling booths.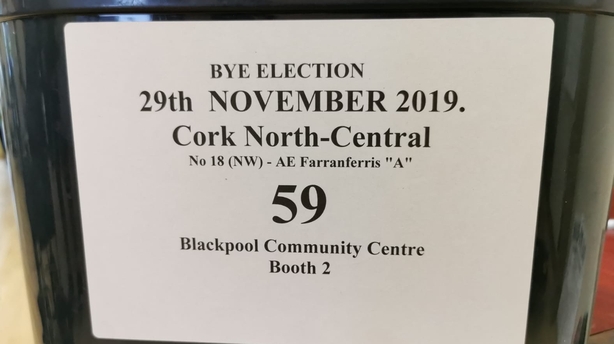 Also in Glanmire, at Brooklodge, turnout across eight polling stations there is averaging 13%.
These consist of seven polling stations in the city area and one in the county area and turnout ranges between 9-18%.
At seven mainly rural polling booths in Blarney, turnout was 13% at 4pm.
While at six urban polling booths at Farranree in Cork City, turnout was averaging 17%.
Dublin Fingal and Dublin Mid West
Turnout in the Dublin by-elections could set a new record low of around 25% according the latest estimates.
Dublin Fingal had 25% by 9:45pm while Dublin Mid West had just over 24%.
The highest was Portmarnock in Fingal with 34%, with Skerries on 32% and Malahide on 28%.
The lowest was one station in Balbriggan with less than 16%.
In Dublin Mid West, Rowlagh had 28% which was the joint highest along with a station in Clondalkin.
The lowest in Mid West was another part of Clondalkin on 19.5%.
Wexford:
The pace of voting has picked up somewhat across Co Wexford since tea-time, but that was coming off a low base and it remains below-average compared to other elections.
Some rural areas are recording percentage turnout in the early 40s, but in the bigger towns it's a bit lower.
Wexford town's turnout is at about 35% and in Gorey it's 34%, and slightly higher in the real areas around Gorey.
New Ross's turnout - in the town - has been lagging behind all day and is in the mid to high-20s tonight, although rural districts outside the town are higher.
Enniscorthy was on about 23% a while ago.
Overall turnout in the local and European elections in Wexford last May was just over 50% and in the general election of 2016 it was just over 65%. It was 44% in the presidential election last year.
The last time Wexford had a by-election was in 1945 so it's hard to compare like with like but turnout is going to be low by historical standards, no matter what way it's looked at.
The weather was good today, dry and bright although cold.