Two TDs have said they were in the Dáil chamber though not in their seats when their votes were recorded in separate votes earlier this year.
They are Fianna Fáil TD Barry Cowen and Fine Gael Minister of State Damien English.
Mr Cowen said he had never asked a colleague to vote for him when he was not in the chamber.
"As has been confirmed in the last few days, there is a known practice of members who are in the house asking colleagues to press the voting button if they are away from their seats in other parts of the chamber," he said.
Mr English also said he had never in his life asked anyone to vote for him if he was not in the Dáil chamber.
Meanwhile, the Minister for Housing, Planning and Local Government has said he was in the chamber and voted on the afternoon of 17 January last but he was not in his seat.
Eoghan Murphy said he cannot be seen on the camera recording of the vote but he was in the chamber.
"You can clearly see my minister's folder remains at my seat and it's never out of my sight when I'm in the chamber," he told RTÉ News.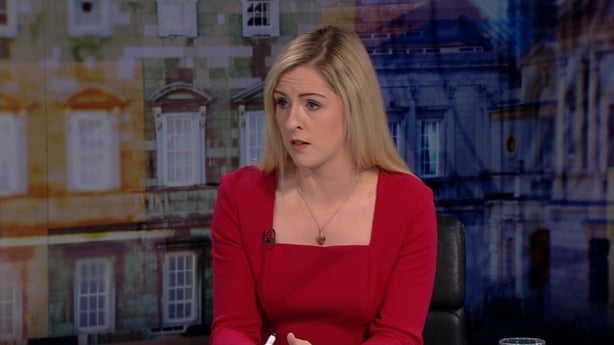 Meanwhile, Fianna Fáil's Brexit spokesperson will not face any sanction from her party after she voted twice on the same motion during a Dáil session last week.
Lisa Chambers pressed the voting button of party colleague Dara Calleary and then her own button during a ballot in the chamber.
The Mayo TD said that she holds her hands up and fully accepts she made a mistake.
Speaking on RTÉ's Morning Ireland, Ms Chambers said she should have told a teller but because the vote was lost by "such a massive margin", she did not bother.
She said that she told Mr Calleary on the day, but he probably assumed that she had told the teller.
Ms Chambers said that the seats in the Dáil chamber are identical and not numbered, and she had mistakenly sat in Mr Calleary's seat and voted in his name.
When she realised her error, she moved to her own seat and voted again. Ms Chambers has since corrected the record and told the Ceann Comhairle.
Fianna Fáil Leader Micheál Martin has accepted Ms Chambers' explanation of her voting actions in the Dáil.
The revelation comes after he asked Niall Collins and Timmy Dooley to stand down temporarily from the party frontbench over votes cast by one of them in the same Dáil sitting.
Mr Collins voted six times on behalf of his colleague Mr Dooley, who was not in the chamber.
Over the weekend, Mr Dooley admitted he was absent from the chamber when his vote was recorded six times.
The Clare deputy said he went into the Dáil when the voting bell sounded but he left to take a phone call. Mr Collins confirmed that what Mr Dooley said in his statement was correct.
---
Read more:
---
Ms Chambers asked people to take her at her word and accept her version, adding that Dáil footage would back up her version of events.
She said she hoped that she would not be suspended because she is in "the Brexit brief" and things are at a crucial point.
Ms Chambers said that when she denied ever voting in someone else's name on RTÉ's This Week programme yesterday, she took the question to mean "have you ever intentionally or 'knowingly' voted for someone else", to which the answer was no.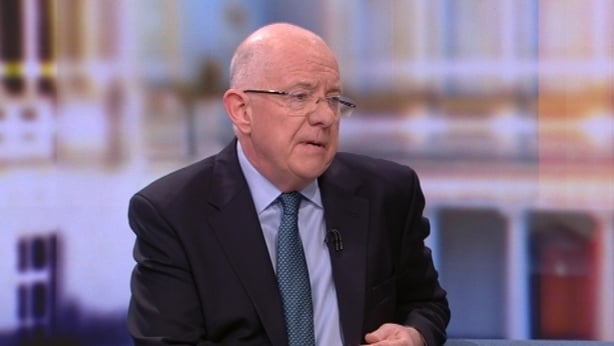 The Minister for Justice has said any law passed on the basis where a TD was incorrectly recorded as voting while not in the Dáil will be subject to challenge.
Speaking on Newstalk Breakfast, Charlie Flanagan said voting "goes to the heart of our democratic process" and described the situation as "very serious".
He said that on occasion, someone might be "racing down the stairs with three seconds to go" and ask another deputy to press their button on their behalf, and that he himself may have done that "from time to time".
He said that what Mr Collins and Mr Dooley were being investigated for is a "completely different issue" and that it is important not to "muddy the waters".
Minister Flanagan welcomed the Ceann Comhairle's investigation and said there was a "heavy duty and burden" on him to make sure it is thorough.
He added that the situation was "far from over".
Co-leader of the Social Democrats Catherine Murphy has said the controversy was a very serious offence and said it was "not credible" that Mr Dooley was at the back of the Dáil for six votes.
She said TDs are not there in an individual capacity but as elected representatives, and the voting system had to be beyond reproach.
Speaking on RTÉ's Today with Sean O'Rourke, she said there does not appear to be a sanction for the offence, but that was something that could possibly be considered once the Ceann Comhairle has completed an investigation.
Meanwhile Fine Gael's Parliamentary Chairman Martin Heydon, has said there cannot be any question mark hanging over the voting system of the national parliament, and this has been brought into disrepute by the developments of recent days.
Speaking on RTÉ's Six One News, he said that there must be absolute clarity so that public confidence can be restored in how parliament sets the laws of the land.
Mr Heydon said there must be a public examination of the statements made by the Fianna Fáil deputies concerned about why this happened, and to ascertain if the Dáil record needs to be changed for other votes or pieces of legislation in the past.