The Ceann Comhairle has been presented with an LGBT flag as part of a nationwide festival.
The flag will be flown over Leinster House during the Pride Parade in Dublin city this weekend.
Seán Ó Feargháil said: "Across all sides of the Dáil and Seanad chambers, there is significant support for the Pride Festival.
This is reflected nationwide in the Pride events scheduled throughout the month of June.
By flying the flag over Leinster House on Saturday, we are showing our commitment to support and assist the LGBT+ community and their allies in the Oireachtas, be they members, political staff or support staff."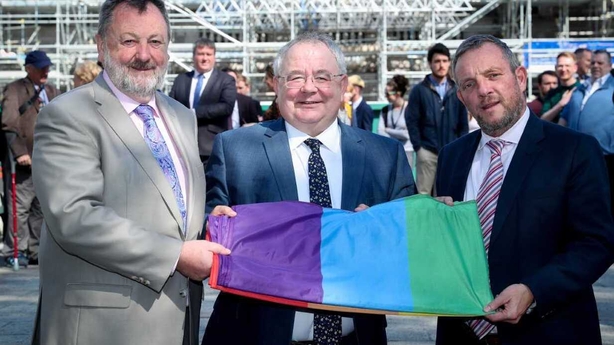 Earlier, the Leinster House LGBTQ group held its first informal meeting.
Seanad leader Jerry Buttimer and Oireachtas colleagues have been instrumental in the formation of the group in Leinster House.
"I am grateful to the Ceann Comhairle, the Cathaoirleach, and Peter Finnegan, Clerk of the Dáil, for their continuing support for this fledgling group, but I am anxious to explore ways in which it can be progressed, issues that can be discussed, and ways in which the group can function," Senator Buttimer said.
Today's events take place 26 years after the Oireachtas passed legislation to decriminalise homosexuality.