Social Democrats co-leader Róisín Shortall says she believes the cost of building the National Children's Hospital will eventually reach €2 billion.
Deputy Shortall said that the approach to cost control and containment should have applied from the beginning and every effort must be made to ensure the price does not balloon any further.
Speaking on RTÉ's Morning Ireland, she said the project has run out of control, as have many other plans including the National Broadband Plan.
Deputy Shortall said important projects will have to be sacrificed as a result of the failure to contain these costs.
"This thing has just run out of control. As indeed have many other projects, including the National Broadband Plan. So not only do we have a serious problem with taxpayers not getting value for money but there are opportunity costs involved here. And we're yet to hear of those important projects that will be sacrificed as a result of the failure to contain these costs."
Ms Shortall said public health systems across Europe are based on the principles of fairness and equality, but in Ireland we have a "deeply unfair" two-tier system.
She said it did not make any sense that a publicly-funded hospital like the NCH would be incentivised to take in increased numbers of private patients, which would be at the expense of public patients.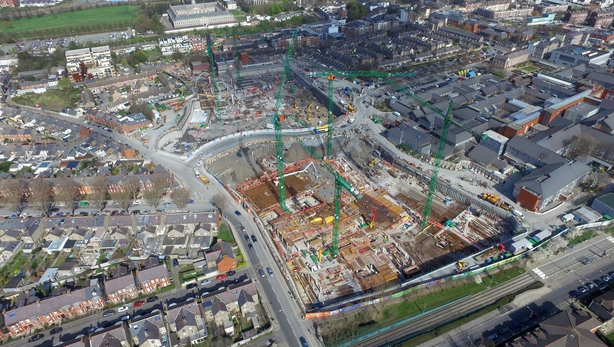 She said this new project should be underpinned by solid principles of fairness and equality.
Sinn Féin's finance spokesperson Pearse Doherty has described the bill for the NCH as a "runaway train".

"We can't allow this situation to get further out of control. There needs to be a plan in place by Government to ensure these costs are controlled for once and for all," he said.
Speaking during Leaders' Questions in the Dáil, Mr Doherty said the cost overrun was already having an impact, with the threat of €2bn per annum being cut from smaller projects across communities.
However, Minister for Communications, Climate Action and Environment Richard Bruton said that no project on this scale was "risk free". He acknowledged that mistakes were made in the early stages.
"If you think you can run this without having some risks managed between the State and the contractor, that is not the reality," Mr Bruton said.
He said it was always in the contract that the State shared some of the risk around construction inflation.
Mr Doherty said the public wanted "straight answers" around which projects would be affected.
PAC told over €1m paid to NCH PR firm
Meanwhile, the Public Accounts Committee has heard more than €1m has been paid to a public relations company to handle the National Children's Hospital since 2015.
The Dublin based PR firm Q4PR won the contract in April 2015 and has been paid €1.03m to date for the contract which runs until March 2021, the committee was told.
Fianna Fáil TD Marc McSharry called for a detailed breakdown of the brief.
He also raised concerns that the main contractor involved in building the hospital was involved in up to nine litigation cases against the State for other contracts.
Deputy McSharry said there might be "perfectly good grounds" for the contractor to be suing the State, but "if they are doing it nine times, it looks like there is a little bit of form here".
Social Democrats co-leader Catherine Murphy queried whether there was a particular weakness in Ireland at procuring large projects compared to other countries.
Comptroller and Auditor General Seamus McCarthy said capital cost overruns was an international phenomenon.
"Not commenting on any specific contractor, the only thing we can do is focus on the weaknesses in the public bodies when they go to market and when they put a specification out missing out things that inevitably that have to be paid for," Mr McCarthy said.
Additional reporting Edel McAllister