Families of homicide victims staged a protest outside the Dáil and the Department of Justice today as they called for reform of the parole system.
They are critical that those convicted of murder who are serving life sentences are entitled to apply for parole after serving seven years of their sentence.
Nancy Whelan's daughter Sharon,30, and her two young daughters, Zarah and Nadia, were murdered on Christmas Day in 2008. She said their killer Brian Hennessy should not be given parole.
"We are going through hell every day ... We have no Christmas. We have nothing to live for," said Nancy.
She added that families are getting sentences "not the murderers. We are just left there, forgotten about".
She emotionally described how she can still hear her daughter's voice "every minute of every hour of every day".
Aisling McLoughlin's sister Siobhán Kearney was killed by her husband, Brian Kearney, who was found guilty of her murder in 2008.
She said today's protest was organised because the families are "worn out and fed up with revelations that keep coming out in relation to murderers who are incarcerated at the moment for crimes against our families."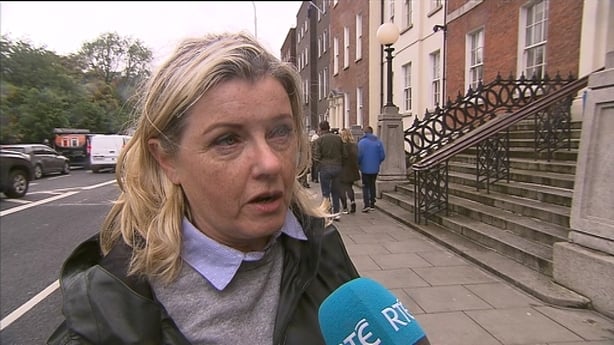 She said that her sister was strangled by her husband who is serving a life sentence but "he gets to apply for parole after seven years.
"He is actually on his second parole hearing at the moment and he is getting the option of having day release. It's just absolutely insane, there is no stringent life sentence laws in this country and there has to be."
She said it is a disgrace that there is not more of a deterrent to stop people from committing murder. She added: "This Government needs to get their act together now. We are sick of this. Why do these families have to come out on the street? Why are these laws not protecting us?"
Asked what her message is to the Minister for Justice, she said: "There is no remorse in the case of most of these murderers. Where is the rehabilitation? Who says they are rehabilitated? They are living in a controlled environment."
Today's protest was organised by the victims' group Sentencing and Victim Equality (SAVE).
Ms McLoughlin was critical that there is not more consistency in how long a perpetrator who is given a life sentence will actually serve in prison. She said: "nobody knows. It's like fairy dust!"
We need your consent to load this rte-player contentWe use rte-player to manage extra content that can set cookies on your device and collect data about your activity. Please review their details and accept them to load the content.Manage Preferences
In a statement, the Department of Justice said: "The Minister is very conscious of the grief and pain suffered by families of victims of murder. He takes great care in carefully considering the recommendations of the Parole Board in each such case.
"While it has always been the case that prisoners sentenced to life imprisonment for murder are eligible to first come before the Parole Board after 7 years imprisonment, in reality the average sentence served before being released on parole (if at all) is more than eighteen years as is clear from the Parole Board's annual reports."
Patricia (Patti) Campbell, whose daughter Ciara Ní Chathmhaoil was murdered in July 2007, was at the protest. Gordon Molloy was subsequently jailed for life for her murder.
She explained: "He is already on his second parole attempt. He was due to get his second day release within a year this weekend. The Minister for Justice emailed yesterday evening to say that has been postponed."
She it is a "travesty" that convicted murderers can get day release to visit their families.
The Department of Justice statement concluded: "The Minister is working with the Opposition on progressing a Bill which is currently before the Dáil and which will create a new statutory Parole Board. This Bill, and the debates on it, will provide a valuable opportunity to discuss and address many important issues relating to the parole process, including the term which must be served before becoming eligible to be considered for parole."