The Dáil's Public Accounts Committee is to write to the Secretary General of the Department of Public Expenditure and Reform, Robert Watt, to seek an unredacted version of his warning to Government over the cost of the National Broadband Plan.
The committee was due to meet in private yesterday to discuss its draft report on broadband.
That report was expected to be published next week. But two-thirds of PAC members voted in favour of deferring the finalisation of the report, in light of developments in recent days.
At its meeting today, PAC chairman, Seán Fleming, said he did not want the committee to be accused of "wading into a political controversy."
He said: "We are going to complete our work. But in the politically charged debate going on in these two days, I didn't want to involve the PAC at this time."
Independent TD for Galway West, Catherine Connolly, said it was her understanding that the finalisation of the report was being delayed for practical rather than political reasons.
"We didn't have enough information and information was coming out, we couldn't complete those reports yesterday," she said.
"The wrong message is going out, I don't think we should ever cancel a meeting for political reasons or the perception or that it might look wrong, quite the contrary actually.
"We learned an enormous amount that has to go in the report."
Mr Fleming said he took her point completely.
Sinn Féin's David Cullinane said the language in Mr Watt's correspondence to Government, which was published yesterday, was "so stark" that the PAC had to consider how to examine it.
"He raised fundamental questions about value for money and value for money is exactly what we do," he said.
Mr Fleming said the committee will seek all correspondence in relation to the plan, including from the Department of Communications.
He said: "We are writing to Mr Watt now for an unredacted version of all correspondence because we have already previously discussed that particular matter here, the PAC will formally request that," he said.
"When we get that we will decide the next step. Obviously there is information he felt he did not want to share on the day and I think now there might be an opportunity for a full discussion on the information that he felt he could not share on the day."
That information, he said, would be incorporated into the PAC report.
Social Democrats TD Catherine Murphy said the committee should publish its report after further meetings with Mr Watt. She said broader issue of capital projects should also be revisited by the committee.
"There is some insights in the documentation that has been published that may well be helpful in terms of other advice that might have been given."
Varadkar defends broadband contract
The Taoiseach has said the preferred bidder contract to deliver broadband was a "real contract" that can be "delivered," and rejected suggestions that it had been announced for electoral reasons.
Speaking after an EU leaders' summit in Romania, Leo Varadkar said: "This is a long-term project. We could have given the go ahead a few months ago by designating the preferred bidder, but we wanted to do due diligence first.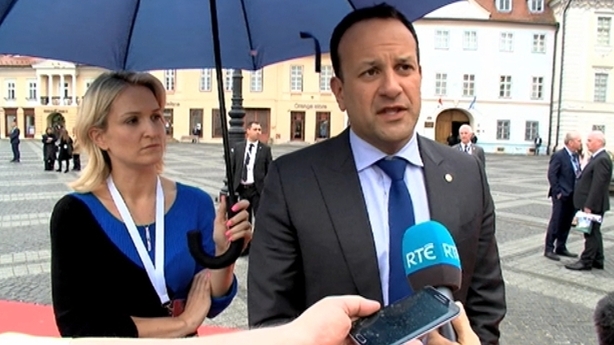 "We wanted to make sure that there wasn't an alternative that would be quicker, that would be cheaper and would deliver 100% coverage. There isn't. We're satisfied ourselves that there isn't a Plan B.
"If we don't go ahead with this there will be delays for many more years, the costs may be much higher and we may find we can't achieve 100% coverage.
Fianna Fáil leader Micheál Martin has said his party would find an alternative to the National Broadband Plan if the party is in Government when the contracts have to be signed.
Speaking at the launch of Fianna Fáil's local election candidates, Mr Martin said the bulk of the risk was on the state.
"The idea you could leverage the risk on the private sector has come full circle."
He said the Government's "Big Bang" approach had not worked and his party would use an alternative route of setting up an agency within the ESB.
Mr Martin also accused the Government of playing fast and loose with the public finances and said the credibility of the National Development Plan was in tatters.