Fianna Fáil's general secretary has issued a directive for the party's two European election candidates to carve up the Midlands North West constituency to maximise support in the 24 May poll.
A letter from Seán Dorgan to the party's grassroots in the constituency, that covers 13 counties, sets out how the constituency should be divided between Brendan Smith and Anne Rabbitte.
The letter, seen by RTÉ News, details how Lisa Chambers, Fianna Fáil's national director of elections for Europe, and Thomas Byrne, the director of elections for the Midlands North West, have agreed to implement the divide.
Galway East TD Anne Rabbitte has been given her own constituency along with Galway West, Mayo, Roscommon-Galway and Sligo.
Cavan-Monaghan TD Brendan Smith has been given his own constituency along with Donegal, Leitrim and Louth.
The five remaining Dáil constituencies in the area have been left open for both candidates to harvest votes. These constituencies are Longford-Westmeath, Meath East, Meath West, Kildare North and Kildare South.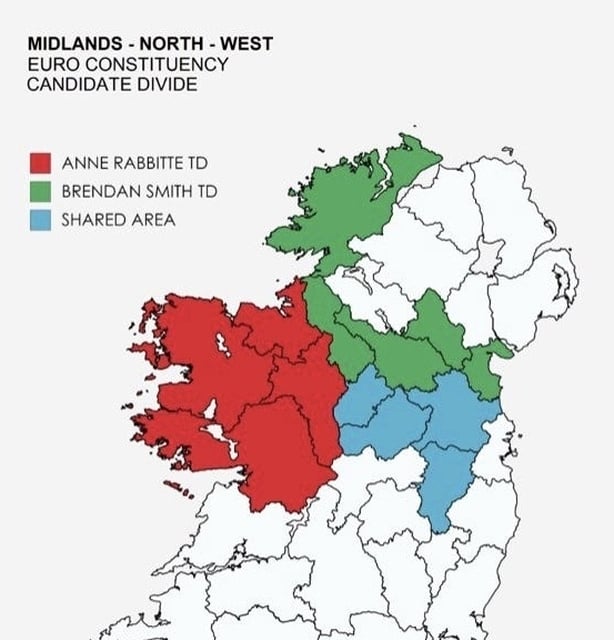 Mr Dorgan's letter outlines that the divide means that the party will be asking supporters in the area allocated to Ms Rabbitte to vote number 1 for her and number 2 for Mr Smith - and vice versa in the area allocated to Mr Smith.
In the five shared areas, party headquarters is asking supporters to vote for both candidates in order of their choice.
In the 2014 European election, outgoing Fianna Fáil MEP Pat The Cope Gallagher lost his seat in this constituency. On that occasion, the party ran two candidates, with current Meath East TD Thomas Byrne also contesting. The decision to run two candidates drew some ire within party ranks. Some Fianna Fáil members believed the strategy split the party vote when it had a quota to elect one MEP.
Ahead of the 2019 poll, Fianna Fáil's directors of the elections have asked members, local election candidates and public representatives to implement the new strategy and "campaign accordingly" in a bid to maximise the party's vote.
Fine Gael is also running two candidates, with outgoing MEP Mairead McGuinness and Mayo-based Maria Walsh on the ticket.
Outgoing MEPs Matt Carthy from Sinn Féin and Independent Luke Ming Flanagan are also running again in the constituency. Independent MEP Marian Harkin, the other outgoing MEP in the constituency, has announced that she is retiring from Brussels.
Independent candidate Peter Casey, who came second in last year's Presidential election, announced this week that he will contest.
Former Meath East TD Dominic Hannigan is contesting for Labour and Saoirse McHugh is the Green Party candidate.
Renua Ireland is running John Leahy and Michael O'Dowd while Cyril Brennan is the People Before Profit candidate. Other candidates may yet enter the race.