The Sea Fisheries (Amendment) Bill 2017 has passed all stages in the Dáil.
The bill will reinstate a North-South fishing deal that existed from the 1960s until 2016, allowing fishing vessels from Northern Ireland to fish in Republic of Ireland inshore waters and vice versa.
The bill was voted in by 71 votes to eight votes against.
The debate on the controversial legislation took place in the Dáil this afternoon.
From the 1960s up to 2016 a "Voisinage" or "neighbour's agreement" between Northern Ireland and the Republic allowed northern fishermen work in southern waters and vice versa. 
But the so-called "gentleman's agreement" was successfully challenged in the Supreme Court in 2016. 
Solicitors representing the four mussel seed fishermen who took the Supreme Court action over the Voisinage in 2016, have written to President Michael D Higgins seeking that he refer the bill passed today to the Supreme Court.
Killarney based solicitors O'Shea, White and Company have written to the President on behalf of the four fishermen expressing "grave reservations" that the bill has been passed by the Dáil and Seanad.
Their clients Paul Barlow of Woodstown Bay Shellfish Ltd in Dunmore East, Co Waterford; Michael Crowley of Riverbank Mussels Ltd in Wexford; Gerard Kelly of Fresco Seafoods Ltd and Tardrum Fisheries Ltd in Greencastle, Co Donegal; and Alex McCarthy Shellfish in Limerick, claim that the bill passed is unconstitutional, incompatible with EU law, and contravenes the European Convention of Human Rights.
The solicitors representing the four fishermen have also written to the European Commission to express concerns about the bill.
One of the four men, Gerard Kelly from Greencastle, Co Donegal protested outside Leinster House this week as the bill was debated in the Dáil.
TDs opposing the legislation argued that Dutch fishing vessels are coming into Irish waters using "Northern Ireland flags of convenience" and "pillaging" our fish stocks.
Independents4Change TD Clare Daly was among TDs to raise concerns about Dutch vessels depleting Irish inshore fish stocks.
Ms Daly said that: "There is a very big problem with Dutch corporations flying under Northern Ireland flags of convenience coming to our shores and decimating our natural resources."
She claimed that these vessels have come in and pillaged the mussel stocks in Irish waters off the Wexford coast. 
The Government's 2017 Sea-Fisheries Amendment Bill, which was drawn up to reinstate the long-standing arrangement, had trouble passing in the Oireachtas.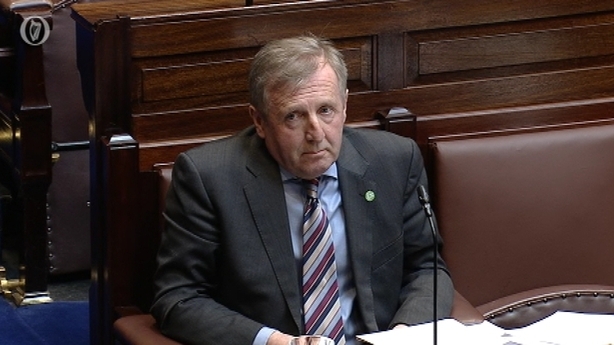 As a consequence of this delay, two Co Down skippers had their boats detained in Dundalk Bay last month.
Passed in the Seanad on Tuesday, Minister for Agriculture Michael Creed took the bill to the Dáil today. 
Mr Creed said that the bill is about restoring the Voisinage Agreement that operated successfully for decades. He said that "as citizens of this island that is the right thing to do". 
Sinn Féin TD for Louth Gerry Adams said today's bill is about giving legal convention to the 1960s agreement.
He added that but for the "recent embarrassing arrest of two Northern trawlers it might not be up for debate today".
He asked the Government to accept that fishing organisations have genuinely held fears about potential impact of the bill on the sustainability of the fishing stock and jobs. 
The Labour Party's agriculture spokesperson Willie Penrose warned that the Dáil needs to "tread carefully" in case vessels come in from all over the place to fish in Irish waters.
He also acknowledged that this is a "difficult and delicate situation" and stressed the importance of North-South relations.
Independents4Change TD Thomas Pringle was critical that the Voisinage Agreement has been around since the 1960s and it was never put on a legislative footing by any Government.
Mr Pringle and his Independents4Change colleague Mick Wallace expressed concerns about large corporate owners sailing in and depleting Irish stocks. 
Mr Wallace was critical of the "aggressive fishing" by Northern Ireland vessels of mussel seed stock off Wexford. 
He claimed large Dutch vessels have been coming in to fish mussels off Wexford and they are using Northern Ireland-registered vessels. 
Ms Daly said that this "a very dangerous bill." She acknowledged nobody in the Dáil has any massive objection to Northern Irish fishermen getting access to our six mile nautical zone. 
But she added: "There is a very big problem with Dutch corporations flying under Northern Ireland flags of convenience coming to our shores and decimating our natural resources."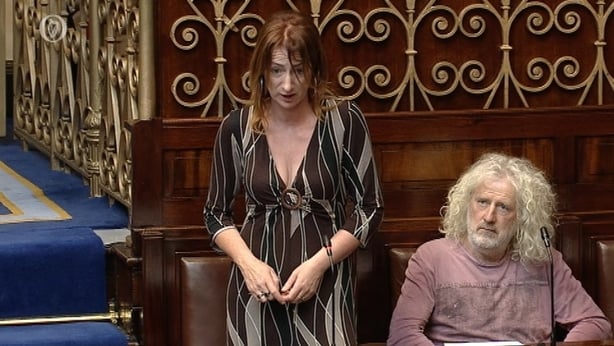 She claimed that our mussel seed was absolutely devastated by foreign boats. 
"Available mussel seed dropped from 30,000 tonnes in 2002 to just 2,400 in 2013. Pillaged by foreign interests with zero interest in fishing in our inshore sustainably." 
"These vessels have come in and pillaged the mussel stocks in Irish water off Wexford coast."
She said that a provision should be inserted in the legislation that "only boats owned and operated in the North by people either resident here or in the Republic gain inshore fishing rights provided under this bill."
Fine Gael TD Fergus O'Dowd said that fishing vessels from Northern Ireland should be allowed into Irish waters but the principal of conservation of stocks is important in areas such as Dundalk Bay were stocks of some species are under threat.
His Louth constituency colleague and Fianna Fáil TD Declan Breathnach also adopted a similar tone by referring to the depletion of stocks in Dundalk Bay. He said that he may be accused of being partitionist, he will not apologise for addressing the concerns of fishermen in Dundalk Bay.
He asked Mr Creed for a guarantee that "opportunist and unscrupulous fishermen" would not register their vessels in Northern Ireland and use that as a way to "ravish and pillage fish stocks in Irish water." 
Mr Creed warned TDs against the danger of starting conflate the two issues of the principal of access and the other is management issues. "The bill only deals with the principal of extending or reinstating access that existed up to 2016. It is not about the idea of how we manage these resources."
Earlier, Fianna Fáil TD Pat The Cope Gallagher pressed the Minister to bring in fish stock management measures.
The bill now be sent to President Michael D Higgins to be signed into law.