There has been a major upset at the Fianna Fáil selection convention for the Ireland South constituency this evening.
Wexford councillor Malcolm Byrne has defeated Cork TD Billy Kelleher in his bid to run in the European Parliament elections on 24 May.
The Cork North Central TD was widely expected to win the nomination at this afternoon's convention in Clonmel, Co Tipperary.
But it has emerged that Mr Byrne, a councillor on Wexford County Council since 2009, has won the nomination by a margin of just eight votes following an eleventh hour plea to the party's grassroots.
In a surprise result, Mr Byrne was marginally ahead of Mr Kelleher by five votes after the first count.
In that first count Mr Byrne got 347 votes, followed by Mr Kelleher on 342, Jason Fitzgerald from Cork North West on 195 and Kieran Hartley from Waterford on 29 votes.
Mr Byrne remained ahead of Mr Kelleher for a further two counts, following the distribution of Mr Hartley and Mr Fitzgerald's votes.
The councillor was elected with 451 votes to Mr Kelleher's 443.
It is understood that Mr Byrne put out an eleventh hour plea to Fianna Fáil delegates for their support.
One party source said: "He asked people last night to support him as it would become a news story, giving his campaign momentum, and Billy would be added to the ticket anyway."
This evening party sources have indicated that it is likely that another candidate may be added to the party ticket.
But any additions to any of the three European constituencies will be a matter for the Fianna Fáil's national constituency committee which will meet next week to review matters.
Speaking following his selection at the convention, Mr Byrne and party leader Micheál Martin paid tribute to retiring MEP Brian Crowley.
Mr Martin said: "I would also like to thank Brian Crowley for his dedicated service over many years.
"The close bond between him and this constituency was seen in the consistent and remarkable mandates he received over the years. The party and I wish him the very best in his retirement from politics."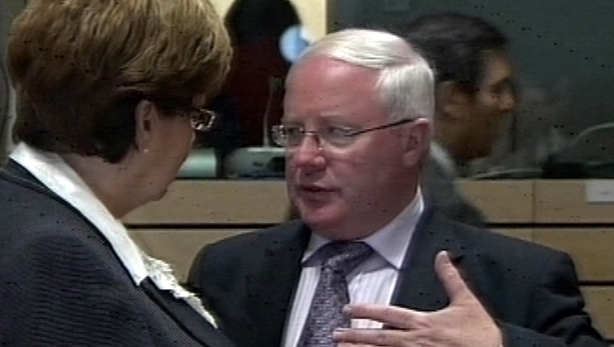 Last night the party selected former Minister for Agriculture and sitting Cavan-Monaghan TD Brendan Smith to run in the Midlands North West constituency.
Former Minister of State Barry Andrews was selected at the party's candidate in Dublin a few weeks ago.
The former minister for agriculture staved off competition from six other candidates at last night's convention for the Midlands North West constituency in Longford.
After 1,900 delegates voted, Mr Smith had 860 votes, followed by former Donegal TD Niall Blaney with 596.
Mayo man John Comer, a former president of the Irish Creamery and Milk Suppliers Association (ICMSA) received 257 votes, and sitting Galway East TD Anne Rabbitte had 174 votes.
Gerry Bridgett from Kildare South, Sean Hennelly from Galway, and Dundalk-based medical doctor Dr Dilip Mahapatra also contested the nomination.
Nine candidates initially sought the nomination, but Westmeath-based Senator Aidan Davitt and Kildare County Councillor Naoise Ó Cearúil withdrew from the race before last night's convention.
Mr Smith will contest for the party in the Midlands North West constituency, where Pat The Cope Gallagher lost his seat in 2014.