Former SDLP leader Mark Durkan is to contest the European Elections in May as a Fine Gael candidate in the Dublin constituency.
The 58-year-old previously served as an SDLP MP in Westminster until he lost the Foyle seat in 2017.
He will join former tánaiste and minister for justice Frances Fitzgerald on the Fine Gael ticket.
Mr Durkan told RTÉ News that he was first approached about running as a candidate by outgoing Fine Gael MEP Brian Hayes.
He said in his view the offer was Taoiseach Leo Varadkar following through on his promise that he wanted to ensure that Irish citizens in the North are not left behind by Brexit, not least in their standing as Irish citizens.
Mr Durkan also said that, if elected, he will continue to be living in Derry, but will also have a very strong presence in Dubin and will run a full-time office there.
He said "I know this is a big ask for the people of Dublin" and he hopes people there will have a wider national perspective, as well as their own city perspective.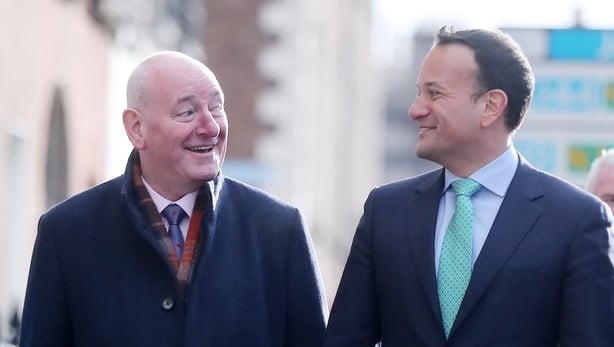 Mr Durkan said he will suspend his SDLP membership in order to run as a Fine Gael candidate.
Dublin and a second Irish European Parliament constituency, South, are each getting an additional seat in the May elections due to the departure of the UK representatives.
It is currently a three-seater represented by Lynn Boylan (Sinn Féin), Nessa Childers (Independent) and Brian Hayes (Fine Gael). Both Ms Childers and Mr Hayes have announced they will not be seeking re-election.
The Labour party has already selected former minister Alex White as its candidate. Former minister Barry Andrews emerged from the Fianna Fáil selection convention.

The SDLP said: "Mark Durkan provided the people of Derry with a first-class public service for decades.
"He is a first-class parliamentarian and his regrettable absence on the benches of Westminster has not gone unnoticed by parties and communities alike.
"We wish him well in the upcoming European election. Ireland can only benefit from having Mark Durkan back on a parliament bench."
---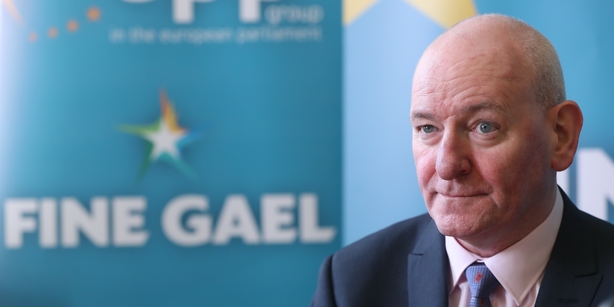 58-year-old Mark Durkan, a former SDLP leader, an SDLP Westminster MP until he lost the Foyle seat in 2017, is to contest the May European Elections as a Fine Gael candidate in the Dublin constituency.
Fine Gael has successfully carried out cross-border political manoeuvres in the past. But recruiting John Hume's trusted technocrat, someone who was influential in the construction of the Good Friday Agreement, is a significant change of tempo.
In 1989, two years after he stood down as the Alliance Party leader in Northern Ireland, John Cushnahan crossed the border and stood as a Fine Gael Munster constituency candidate in the European Elections. He went on to serve as an MEP for 15 years until his retirement in 2004.
Also in 1989, Fine Gael welcomed an SDLP founder member, Austin Currie into its ranks. He stood in the 1989 general election was elected a TD for the Dublin West constituency.
The following year, he was Fine Gael's 1990 presidential election candidate and although he finished a distant third, his transfers helped Mary Robinson overtake Brian Lenihan to become Ireland's first female president.
Currie would serve as a junior minister in later administrations and he retired from politics in 2002 after he lost his Dáil seat in Dublin.
But the Durkan ploy is new territory for Fine Gael.
It is driven by the most challenging political issue of current times - Brexit.
It is a decision by a party whose leader, Leo Varadkar, said in 2017: "No Irish Government will ever again leave Northern Ireland nationalists and Northern Ireland behind."
It is targeting one of the two extra European Parliament seats allocated to Ireland due to the UK and its representatives leaving the EU – the Dublin and South constituencies are each getting one additional seat.
Unlike Fine Gael's two earlier Northern Ireland recruits, if elected, Mark Durkan will continue to live over the border in Derry. He will open an office in Dublin, but he will seek to be part of what he calls 'Team Ireland' in the European Parliament, representing Northern Ireland, Dublin and the rest of the island.
Mark Durkan will immediately suspend his SDLP membership to run as a Fine Gael candidate. He will contest the election against, among others, Barry Andrews of Fianna Fáil, the party that has recently committed itself to pursuing a special relationship with the SDLP.
Before he departed for Dublin to attend the media event announcing Fine Gael's Fitzgerald/Durkan joint ticket plan, Mark Durkan spoke to me at his home in Derry.
He has been without a political job since Sinn Féin won his Westminister seat (and those of two other SDLP colleagues Alasdair Mc Donnell and Margaret Richie) in 2017.
The notion of running as a candidate for Fine Gael was first mentioned to him by Fine Gael MEP Brian Hayes, who is retiring from politics.
He said the Taoiseach did not mention or discuss it with him when he attended a function (celebrating Mark Durkan's contribution to politics) in Derry last autumn.