It is now one year since Ireland joined the new European defence cooperation entity, known as PESCO.
According to the Department of Defence, it has not cost us anything. 
Outside of officials attending meetings, the department says there were "no additional costs" associated with joining the EU's "Permanent Structured Cooperation" in 2018, and none is "planned" for 2019. 
Yet there is a significant qualification.
The department also says: "Future spending in this area may change as capabilities are developed through the PESCO projects." 
General defence spending, however, is most certainly going up. 
In 2019, the total increase will amount to €48m.
This allocation will include monies for additional pay and pension costs.
According to the National Development Plan, spending on defence capital projects will increase from €77m in 2018 to €125m in 2022.
So what is PESCO, and what will participation cost Ireland?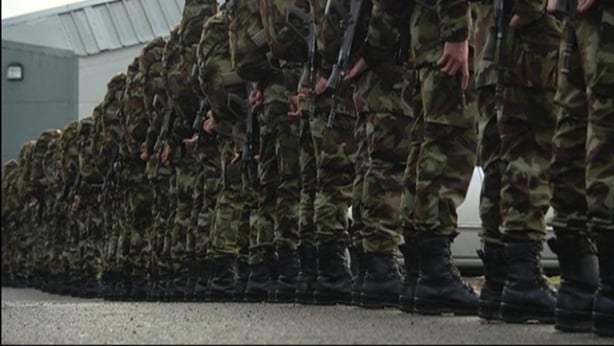 Joining PESCO was a decision taken by the Dáil in December 2017. The measure was supported by both Fine Gael and Fianna Fáil, despite opposition from Sinn Féin and other smaller parties. 
At the core of the debate was whether PESCO is simply a sensible cost-saving vehicle to enable EU Member States to improve defence cooperation, or a covert move to create an expensive and dangerous European Army. 
Taoiseach Leo Varadkar wanted to allay fears that PESCO membership meant Ireland would be purchasing significant military hardware. 
He said: "We are not going to be buying aircraft carriers; we are not going to be buying fighter jets; and we are not going to be shopping around military trade fairs."
He pointed out that the EU Council decision which backed PESCO specifically stated that "PESCO is voluntary and does not in itself affect national sovereignty."
The Taoiseach added his personal view that "A Europe that is worth building is a Europe that is worth defending."  
Many on the Opposition benches simply didn't believe him.
Sinn Féin's Aengus Ó Snodaigh said that while Ireland's Defence Forces should be adequately paid and equipped, PESCO was the wrong direction to take.
He argued: "I have no wish for Ireland to be a cog in an ever-increasing military structure or for our money to be diverted from the social fund into military research." 
One of the most outspoken critics of PESCO was People Before Profit's Richard Boyd Barrett.
The deputy claimed that the Government's approach in the Dáil was "a move to ram through a vote to move towards joining a European Union Army and quadrupling military spending". 
However Fianna Fáil's Lisa Chambers said suggestions of an emerging European Army or eroding Irish neutrality were "simply false".
She told the Dáil: "We will have members of the Defence Forces who will be better trained and equipped and have more knowledge. They will ultimately be safer when they go on overseas missions."
Labour TD Brendan Ryan called for the vote to be suspended on the basis that there hadn't been enough debate.
He told the Dáil: "The impact of joining PESCO could fundamentally alter Ireland's sovereign defence policy and history of neutrality for decades to come." 
However, PESCO was passed in the Dáil by a margin of 75 votes to 42.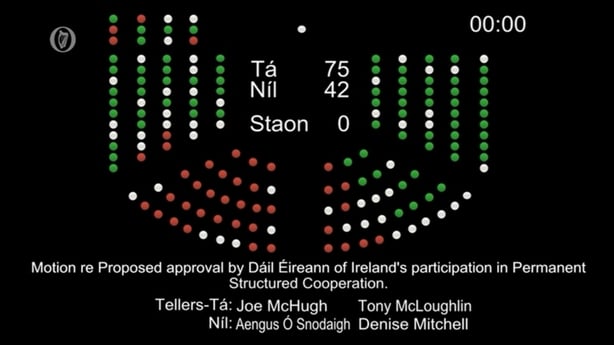 Taken on face value, PESCO is a means for EU Member States to cooperate on agreed defence projects.
Among the 17 current options for cooperation are training missions, military disaster relief capability, harbour and maritime surveillance, and a response mechanism to cyber threats. 
The logic is that by sharing and cooperating, the military forces from different member states become more efficient and tactically aware.
It is also likely that PESCO will increasingly lead to members purchasing similar military hardware.
Ireland has been involved in security and defence cooperation in the past - EU missions in Somalia and Chad are just two examples. However, what makes PESCO different is that participating member states have agreed to legally-binding commitments.
This means that Ireland will spend more on defence - but by how much is not yet clear. 
The Department of Defence describes PESCO in soothing terms as being "designed to provide the [European] Union... with greater efficiency and enhanced capabilities to enable the Union to respond more rapidly to major crises in support of international peace and security. The framework recognises the centrality of the UN." 
Speaking after a PESCO meeting in Bulgaria in May, the Minister with responsibility for Defence Paul Kehoe said: "The establishment of PESCO is seen at EU level as a political demonstration of unity, inclusivity and continuing ambition to provide global leadership and foster regional peace and stability."
Many on the left of Irish politics believe PESCO is simply a ruse.
In a video advert released this year on Twitter, Luke Ming Flanagan MEP said: "PESCO makes a mockery of what's left of Irish neutrality."
He decried assertions that there were no moves to create an EU Army as "obviously a lie". 
While Ireland is now a member of PESCO, not every EU Member State has signed up.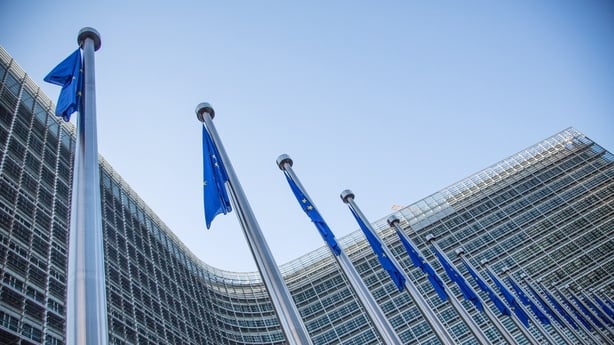 For example, Malta has adopted a wait-and-see approach. 
Denmark's mind is already made up.
Back in 1992, it negotiated an opt-out on the "elaboration and the implementation of decisions and actions of the [European] Union which have defence implications".
While Denmark will not participate in EU military operations, it does not seek to prevent other member states from engaging in closer cooperation. 
The other member state which didn't sign-up to PESCO, unsurprisingly given Brexit, was the UK.
However, it was said to be broadly supportive of the initiative.
One British newspaper quoted the then foreign secretary Boris Johnson as saying that his country's armed forces would in the future be like "a flying buttress" to support "the cathedral" of European defence.
It is not unconnected that this increase in European defence cooperation comes at a time when relations with the United States have become strained under the 'America First' policy of Donald Trump.
The US President appears to revel in being abrasive on EU relations, particularly when it comes to Angela Merkel. In just one intervention, for example, he claimed the EU had become "basically a vehicle for Germany".
The emergence of PESCO has added to the bad blood. 
Trump has been pressing for European countries, particularly those who are members of NATO, to increase their defence spending to more than 2% of economic output.
In US eyes, PESCO has the capacity to duplicate what NATO does - given that four fifths of PESCO members are also part of the Alliance.
The US is also concerned, diplomatic sources suggest, about possibly being excluded from future EU arms deals - a significant concern given that we are talking about a multi-billion euro industry. 
The actions of Russian President Vladimir Putin have exacerbated matters still further. Just this month, EU leaders extended economic sanctions against Russia over the conflict in Ukraine.
The measures were imposed back in 2014 after Malaysia Airlines flight MH17 was shot down over eastern Ukraine, killing 298 people, an attack blamed by the EU on pro-Russian rebels.
Squeezed between an expansionist Russia and an increasingly isolationist US, some European leaders are talking about the EU having to take its defence into its own hands. 
Last month, German Chancellor Angela Merkel told MEPs in Strasbourg: "We have taken major steps in the field of military cooperation - this is good and largely supported in this House. But I also have to say, seeing the developments of recent years, that we have to work on a vision to establish a real European army one day." 
Dr Merkel's comments echoed earlier remarks by French President Emmannuel Macron.
He said on French radio in November: "We must have a Europe that can defend itself on its own, without relying only on the United States."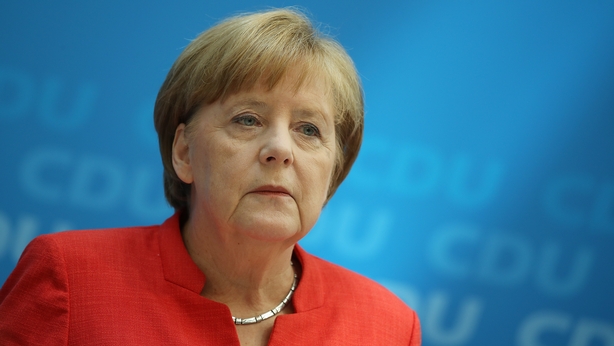 Twelve months on from the Dáil vote on PESCO, Richard Boyd Barrett claims the comments of Merkel and Macron confirmed "the worst fears" of those who oppose it.
He asserted that "powerful EU leaders" want an EU army and Ireland is "being dragged into that". He anticipates ever closer cooperation with NATO, which means Ireland would be "aligning with a nuclear military alliance". 
However, the Irish Government insists Ireland will never join a European Army, nor will the country contribute to a common European defence budget.
It points out that the so-called 'triple-lock' remains in place - in which Irish Defence Forces will only participate in a conflict if a decision is passed by both the Cabinet and the Dáil, and the mission has been authorised by the United Nations. 
The Government also points out that other non-aligned countries, such as Sweden and Austria, are also part of PESCO. 
Amid that ongoing rancour at home, one thing which is clear is that President Macron will be pushing the issue of defence again and again in the international arena.
Apart from PESCO, he's also helped develop a separate entity - the European Intervention Initiative.
According to the French Defence Minister, members will be able to "anticipate crises and respond quickly and effectively".
More can be expected.
As Macron told the Sorbonne a few years ago – "I don't have red lines... I only have horizons."