The Taoiseach has agreed that there is an "urgent need" for regulation of private security firms employed by financial institutions to evict people from properties that are being repossessed.
Leo Varadkar was responding to Sinn Féin TD Pearse Doherty during angry exchanges in the Dáil today, where the Taoiseach said: "When it comes Sinn Féin and the rule of law and public order and condemning violence, it doesn't take long for your balaclava to slip."
Mr Doherty said there is widespread public concern and anger at the manner in which a Roscommon family were evicted from their home last week where a private security firm was "given free reign to do as they pleased" while doing the eviction.
He described it as an "ordeal of thuggery" from a group of men acting on behalf of a financial institution while gardaí looked on.
He said it is a shocking reality that those who did it are not authorised and not regulated under the Private Security Act.
He said pressure needs to be brought to bear on financial institutions who are using private firms to evict people from homes.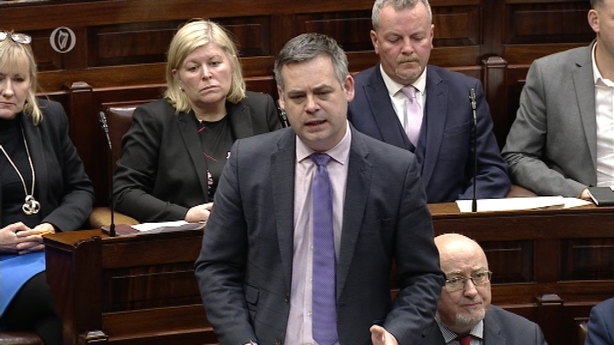 Mr Doherty added that these "hench men" are not regulated, authorised or overseen.
He said "it is extraordinary that we expect door staff or people doing security in shops to comply with the highest standards, but if these enforcers come in and ram down a door and drag out an elderly citizen by their ears from their property, they are unregulated, without authorisation and oversight".
He said Sinn Féin has published legislation to regulate these firms "so we do not see a repeat of the Frederick Street evictions in Dublin in October or the Roscommon eviction again".
The Taoiseach said that the fact behind this individual case seem to be about much more than an elderly farm family being evicted from their farm.
He said it involves many years of debts and arrears, VAT fraud and tax evasion.
Mr Varadkar said that we need to be careful to assume any individual case does not have reasons behind it.
He said that as things stand under the Private Security and Services Act of 2004, anyone who engages in private security is required to comply with the law and behave in a lawful manner.
ROSCOMMON EVICTION: Angry scenes in Dáil after @campaignforleo says "When it comes Sinn Féin & the rule of law & public order & condemning violence it doesn't take long for your balaclava to slip" to @PearseDoherty in LQs pic.twitter.com/sgoXHQNJTb

— RTÉ Politics (@rtepolitics) December 18, 2018
"But while doormen, people who fit alarms, people who provide security at events are required to be regulated by the private security authority, people carrying out eviction orders are not," he said.
He accepted that it may be a wise thing to amend the law to cover the regulation of these security services.
He said the eviction order in the Roscommon order was executed following a High Court hearing and the High Court does not issue eviction orders lightly.
The Taoiseach said there have been 100,000 mortgages restructured and only 400 eviction orders executed in the last year.
Mr Doherty said no family, regardless of their circumstances, should be treated in this way.
He said that the personnel entered into somebody's property, "cut down locks, break down doors, take some out by their ears, kick somebody on the ground, and push them out of their own home and property while the gardaí watch on is not acceptable."
The Taoiseach agreed that there is a need for proper regulation in the area and the Minister for Justice has established an inter-departmental group to report back in January.
However, he said he is "very concerned" that Mr Doherty has had nothing to say about the attack afterwards where 20 to 30 people arrived in a cattle truck armed with baseball bats and then injured people, set cars alight and caused an animal to be shot dead.
He said: "I condemn violence and thuggish behaviour by anyone under any circumstances... but in three contributions you have dismissed the fact that tax evasion is a serious offence, you have criticised the High Court for making an eviction order, having heard the cases and you have said nothing about the thugs."
He added: "When it comes Sinn Féin and the rule of law and public order and condemning violence it doesn't take long for your balaclava to slip".
Mr Doherty called on the remark to be withdrawn and labelled it a "diversionary tactic".
Meanwhile, the family at the centre of the eviction have said they are overwhelmed by the level of support they have received.
The family, from Strokestown, have also criticised what they described as ill-informed media commentary on their eviction, and have asked the Taoiseach to refrain from what they claim are distressing comments about their case.
A statement on behalf of the family was issued by the Sinn Féin MEP Matt Carthy after he met with them this evening.
People in debt being 'driven to the brink'
Independent TD Mattie McGrath also called on the Taoiseach to legislate to regulate those assisting in the carrying out of repossession orders.
Speaking on the behalf of the Rural Independent Group, Mr McGrath said that he did not condone violence, but that people in debt were "being driven to the brink". 
He said he had to write to one operator, Start Mortgages, on behalf of a couple in Laois who are being pursued, despite one of the couple suffering from a terminal illness and being wheelchair bound.
Mr McGrath called on the Taoiseach to take action against "a third force" coming in to assist in evictions.
Mr Varadkar said that it was important to acknowledge that mortgage arrears are going down, but there are a core of people who may never be able to pay back what they owe. 
He added that 116,000 mortgages have been restructured and 87% of these loans are being back.
He also said that the number of evictions orders being executed is going down, from 400 last year, 400 the year before and 900 the year before that.
"Courts hear both sides of the story and rarely issue a repossession order or an execution order unless there is good cause and other avenues have been exhausted," Mr Varadkar added.
However, he told Mr McGrath that in light of what we have seen in recent weeks, "we need to extend regulation to these private security firms to make sure they act in accordance with the law".
He also said that people who genuinely can not repay their debt can use the Abhaile Service.
Additional reporting Ciaran Mullooly