A Sinn Féin motion of no confidence in Minister for Housing Eoghan Murphy has been defeated in the Dáil.
Following uncertainty about her voting intentions, Minister of State Catherine Byrne supported Mr Murphy.
The outcome of the vote was a foregone conclusion weeks ago when Fianna Fáil indicated it would not support Sinn Féin's motion.
The motion was defeated by 59 votes to 49 votes with 29 abstentions. The result had been challenged, but was confirmed following a walk through vote.
However most of the focus was on the voting intentions of the junior minister, who had expressed concerns about the development of a site in her constituency.
Following meetings with Mr Murphy and Taoiseach Leo Varadkar, she issued a statement midway through the debate to say that she would be supporting her party colleague.
While she raised concerns about the proposed development in her statement, Government sources say it will proceed as planned.
However Ms Byrne hinted that she may secure possible concessions after expressing confidence that a plan will be agreed to identify the socioeconomic needs of the area.
It is understood that this may result in further investment in local facilities.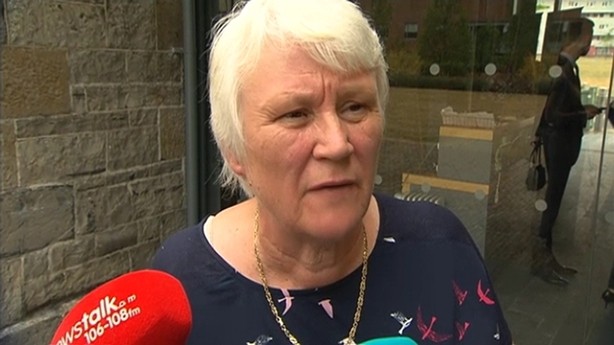 Ms Byrne had been calling for more services in Inchicore before any development takes place on a site in her constituency.
Tabling the motion this evening, Sinn Féin's housing spokesman Eoin Ó Broin said the Government's Rebuilding Ireland programme had failed and homelessness has increased by 60% since the plan was published two years ago.
FG & FF should be banished from Government for at least a generation due to "disastrous" housing policies according to @TommyBroughanTD pic.twitter.com/8ktvhh1WdP

— Ailbhe Conneely (@AilbheConneely) September 25, 2018
"Fifteen months on and it is clear both Eoghan Murphy and his housing policy Rebuilding Ireland have failed," Mr Ó Broin told the Dáil.
Mr Ó Broin said that child homelessness was up by 77% and pensioner homelessness up by 80%.
He said the Government had failed to invest in social and affordable housing and continued to rely on the private sector to meet housing demand.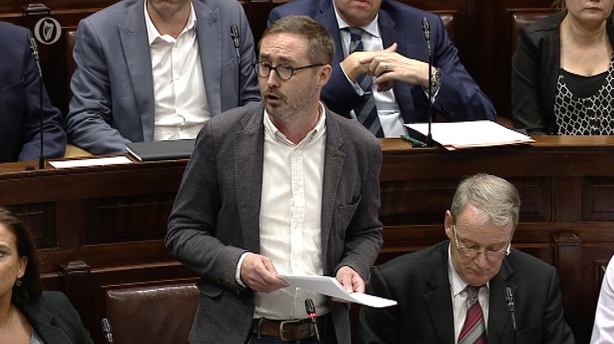 Mr Ó Broin said Mr Murphy's "blind defence of Rebuilding Ireland" was proof of how "out of touch and out of his depth he is".  
He also rejected the claim that the motion was a personal attack on the minister.
Mr Ó Broin also accused Fianna Fáil of "speaking out of both sides of their mouth" on the issue.
"Micheál Martin is so weak he is not willing to stand up to Leo Varadkar. He is so scared of an election he is willing to allow a failing minister and his failed housing plan to remain in place," Mr Ó Broin said.
Housing Minister @MurphyEoghan tells Dáil he won't be hounded out of office by personalised attacks against him. He accuses Sinn Féin of being "dishonest" over making people think the #housingcrisis can be solved overnight as @CByrneTD slips into Dáil chamber.. pic.twitter.com/kJNmOQ3tIe

— RTÉ Politics (@rtepolitics) September 25, 2018
Mr Murphy responded, saying that he would not be hounded out of office.
"I won't be distracted by populist nonsense that contributes nothing to the challenges we face. I won't be hounded out of office by personalised ad campaigns and personal attacks against me," he said.
He also told the house that he had apologised to a homeless mother in a hub after she had spent three weeks in a hotel.
However, he insisted that the Government's plan was working, saying that 2,000 families had left hotels in 2017, the majority moving in to homes, and in the past 14 months he said that 5,000 households left homelessness.
He also acknowledged there had been some failures in policies, but insisted that other policies had worked.
---
Read more:
Taoiseach defends Govt handling of housing crisis
Simon Community report highlights scale of homelessness
---
"Some of the things we have tried have not worked as well as we had hoped - like the repair and lease scheme. Some have worked better than expected - like the planning FastTrack process. Our progress won't always be linear. There will be setbacks. But progress is being made. Real tangible progress," he said.
He said more new homes had been provided this year, than any year in the past decade. "Over 20,000 places to live will be delivered," he said.
He added that it was dishonest and wrong to say the crisis would be solved overnight.
Fianna Fáil's Housing spokesperson Darragh O'Brien said the party fully appreciates and understands the scale and depth of the housing crisis.
However, Mr O'Brien said the question being put to TDs tonight was whether Dáil Eireann should bring down the Government.
Ultimately, according to Mr O'Brien, such a move would be a "deeply irresponsible action", considering the upcoming budget and the Brexit negotiations.
Mr O'Brien said a more difficult and more responsible path was required.
He added that the Government is accountable to the Dáil and each TD needed to ensure the Government does its job.
Additional reporting: Edel McAllister, Ailbhe Conneely