A group of TDs have launched a cross-party motion on homelessness to coincide with the "Raise the Roof: Homes for All" protest rally on Kildare Street.
TDs from Solidarity-People Before Profit, Sinn Féin, Labour, the Social Democrats, Independents for Change, the Green Party and other independents are supporting the rally which will take place on Wednesday 3 October.
People Before Profit TD Richard Boyd Barrett announced details of the Private Members Motion which is "calling for emergency measures to deal with the crisis which is spiralling out of control."
The motion is being supported by the National Housing and Homeless Coalition, the Irish Congress of Trade Unions, and other housing activist groups and NGOs.
He said the motion is calling for a radical break from the current failed Government policy that has "done nothing to address the housing crisis."
Mr Boyd Barrett said: "The motion is calling for a doubling of the budget for direct build of public and affordable housing; an end for evictions into homelessness; a declaration of a national housing and homelessness emergency; the insertion of a right to secure affordable housing into the constitution and for real rent controls that will make rents affordable."
He added: "This crisis getting worse and worse, it is now time for people power. Unless we have a mass mobilisation of the hundreds of thousands of people affected by this housing crisis, nothing is going to change.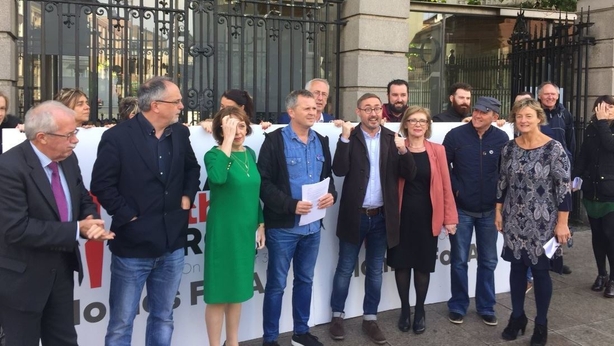 "So whether you are somebody who is in homeless accommodation, whether you are rotting on a housing list for years, whether you cannot afford an extortionate house or rent, whether you are a young person paying extortionate rent for student accommodation or you are someone who at this stage has no hope of ever having an affordable house of your own, we are calling for you to come out on the streets on October 3rd to put pressure on the Government to accept this motion and change housing policy."
Sinn Féin's housing spokesperson Eoin Ó Broin said the Government is over-relying on the private sector and that a dramatic under-provision of social and affordable public housing is at the core of the crisis.
He said that Fianna Fáil says it wants Budget 2019 to be a housing budget and "if they really want it to be a housing budget they should be supporting this motion."
Labour TD Jan O'Sullivan said that "with nearly 10,000 people homeless, including 3,867 children, there are very urgent practical measures in this measure including the one that people would not be evicted into homelessness."
He also backed the call for €2.6bn to be put into the housing budget for the construction of social and affordable housing.
Social Democrats TD Roisín Shortall said today marked the "start of a mass movement standing up against the Government and saying enough is enough."
She said that young people who are locked out of the rental and property market are taking to the streets and opposition parties are united with ICTU to say that they want the crisis solved.
Solidarity TD Mick Barry appealed to the half a million young people "who have been locked out of the housing market, the locked out generation," to come down to the protest on October 3rd.
Green party leader Eamon Ryan said that "the housing crisis gives us the chance to change the model but Fine Gael are saying they are going to solve the crisis be going back to the old model.
"It will not work. We need a fair system and this is the time to change."