Taoiseach Leo Varadkar has said he was disappointed at the reaction from Fianna Fáil to his call for talks on extending the Confidence and Supply Agreement.
Yesterday, Fianna Fáil leader Micheál Martin rejected the request to open talks on the agreement.
He said his party would be willing to discuss the process once the Budget was announced next month.
Other members of the party suggested Mr Varadkar was looking to force a general election this year.
Speaking on Inis Meán this afternoon, Mr Varadkar said he wanted to be transparent in outlining what he hoped talks between Fine Gael and Fianna Fáil might achieve.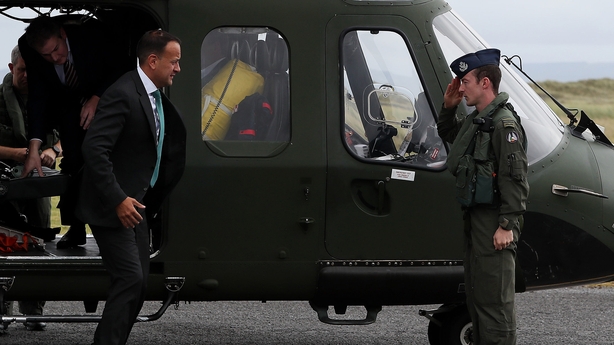 He said the deal between the two parties was due to expire in a number of months and denied that he was trying to force Fianna Fáil's hand on the matter.
Mr Varadkar said it was prudent to seek an extension of the agreement and not wait until it expired.
The Taoiseach said he believed that talks on the matter should have taken place months ago.
Mr Varadkar said he was not trying to orchestrate an election and that he wanted to see the present Government continue in office until the summer of 2020.
He said he saw no problem in trying to open talks and said the offer to Fianna Fáil remained open.
VIDEO: Taoiseach denied trying to orchestrate a general election. Says talks on confidence and supply extension should have taken place months ago pic.twitter.com/PttmTBErnK

— Pat McGrath (@patmcgrath) September 5, 2018
Earlier, Minister for Finance Paschal Donohoe reiterated Fine Gael's approach to the negotiations with Fianna Fáil.
He said that Brexit had not happened when the agreement was made and it was now a crucial point in the negotiations, so it was important to have a Taoiseach representing the country and providing stability.
When asked if Fine Gael would be open to a one-year extension of the deal as opposed to the two years it was seeking, Minister Donohoe said it was seeking an election in 2020.

'Frank talks' on Budget 2019
Separately, the first round of Budget talks between Fine Gael and Fianna Fáil took place today
They lasted about an hour-and-a-half and were described as frank and constructive.
Both sides set out their broad positions but they did not discuss specific measures.
Before the talks, Mr Donohoe reiterated the Government's general approach in past budgets to some tax decreases and social welfare increases.
He also reiterated that the Government would be putting €500m into a 'rainy day fund' for next year, but he would not state where the money would specifically come from. He said this would depend on the tax forecast.
The minister also outlined the Government plans for corporation tax reforms, which would see Ireland implement various commitments under EU directives.
FF arrive at Department of Finance for Budget talks. Michael McGrath says there is "unfinished business" to be discussed with @Paschald pic.twitter.com/XdALEXTVfQ

— Mícheál Lehane (@MichealLehane) September 5, 2018
Fianna Fáil's Finance Spokesperson Michael McGrath said that positive outcomes from the Budget negotiations would have influence on the Confidence and Supply Agreement.
He said his party favoured an affordable housing scheme and more funding for the National Purchase Treatment Fund and he also put a priority on those with disabilities.
Mr McGrath said there would be some changes to the income tax code and there should be more focus on SMEs.
When asked about his colleague Willie O'Dea's call for a €5 increase in the State pension, he said he would not be getting into detail.
Meanwhile, Minister for Employment Affairs and Social Protection, Regina Doherty, said that there was no reason why Fianna Fáil could not negotiate next month's Budget and consider an extension of the Confidence and Supply Agreement.
Elsewhere, co-leader of the Social Democrats, Roisin Shortall, has said her party was interested in participating in Government if it was willing to bring about social democracy.
Speaking on the same programme, Ms Shortall said the party was not interested in being in Government for the sake of it or for the "trappings", but instead to work towards having decent public services and creating the kind of country where people have an opportunity, if they work hard, to provide for a decent standard of living.
Ms Shortall said there was no question of the Social Democrats forming an alliance with the Green Party but said her party was happy to work with others that were concerned with bringing about a better society in Ireland through progressive politics.
She said the Social Democrats were currently in the process of selecting candidates for the next General Election. She said they were organised in 30 constituencies and have selected 21 Dáil candidates.
In relation to local elections they are also in the process of selecting candidates and their plan was to contest every single local authority, with the aim of achieving at least 25 council seats.
Additional reporting Martina Fitzgerald