The Department of Health has said tonight that CervicalCheck shared a number of documents with it, in relation to the CervicalCheck audit, including the Health Service Executive memos released today to the Public Accounts Committee.
It said the documents were not shared outside of the department's Chief Medical Officer and the HSE's Acute Hospitals Division and were not brought to the attention of any Minister for Health.
The department said it is is currently examining the records in relation to CervicalCheck and all documents will be made available to the preliminary inquiry headed by Dr Gabriel Scally.
The three memos released today showed that CervicalCheck was preparing a media response to potential adverse headlines to the effect that "screening did not diagnose my cancer".
The memos also showed HSE management were informed two years ago that a programme was under way to communicate the findings of a review of scans to the treating clinicians looking after individual women diagnosed with cervical cancer.
---
Read the full memo here
HSE boss Tony O'Brien to step down over cervical cancer controversy
---
The memos state that over 200 letters would be issued to clinicians to inform them about the results of the review. 
One states: "Given the volume of letters that will be issuing over the coming weeks, it is possible that individual cases could appear in the public domain.
"All international screening programmes will have encountered a media headline that 'screening did not diagnose my cancer'". 
"The CervicalCheck Programme has prepared communications materials to ensure transparent, effective and robust communications processes are in place so as to provide clear information for the media and the public where appropriate on the CervicalCheck Clinical audit process and results".
The memo states that a "communications protocol" was prepared for consulting clinicians to "address their questions". 
One memo was written in March, and two in July, with the later versions giving updates.
The PAC was told that Mr O'Brien, who this evening announced he was stepping down from his position, saw all three versions.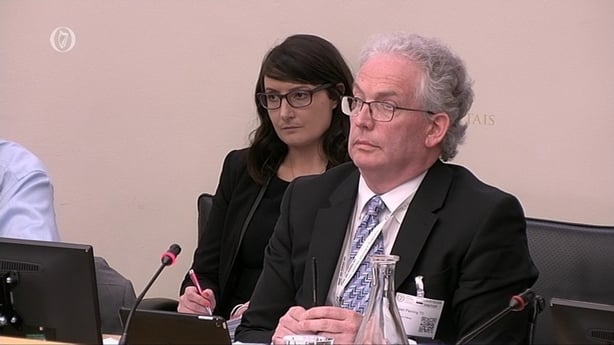 The July 2016 briefing note says that while the majority of cancers were detected as early as possible, not all cancers were prevented.
It says that in February 2016, CervicalCheck began telling treating doctors the outcome of the audit.
The memo reveals that some laboratories that were doing the testing had reacted with concern, in some instances, to CervicalCheck telling doctors about the audit outcomes and there had been legal correspondence on this.
The controversial 'next steps' on the HSE memo on cervical smear audits which has been labelled 'devastating' at the PAC pic.twitter.com/HceLpoeMSx

— Conor McMorrow (@ConorMcMorrow) May 10, 2018
A search is under way to see if the memos went to the Department of Health and to ministerial level.
The cabinet will meet in Dublin tomorrow to discuss the cervical smear controversy. A meeting of ministers in Clones to discuss Project 2040 has been cancelled tomorrow.
A Government spokesperson said the Taoiseach and Minister Harris had been dealing with the cervical cancer matter throughout today and will continue to do so tomorrow.
A spokesperson for the Taoiseach this afternoon said it remains the case that Leo Varadkar has no recollection of being told about any patient safety concerns around the CervicalCheck screening programme.
The Taoiseach told the Dáil last week he had asked officials to search through the Department of Health records to see if the matter was ever raised with him during his time as Health Minister from 2014 to 2016.
However, he said that he had no recollection of the issue being raised.
Anything thrown up by this search will be forwarded to the preliminary inquiry into the CervicalCheck controversy that got under way this week.
Chief Medical Officer Tony Holohan has said that while he would not have chosen the language used in the memo, it did not contain any warning about the operation of the cervical screening process. 
Secretary General of the Department of Health Jim Breslin said that he has no reason to doubt Tony O'Brien's assertion that the department was likely to have received a copy of the cervical cancer memo.
"The Director General said this morning that we had received a memo. He didn't say it was the memo that he got. So we are in the process of trying to identify that.
"We have a date range and so on, so we are going through our system. I have no reason to doubt the man." 
Renewed calls for O'Brien to stand down
Fianna Fáil TD Marc MacSharry renewed his call for Mr O'Brien to stand down following the publication of the memo.
He said there was a concern about media reaction rather than about individuals given false information that they were healthy, when they could have taken remedial steps.
Deputy McSharry said Mr O'Brien referred to the memo as "reassuring".
"If that is reassuring that is the clearest indictment .. the culture of containment, bury, suppress, protect ourselves at all costs."
BREAKING: Memo spurs renewed calls for Tony O'Brien's resignation. @MarcMacsharryTD says 2-year old HSE memo is "clearest indictment of culture of containment, bury, suppress, protect ourselves at all costs." pic.twitter.com/Ja0tSKLUUO

— RTÉ Politics (@rtepolitics) May 10, 2018
Acting chair Labour TD Alan Kelly described the memo as a "devastating document" and "quite damning".
"This is not what I was expecting to read this morning. I was expecting to read a communications strategy in place to communicate with those affected, the women. This was a strategy to ensure the HSE, the corporate brand is being protected," he said.
BREAKING: "This is a devastating document" - acting chair of the PAC @alankellylabour reacts to HSE memo pic.twitter.com/14DLxgt3vi

— RTÉ Politics (@rtepolitics) May 10, 2018
Sinn Féin TD David Cullinane said nowhere in the memo does it specify the women should be informed, no where does it say anything about open disclosure. 
He said the advice to "pause all letters" and "continue to prepare reactive communications response" for potential headlines that screening did not detect my cancer was "profoundly shocking". 
HSE MEMO: "Nowhere in the next steps does it say that all women should be informed. Nowhere does it say anything about open disclosure. Nowhere does it say anything that we are concerned about the welfare of women..." -@davidcullinane reacts to memo pic.twitter.com/zJg72grbz1

— RTÉ Politics (@rtepolitics) May 10, 2018
A Sinn Féin spokesman said this evening that the party is keeping open the option of tabling a motion of no confidence in the Government, or the Minister for Health over the handling of the cervical smear controversy.
Briefing note not 'did not ring any alarm bells'
Mr O'Brien earlier told told the committee that the briefing note he was given in 2016 in relation to the audit of cervical smear tests did not ring any alarm bells.
He said that while he learned about the Vicky Phelan case on RTÉ News, he said he was told in the briefing note that a communications process was about to begin to notify patients with cancer about an audit of their smear tests.
The HSE chief told Independent TD Catherine Connolly he was not aware that there was anything wrong.
"I was aware that an audit was carried out which was good practice. I was aware of a detailed plan to communicate the results of that audit," he said.
"I was never subsequently advised that anything had gone wrong in that communications plan."
Mr O'Brien said there was nothing in the memo that rang alarm bells.
When pressed by Ms Connolly on what exactly was communicated to him, he said it was "the individual results of audits against notified cancers in persons who had previously availed of the screening programme".
WATCH::  PAC hears while  @dghealthservice learned of Vicky Phelan case on RTE News, he was told in briefing note in 2016 that communications process was about to begin to notify cancer patients. But he tells @catherinegalway that he wasn't told there "was anything wrong" pic.twitter.com/1XZ4JaswZH

— RTÉ Politics (@rtepolitics) May 10, 2018
Mr O'Brien said he would have to check whether the memo mentioned the volume of women involved or not.
"I wouldn't want to mislead you without having it in front of me," he said.
"But that number in the context of three million cervical smear tests, and 1.12 million women participating in the programme… as difficult as it is and as harrowing as it is for all the individuals concerned, it is not a number that would raise fundamental concerns about the screening process."
Mr O'Brien said he read the memo recently and he remembered it being a "reassuring memo".
Today's developments at the PAC follow an interview broadcast this morning with a mother-of-five who has been given a terminal cancer diagnosis.
Emma Mhic Mhathúna told RTÉ's Morning Ireland that she had been given a clear smear test in 2013 but was diagnosed with cervical cancer in 2016.
She has recently been told that the cancer has spread to her bones and is terminal.
Mr O'Brien told the PAC that he had not been in a position to hear the interview this morning.
When asked by Mr MacSharry whether his position was now untenable, Mr O'Brien said that question was based on the presumption that there was some action that has been taken that has led to this diagnosis, and that is far from established.
WATCH: HSE DG under further attack from @MarcMacsharryTD "In the private sector you would be gone months ago...Mrs Mhic Mathúna has not got time to wait. She said she is too angry to worry about dying." pic.twitter.com/heSvnYxH9g

— RTÉ Politics (@rtepolitics) May 10, 2018
He said that it is clearly always very tragic when any young person receives a diagnosis of terminal cancer.
"The reason we have a screening programme is to limit the number of such cases, but it cannot eliminate them", he told Mr MacSharry.
"Your question is based on a fundamental premise that this has arisen because of the cervical screening programme, and I don't accept that is a reality.
"There is a review process ... I think it is wrong to jump to conclusions in advance of that process."
Mr MacSharry said irrespective of the outcome of the recently announced scoping exercise into the CervicalCheck controversy, he said that there is a systemic failure and a national health crisis that is the worst in the history of the State.
"How is your position tenable?" he asked.
There were heated exchanges as Mr O'Brien accused Mr MacSharry of causing hysteria and told him he "needed to step back".
Mr MacSharry said there was zero accountability.
Sinn Féin's Jonathan O'Brien asked Mr O'Brien: "Are you responsible for systemic failures within the HSE and not responsible for systems failures? Yes or no?"
Mr O'Brien replied that "this is not a systemic failure within the HSE as a whole, this is a systems failure in relation to a decision that was made to communicate and wasn't communicated. This will all be part of the review."
Reporting: Justin McCarthy, Edel McAllister, Conor McMorrow and Fergal Bowers