A mother-of-five, who has been given a terminal diagnosis of cancer, has said telling her young family of her diagnosis was the hardest thing she has ever had to do.
Emma Mhic Mhathúna, who was originally given a clear smear test in 2013, said her gynaecologist told her that if her abnormal test had been picked up in 2013 she would not be in this position now.
Ms Mhic Mhathúna said that as a mother it was her job to protect her children and keep the bad news away from them.
She told RTÉ's Morning Ireland that her GP gave her the news this week, and that while she had a feeling her cancer had returned, she did not expect the diagnosis to be terminal.
'On Friday I have a test to find out exactly how long I have left' - Emma Mhic Mhathúna pic.twitter.com/AfqmZ4Ym5J

— RTÉ News (@rtenews) May 10, 2018
"This is what makes it so heartbreaking. I'm dying when I don't need to die ... This isn't fair," she said.
"My children are going to be without me and I'm going to be without them. And I tried to do everything right and I don't even know if my little baby is going to remember me."
The Director General of the HSE, Tony O'Brien, told the Oireachtas Public Accounts Committee that he was not in a position to hear the interview when questioned on it this morning.
Ms Mhic Mhathúna said her family had had "such a good day" celebrating her child's confirmation on Tuesday.
She explained that she was meant to collect her results that day, but decided not to do so.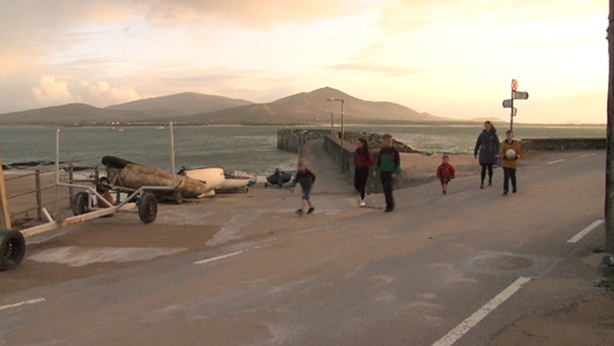 The Co Kerry resident, who was diagnosed with cervical cancer in 2016, has been told the cancer has returned and spread to her bones.
She also criticised what she said was a lack of action by the Government.
She said: "When it first broke out, I was like 'Okay, well, the head of the HSE is surely going to do something', and he didn't.
"And then I looked to Simon Harris. I was thinking 'Well, surely the Minister for Health is going to step in and do something'. That's why we give these people powers, and he didn't do anything.
"So then I was like 'Surely the Taoiseach is going to do something'. And he just seems to be sticking up for them … they're all hiding there in the Dáil and they don't see what I see.
"The Government need to go. They're not actually - and I'm not being insulting, it's genuine - they're not actually capable of minding us, and that is their job. To make sure that we're okay."
---
Read more:
Full interview: Emma Mhic Mhathúna
Doctors 'inundated' with calls over CervicalCheck
Call for screening service to be re-established when HPV test introduced
---
Ms Mhic Mhathúna said the only person who could do something now was the President and she never thought she would say that in a country in 2018.
This afternoon, a spokesman for President Michael D Higgins said he will meet Ms Mhic Mhathúna next week.
Speaking to reporters in Florence, where he is attending a conference on the future of Europe, President Higgins said: "I have responded to her already and I hope to have the opportunity of discussing it with her.
"It is just, of course, just a tragic, tragic awful reality that she's facing."
President Higgins added: "Of course there are others too carrying the burden of an [auditing] system that failed our citizens."
It is understood the meeting will take place next Wednesday.
'It hasn't hit me that I'm dying' - Emma Mhic Mhathúna speaks after terminal cancer diagnosis | https://t.co/Pi1tmGg05h pic.twitter.com/40WoGpBDn1

— RTÉ News (@rtenews) May 10, 2018
Meanwhile, a man from Kildare whose wife died and was one of the women affected by the CervicalCheck controversy has said the HSE took a gamble with his wife's life.
Speaking on Today with Sean O'Rourke, 'John' said he got a phone call last Sunday, asking him to come to Tallaght Hospital to discuss one of his wife's smear test results from February 2009.
The father-of-five said he was told the test, which was given the all clear in 2009, had abnormalities.
He explained his wife had had a procedure to remove precancerous cells in 2007 and they went on to have another baby, after she was given the all-clear.
However, in May 2009, his wife became unwell, haemorrhaging when they were on holiday in Spain.
They attended a GP when they got home and waited six months for a colposcopy appointment.
During this period, she haemorrhaged so badly that she was admitted to hospital. On 16 December 2009, his wife was given a cancer diagnosis.
Her consultant gave her a 70% chance of survival, however she died 16 months later.
The HSE lost nothing, he said, but we lost everything.
'John' said he felt tremendously sad and angry for his children and that he felt robbed.
He said that he felt Mr O'Brien should be removed from his job and that he believed more terrible stories would emerge.