The honorary vice president of Scouting Ireland has said that staff will have to be placed on protective notice next month and the organisation is losing key staff due to the uncertainty of their position.
Martin Burbridge told the Oireachtas Children and Youth Affairs Committee that the Government's decision to withhold funds "has had an immediate and serious impact on the finances of Scouting Ireland."
Last month, the Government withdrew funding from Scouting Ireland amid controversy over its handling of a rape allegation against an adult volunteer.
The committee heard the grant received under the Youth Service Grant Scheme represents approximately one-third of the organisation's funding and primarily goes to fund its national office and professional staff salaries.
Mr Burbridge, who is Scouting Ireland's team lead on the crisis, said: "The financial situation is now grave with a requirement to place staff on protective notice in June.
"Our reserves are limited and the stop on funding also has significant indirect effects.
"We are already experiencing a loss of key staff related to the uncertainty of their position."
Mr Burbridge said the board has taken steps to restrict spending and added: "We have already experienced a negative reaction from our creditors and suppliers.
"This is affecting day-to-day operations and worryingly our ability to put in place the necessary arrangements and facilities for our planned jamboree for 3,000 young people in July and also the planned recruitment of additional professional safeguarding staff."
He added that "establishing a pathway to the restoration of our funding is a vital requirement for us."
BREAKING: Martin Burbridge of @ScoutingIreland says Govt funding cut means staff will be placed on protective notice in June, other staff are leaving due to uncertainty, day-to-day operations & planned recruitment of additional professional safeguarding staff also affected pic.twitter.com/82DEcTrkq4

— RTÉ Politics (@rtepolitics) May 9, 2018
The committee was told that a review in 2012 of historic files found that a person who was removed from an old scouting organisation for child protection reasons before Scouting Ireland was set up in 2003 had managed to gain access to the new organisation, but was immediately removed once this emerged.
Mr Burbridge said Scouting Ireland received historic case files covering safeguarding and child protection cases dating back to the 1950s.
He said the pre-2003 files were passed on to Scouting Ireland from the two old scouting organisations after they resolved to form Scouting Ireland in 2003.
"In 2012, Scouting Ireland conducted a review of these files with the specific objective of determining if any person removed from the old organisations for child protection reasons had gained access to Scouting Ireland.
"We encountered one such case which was immediately dealt with by removing this person from the organisation. No further such instances were uncovered in the review," Mr Burbridge said.
Child protection expert Ian Elliot said he produced an interim report which looked at the child protection situation in the organisation as a whole, and a later report on the structural changes required.
He was also asked to provide a case review into the historic case which had to be amended due to developments.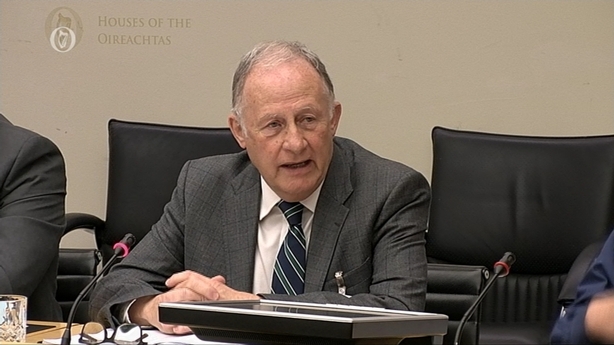 Mr Elliot said he could not comment on cases that were part of the critical case review.
He did say that he was concerned about the culture in the organisation and had argued for change with regard to safeguarding, which was central to Scouting Ireland or any youth organisation which offers services to young people.
Mr Burbridge said the organisation was determined to do what is necessary to get this right, adding that it wanted to exceed the standards that are set in any legislation.
He also said that Scouting Ireland was working to implement recommendations made by Mr Elliott and developing a code of discipline.
However, he said the withdrawal of funding is inhibiting that.
"People are worried about applying for a job in an organisation where it might not have funding to pay its current staff in eight weeks time, or there about. It is an inhibiting factor.
He added: "Scouting Ireland is determined to do what is necessary to get this right. We are not aiming to have just the right standard.
"We want to exceed the standards that are set in any legislation both North and South in this country."
Answering questions from committee chairperson Alan Farrell, Mr Burbridge said that they are thankful to have the help and support of child protection expert, Ian Elliott.
"We got some stuff wrong. We didn't change and improve as soon as we should have. We didn't know better at the time. We got in an expert. We now know better. We are going to make the changes," he said.
Mr Burbridge formally apologised on behalf of the board for the anxiety and hurt caused to young people and their families involved in the organisation as a result of the recent controversy.
He said that, together with Mr Elliot, Scouting Ireland would address the shortcomings and provide a safe environment for young and adult members and deal with compliance matters.
Mr Burbridge added the organisation would need to address its funding to ensure this happens.
He also said that it would take whatever action required once Mr Elliot finalises his reports.
Additional reporting Edel McAllister