Taoiseach Leo Varadkar has told the Dáil that "more heads may roll" in the wake of the cervical screening controversy.
However, he said "it's important that they are the right heads and that people who are dismissed are dismissed for something they did wrong.
"That's something we can't say with certainty at the moment".
He was responding to Sinn Féin leader Mary Lou McDonald, who raised the case of 37-year-old Emma Ní Mhathúna who is terminally ill with cervical cancer and who found out that errors were made in relation to a smear test she underwent in 2013.
Ms McDonald said Ms Ní Mhathúna wants to know why steps have not been taken to ensure accountability.
"Emma has no confidence in [HSE Director General] Tony O'Brien, the general public has no confidence in Tony O'Brien, three Cabinet Ministers have said he should stand down" she said.
"I want you to explain to Emma why you allow Tony O'Brien to continue on in office," she asked.
In response, Mr Varadkar said an inquiry was now under way which was tasked with getting to the bottom of why information was not passed onto women.
"That is the most inexplicable and egregious part of this affair," he said.
He said that while more heads may yet roll, "this isn't primarily about looking for a head".
Mr Varadkar said that it is about looking for the facts, and about restoring faith in the cervical screening system.
---
Read: HSE chief Tony O'Brien 'respectfully declines' calls to resign
---
The Taoiseach also told the Dáil that Attorney General Seamus Woulfe has been asked to work with the State Claims Agency (SCA) to settle outstanding cervical cancer cases similar to that of Vicky Phelan, and where possible through mediation before they go to court.
He was responding to Fianna Fáil leader Micheál Martin during Leaders' Questions this afternoon, who said further revelations continue to emerge about the cervical screening controversy.
Mr Varadkar said that in forthcoming cases, the State may not have the liability and no guarantee can be given to the women that they will not have to go through the same trauma as Ms Phelan.
He said the Director General of the SCA, Ciarán Breen, said that had the Legal Services Act been commenced, then the approach of the SCA could have been different.
When asked if he could categorically state that there were no issues with 1,600 cases, Mr Varadkar said that new information was still becoming available about this issue and that is why an inquiry has been set up to get to the bottom of these facts.
He said he understands that there are nine outstanding cases and another on the way.
The Taoiseach said it is the intention of the Government to settle cases as soon as possible and do so through mediation where possible before they go to court.
Mr Varadkar personally wrote to Tony O'Brien in late March saying that he hoped the HSE chief would be available to the public service after he retires from his current role.
Also in the Dáil, Sinn Féin TD Imelda Munster read out a portion of a letter from the Taoiseach to Mr O'Brien.
She read: "Hope you will still be available to the public service after you retire from the HSE, Leo."
Ms Munster asked the Taoiseach if that was still his view and if he stood over the handwritten note.
Mr Varadkar said that he stood over the note and there were no plans for the HSE chief to take up any public service role when he leaves his current role.
Meanwhile, latest figures from the HSE show that its helpline on the CervicalCheck issue has received 13,099 calls.
Over 8,630 people have requested a call back.
So far 4,383 calls have been returned.
---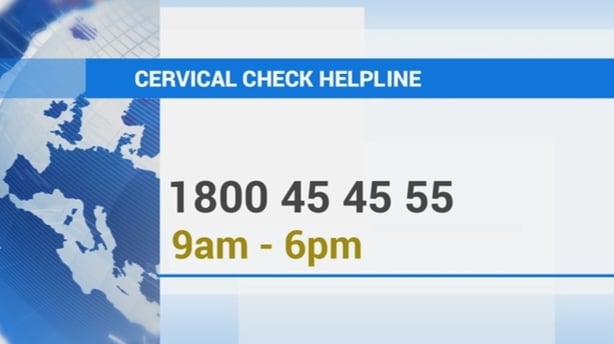 Reporting Justin McCarthy, Conor McMorrow and Fergal Bowers