Director General of the Health Service Executive Tony O'Brien has said that he will not resign.
At a meeting of the Oireachtas Health Committee, Fianna Fáil health spokesperson Stephen Donnelly told Mr O'Brien that it is his party's position that  they would like him to step back immediately without prejudice.
He said he takes no joy in making the call.
Mr Donnelly added that it would be better for the healthcare system and CervicalCheck as he was in charge of the organisation.
He added that "it has been a catastrophic failure of governance and has led to a collapse in confidence in screening services."
Tony O'Brien says he is intending to continue in his role as Director General of the HSE pic.twitter.com/GMQbndlyBl

— RTÉ News (@rtenews) May 9, 2018
Mr O'Brien acknowledged that there are significant issues and he intends to continue his work to address the issues of concern, saying:
"I respectfully decline to take up your invitation to resign."
Minister for Health Simon Harris has said he hopes to bring forward proposed legislation next week providing for a new HSE Board.
Mr Harris and Mr O'Brien were before the committee to answer questions about the CervicalCheck screening controversy.
Mr Harris said the HSE chairperson would be accountable to the minister and the chief executive would be accountable to the board.
He said the events of the last week have "shook the confidence of the public and me as minister in the very fundamentals of our healthcare system."
"This has been an intensely difficult time for everyone involved - most importantly the individuals, the women and their families," Mr Harris said.
He added that "fundamental values have been questioned" by the controversy.
"Our commitment to these vital principals and values has been questioned and it is right that it has been questioned.
"We have a long road to travel to restore public confidence but I am determined as minister to get to the bottom of what happened here and why such a crisis of trust and confidence came to pass," he said.
The Committee has heard that Mr O'Brien was due to be on annual leave this week.
Following questions from Alan Kelly, the Labour health spokesperson, Mr O'Brien said that CervicalCheck had probably known for years that it was not getting the full cancer figures from the National Cancer Registry.
This meant that it was not including more than 1,600 cases of cervical cancer in its audits of women's smears.
The committee heard Mr Harris had originally been incorrectly told that 1,482 cases in the CervicalCheck system were the totality of cases that had been audited.
Mr O'Brien said the fault here was not with the National Cancer Registry, which is under the Department of Health.
He said that it was CervicalCheck that had provided wrong information.
Mr O'Brien also told Sinn Féin's health spokesman Louise O'Reilly that he would have managed the fall-out from the Vicky Phelan case had he been made aware.  
On why he had not been informed, he said he thought those who should have told him did not themselves see the significance of it, adding that that aspect would be examined by the inquiry. 
"Yes I should have been told ... by and large I am told of these key issues. This one I was not and I am very concerned about that ... I am on the record as supporting mandatory open disclosure, " Mr O'Brien said. 
Mr O'Brien told the committee he agreed with the view that the HSE was "too big to fail and too big to succeed."
He hoped there would be strong competition for his job when he leaves in July but he had doubts about that.
Mr O'Brien said that the law provides for him to appoint an acting HSE director general.
He said he was inviting the Minister for Health to appoint an interim director general, in the interests of the HSE, for when he departs.
He also said he had opposed the way the HSE was created, and that he had been appointed to an agency that was due to be wound down. The board was scrapped and now there is a plan to establish a new board.
He told the committee that at some point, there has to be a settled position on the HSE.
Mr O'Brien questioned the notion that the director general is the one person who had to be personally accountable, for every failure or mistake among 140,000 staff members.
He said this was no basis for accountability.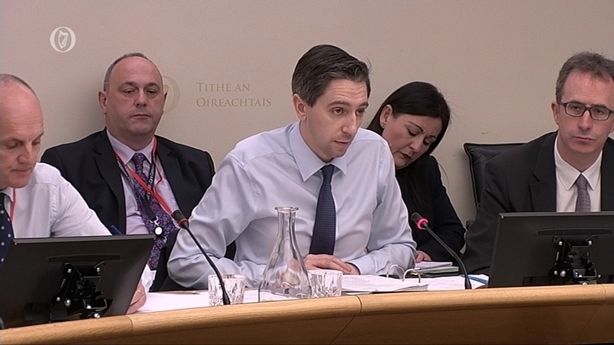 Responding to Mr O'Brien, Minister Harris said that the political system had to make key decisions quickly on the delivery of services.
He said Government policy was to keep a leaner, central HSE but devolve more to regional structures.
The new head would be a chief executive with a board, he said.
Mr Harris said the HSE concept was good but it had become overly complex and bureaucratic.
The HSE's Assistant Director General said that 201 women whose smear tests were the subject of an audit have been contacted. 
HSE Deputy Director General Dean Sullivan said it had not been possible to contact the remaining eight women as some were abroad or were uncontactable. 
Mr Sullivan also said that the National Cancer Registry is working with CervicalCheck to contact all women with a screening history. 
He also said he wanted to put on the record his personal apology for the controversy and said lessons would be learned from what had happened. 
Meanwhile, Mr Harris said an appointment to lead the Sláintecare office would be announced very soon. 
Yesterday, the Cabinet agreed the terms of reference for a preliminary investigation into the matter, which will be headed by Dr Gabriel Scally.
Dr Scally has said that he will be "frank and forthright" in his investigation and it will be independent of the Government and the HSE.
There has been renewed pressure on Mr O'Brien to step down from his role, with three ministers expressing the view at Cabinet yesterday that he should resign.
However, the Government has said he will stay in place until his retirement at the beginning of July, four weeks earlier than expected.
---
The controversy follows the case of Vicky Phelan, who has terminal cancer.
Ms Phelan, a Limerick mother-of-two, was diagnosed with cancer three years after her smear test results of 2011 were incorrectly reported as clear.
Last month, she settled her High Court action against a US laboratory for €2.5m.
More than 200 other women diagnosed with cancer may have missed out on earlier medical intervention and were not told about the clinical audit.
The HSE has said that, to date, hospitals have made contact with 201 of the 209 women or their families.
It emerged yesterday that three of the nine women who have taken actions similar to Ms Phelan have died since starting proceedings.