The HSE says it has now contacted 196 of the first group of 209 women and families, affected by the CervicalCheck controversy.
The HSE Serious Incident Management Team has also identified an additional woman that requires follow-up.
This brings the figure for the number of women who had a negative smear test result reversed to 209.
It said that most women have at this stage been contacted and meetings either held, or arranged to discuss the audit of their smear tests and the response.
As some women are out of the country, or not contactable, the HSE said this record of contacts will be updated after Tuesday 9 May.
Health Minister Simon Harris says it has been a 'horrific week' for the health service pic.twitter.com/J8R5AaGF7j

— RTÉ News (@rtenews) May 4, 2018
Meanwhile, there have been over 10,300 calls answered on the HSE helpline.
The HSE said it is working with the National Cancer Registry of Ireland and the Department of Health to identify any other women, who had cervical cancer during this time, who may also have had a CervicalCheck test. 
Earlier, the Minister for Health Simon Harris said it has been a "horrific week" for the Irish health service and for women worried about CervicalCheck.
Mr Harris said he wants to see the Director General of the Health Service Executive, Tony O'Brien, spend his remaining time as head of the HSE, addressing the situation that has arisen, rather than engaging in party politics.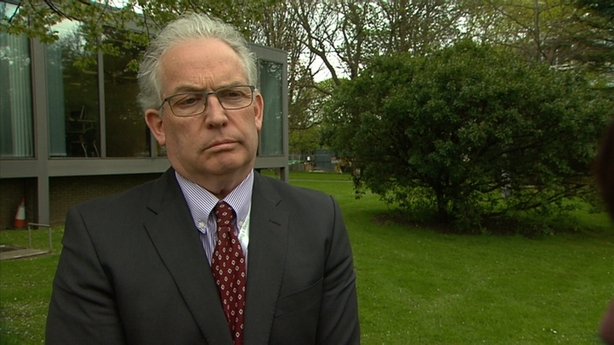 Mr O'Brien is due to leave the post in 12 weeks.
Mr Harris said it is important that the State Claims Agency goes before the finance committee or the Public Accounts Committee, to answer very important questions.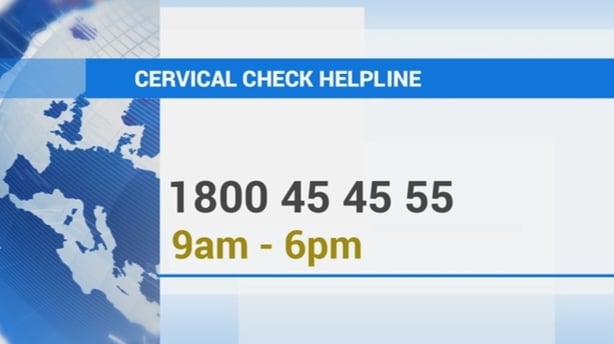 He said he has already written to his Secretary General and made it clear that he does not want to see any more women in a situation similar to Vicky Phelan's, brought through the courts.
He said he thinks the HSE could do a service to women by publishing the data which shows the number of false negatives from the lab in the US, versus the number of false negatives at the labs here in Ireland.
He said there will be a re-tendering process this year.
Sinn Féin has said it is to move a Dáil motion of no confidence in Mr O'Brien next week.
"Sinn Féin has been forthright in its view that Tony O'Brien's position is untenable and he must not be allowed to sail off into the sunset with a golden handshake and a generous pension," said Sinn Féin's health spokesperson Louise O'Reilly.
Fianna Fáil's health spokesperson has called on Mr O'Brien to resign without prejudice with immediate effect.
Stephen Donnelly said the priorities now are supporting affected women, providing clinical assistance to all with concerns and the investigation.
"We believe Mr O'Brien remaining in situ will distract from these priorities," he said on Twitter.
---
Read more: 
---
Earlier today, the Taoiseach said he expects Mr O'Brien to wholly focus on the issue before his departure.
Leo Varadkar also said the position of HSE Director General will be advertised "next week or the week after".
He said it has been a "dreadful week" for the health service.
Mr Varadkar was speaking in the wake of the ongoing CervicalCheck controversy and the publication of a report into the care of mothers and babies at Portiuncula Hospital in Co Galway.
During a speech at the official opening of a primary care unit in Tallaght, he said that public trust in the cervical screening programme needs to be restored.
Mr Harris and Minister for Children Katherine Zappone were also in attendance.
Mr Varadkar said that at the heart of the cervical screening controversy was failure of open disclosure and senior management not to do that.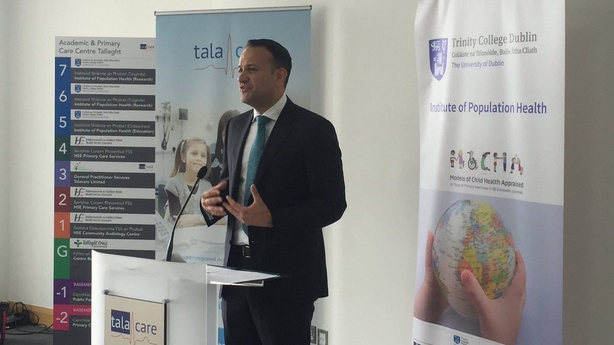 He said legislation will be brought in soon for mandatory open disclosure for serious incidents.
However, he said that is not enough, and what is needed is a culture change within the health service.
Mr Varadkar said it is sometimes made out that doctors are infallible and "godlike", and that is a big mistake.
He also said we need a different culture in the health service.
Taoiseach says Govt is determined to get to the bottom of things after 'terrible week' for health service pic.twitter.com/l4NAGiHiHa

— RTÉ News (@rtenews) May 4, 2018
The Taoiseach also said he would not rule out a public inquiry in relation to the cervical cancer controversy.
He added that a scoping inquiry will be carried out in the meantime to get immediate answers and that Vicky Phelan will be involved in that inquiry.