Taoiseach Leo Varadkar has warned the British government that "clarity and urgency" are required on what type of Brexit is being sought from the European Union.
On Friday, the EU's chief Brexit negotiator Michel Barnier said the UK's decision to leave the EU single market and customs union will mean checks at the Irish border are "unavoidable".
Speaking on RTÉ's This Week programme today, Mr Varadkar said: "The difficult part, and it was always going to be the difficult part, in Phase Two is the commitments and guarantees around the avoidance of a hard border."
"What we're trying to do… is ensure that what was agreed in December is now stitched into the legal text of the withdrawal agreement," he said.
He also said that the transitional period "which the UK is very keen to have is conditional on that".
Mr Varadkar said he understood Mr Barnier's frustration with the lack of progress since December, when talks moved to Phase Two of the negotiations.
Mr Varadkar said the UK needs to make a decision on what relationship it wants to have with the EU.
"Time is running out, it is 20 months since [the Brexit] referendum, and we still don't know what the British government wants Brexit to mean," said Mr Varadkar.
"The UK is due to leave the EU in March 2019. It's a little over a year away and I think we need clarity and urgency from London," he said.
We need to trust women on abortion issue, says Varadkar
On the issue of abortion, Mr Varadkar said that doctors should not be referring to Bunreacht na hÉireann to treat a woman's health.
Mr Varadkar said the Eighth Amendment must be repealed saying "we need to trust women up to 12 weeks and trust doctors after 12 weeks".
He said: "Doctors making decisions about a woman's life or a woman's health should do so based on clinical guidelines, and best medical practice."
Last month the Cabinet gave formal approval to the holding of a referendum on the Eighth Amendment.
Mr Varadkar said at the time that the referendum will ask citizens whether they want to retain the Eighth Amendment of the constitution, or repeal it and replace it with an enabling provision that gives responsibility for legislating on abortion laws to the Dáil.
Today, he said there has been a fundamental change in his own views on abortion due to a "combination of life experience and realising that as you get older things aren't black and white".
He said abortion is very much a reality at the moment with over 1,000 women ordering pills over the internet every year.
Mr Varadkar said: "We can ensure they happen safely and under medical supervision."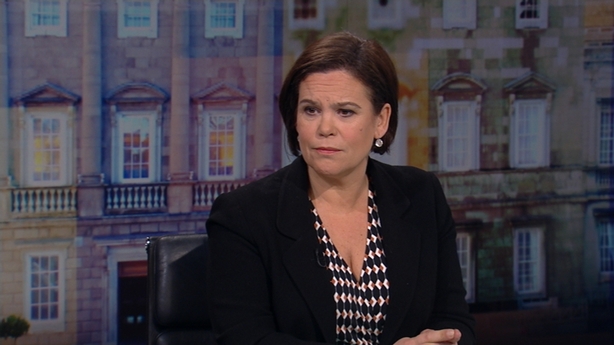 Speaking on RTÉ's The Week in Politics, Sinn Féin President Mary Lou McDonald said party TDs would not be allowed to vote in line with their conscience. She said while it is a matter of private conscience it is also a matter of public policy.
She said she respected people's private conscience but as members of Sinn Féin, legislators have to respect, uphold and vote in accordance with Sinn Féin policy.
Ms McDonald said she supports the findings of the Oireachtas Committee. She said the party is not in policy-terms in line with that at the moment. She said a policy paper is being developed and the party would have a big debate on the issue.
Commenting on the Taoiseach's remarks, Pro Life Campaign spokesperson Dr Ruth Cullen said: "If the Taoiseach and other members of Government pushing for Repeal really trusted women they would be honest with them about what happens to their baby during an abortion and about the adverse mental health consequences of abortion for many women."