The Taoiseach has said he believes our laws on abortion are too restrictive, are in need of reform and need to be liberalised.
However Leo Varadkar said he believes, as Taoiseach, he has a particular responsibility to listen to all shades of public opinion on amending the constitution before he and his Government put the actual question to the public.
Speaking in Limerick, Mr Varadkar said he believes this is a very personal and private issue and he wants this to be a respectful debate before a referendum on the matter is held in the summer.
He said he has a particular responsibility to ensure the wording of the actual question he puts to the people is the right one, that it is sound, and is not going to be open to interpretation or challenge.
"I want to actually know what that question is before asking people to say yes or no," he said.
We need your consent to load this rte-player contentWe use rte-player to manage extra content that can set cookies on your device and collect data about your activity. Please review their details and accept them to load the content.Manage Preferences
Mr Varadkar said he did not believe Micheál Martin's confirmed stance on the issue put extra pressure on him to clarify his views publicly.
Mr Martin has said he changed his mind on removing the Eighth Amendment after considering the views of women and experts, and seeing that "abortion is a permanent and present reality" in Ireland.
Mr Varadkar said people will know the wording of the question in the next couple of weeks and they will know the opinion of all political parties.
He also said he does not believe people will decide on this issue based on what politicians think, saying this is a personal and private issue and he said they need to be respectful of people's opinions on this.
He expects to have that wording in a couple of weeks after seeking the advice of the Attorney General, which he said was not done in 1983, and it is important that he has that advice before he puts a specific question to Cabinet.
'Like-minded' FF members plan meeting to counteract Martin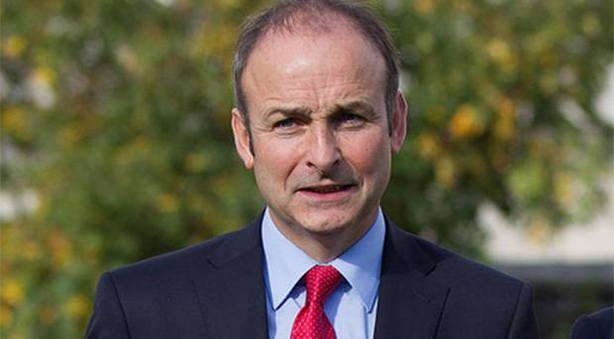 Fianna Fail TD Bobby Aylward says that next week he will meet like-minded party members to counteract the "promotion" by the party hierarchy's of a pro-choice agenda.
Speaking on RTE's News at One, Mr Aylward said that when party leader Micheál Martin "went the whole hog" and supported the 12-week termination period he was very taken aback and disappointed.
The deputy, who says he's "very pro-life", said it looks like the party's attitude at top level has changed, that he does not like that, and he hopes to counteract it next week when he meets like-minded senators and TDs to discuss how they can connteract the "promotion of pro-choice".
The Carlow-Kilkenny TD said he respected Mr Martin for making his position clear, but that it was clear that the majority of Fianna Fáil is in favour of pro-life. He wants those people to meet and make their voices heard.
He said: "The options are that we make our voices known". He said he will not leave the party, but fight within it.
Meath East TD Thomas Byrne said Mr Martin's decision to change his mind and support the repeal of the amendment has drawn a mixed reaction within the party.
Speaking on RTÉ's Today with Sean O'Rourke, he said he spoke to party members on Thursday and some were "disappointed" by their leader's decision and others were "satisfied" with what he said.
Mr Byrne said he believes Mr Martin's decision was based on "an informed conscience".
He said: "I thought he gave a good speech. I didn't agree with it. I agreed with some of it, but I didn't agree with his ultimate conclusion.
"I can't argue with any person's conscience. I don't think anyone can. I think that is all Micheál Martin is asking for, is that people in the Fianna Fáil party be allowed express their own particular views on the issue."
---
Read More:
Fianna Fáil leader in favour of removing Eighth Amendment
Martin takes unexpected turn in Eighth Amendment debate
---
Mr Martin said the Eighth Amendment has not stopped abortion in Ireland and retaining it does not mean Ireland is a country without abortion.
He said if people face up to the realities, the Eighth Amendment has been shown to cause real damage to women in Ireland.
Mr Martin said in the cases of rape, incest and life limiting conditions, the Eighth Amendment is "cruelly inflexible" for women.
Speaking on RTÉ's Morning Ireland, he said he does not see any way to deal with cases of fatal foetal abnormalities under the existing amendment.
He said the law as presently designed is far too inflexible and does not take the trauma women are going through into account.
Mr Martin said: "It is clear that the Eighth Amendment has been shown to cause real damage to Irish women.
"It has affected and caused harm to the quality of care available to pregnant women at critical moments and it doesn't change the reality about abortion being a permanent and present part of Irish life and on specific issues such as rape and incest and fatal foetal abnormalities.
"The Eighth Amendment, in my view, is cruelly inflexible."
Micheál Martin says Savita Halappanavar death influenced his rethinking on 8th Amendment pic.twitter.com/ck7ugLUEPA

— RTÉ News (@rtenews) January 19, 2018Mr Martin said he has changed his view due to the evidence given at the Oireachtas Committee and the Citizens' Assembly.
He also said the death of Savita Halappanavar was one of the defining moments in his rethinking his views.
Speaking to RTÉ News, he said her death shocked people and the evidence before the Oireachtas Committee was very clear, adding the framework of the Eighth Amendment was a contributory factor in her death in not allow allowing an earlier and more urgent response.
His comments on the amendment mean he holds a different view to many members of his party.
I'm conscious that not everyone will agree with the view that I have come to on the 8th Amendment, but it is my honest view of what I think is the right thing to do. As a country, we owe it to each other to have a compassionate debate.

— Micheál Martin (@MichealMartinTD) January 18, 2018
Mr Martin confirmed that he would vote to remove the Eighth Amendment during a Dáil debate on Thursday.
He told the Dáil he supported the recommendation of the Oireachtas Committee to allow for abortion up to 12 weeks, but said he needed to see proposals about how it would operate.
This morning, he also said "we can't be blind to the issues surrounding the death of Savita Halappanavar" and the decisions faced by medics in her case.
He said his approach is made from a genuine freedom of conscience and he accepts others have different views and perspectives, including in his party.
He said he looked sincerely and deeply at the issues and was also moved by talking to women who had travelled for abortions after a diagnosis of a life-limiting condition.
Mr Martin said we have reached a level of political maturity where we can allow TDs to vote in accordance with tier conscience.
He said the prevalence of the abortion pill has been a significant factor in changing the prevalence of abortion in Ireland without any medical context or interaction with the medical profession and this poses concerns about the health of women. He said this was a new development that was not there in the past.