The leader of Fianna Fáil has said that he will vote to remove the Eighth Amendment from the constitution.
Speaking during a debate in the Dáil this evening, Micheál Martin said that "if we are sincere in our compassion for women, and if we are sincere in respecting their choices, then we must act."
"The Eighth Amendment has been shown to cause real damage to Irish women," he said, and as a result "following a long period of reflection and assessment of evidence before the Oireachtas committee, I believe we should remove the Eighth Amendment from Bunreacht na hÉireann and I will vote accordingly."
Mr Martin said the case for change is justified given the full range of available evidence.
He added that there remains a significant issue concerning whether we should simply remove the Eighth Amendment or replace it.
"Before deciding on this I would like to see the legal advice which the Government says is being prepared," he said.
The Dáil was discussing the report from an all-party Oireachtas committee on the Eighth Amendment, which provides for the equal right to life of the mother and the unborn.
Fine Gael Minister of State John Paul Phelan told the house he could not support any legislation which would see the destruction of a viable pregnancy.
Mr Phelan also said he did not believe a proposal from the committee, that making abortion available up to 12 weeks, would be acceptable to the public.
"Not only do I believe it's unacceptable, but I think there is quite a considerable chance that if it's put to the general public it will be defeated," Mr Phelan said.
Earlier, Labour TD Jan O'Sullivan said she was in favour of repealing the amendment.
She said we should not be excluding Irish women from care in their own country and expecting them to travel to another country for a service which they clearly need.
Independents 4 Change TD Clare Daly became emotional during her contribution.
She said this was not a debate about whether we have abortion in Ireland or not; "we have abortion."
"We have a constitutional right to get information on it, to travel away to get a procedure, but we can't get this."
Clare Daly became emotional in the Dáil during the debate on the Eighth Amendment, saying 'we've come a long way' pic.twitter.com/m6WAImdTPx

— RTÉ News (@rtenews) January 18, 2018
Live: Second day of debate on Eighth Amendment
She spoke about the late Peter Sutherland, who she said had been eulogised recently.
But she said one of the facts which was not mentioned was that he was the Attorney General who advised the government not to put the Eighth Amendment into the Constitution.
"And he was right," she said.
"We have caused enormous problems, that referendum was sold on the basis that it would mean that there would be no Irish abortion."
"On the grounds of abject failure alone, it should go," she said.
"Irish abortions are happening, they are more expensive, and they take place later."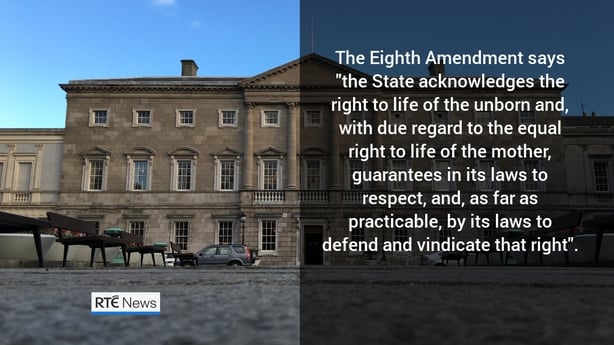 Fine Gael TD Bernard Durkan said he was not in favour of abortion, but he did not agree that the victim of rape should have to bear the product of rape.
"I couldn't see the justice in that at all," he said.
"The State has a duty to take some measures to ensure that women who are pregnant, and have recourse to the internet, that we have to protect them."
Fianna Fáil's Lisa Chambers outlined some of the negative comments she had received on the issue of abortion.
"A recent tweet I got today: "you should not try to identify the murdering mothers who are travelling to the UK, and have them jailed."
"Another said: 'Women will use abortion as a form of contraception", and another said: "Women are just too posh to push."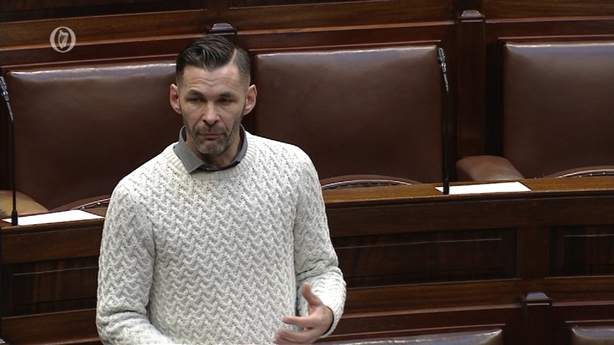 Sinn Féin TD Jonathan O'Brien said he had always considered himself pro-life, but now felt that abortion was not a matter of conscience, but a matter of public health policy.
He said he no longer wanted to be labelled as pro-life, in view of the "vile posters" he had seen in protests outside Leinster House.
"I now consider myself a realist when it comes to women's healthcare," Mr O'Brien said.
He said those who have concerns around the 12 week recommendation should read the evidence of the committee which examined termination on the grounds of rape and incest.
Fine Gael TD Kate O'Connell told the house that it is when the country was most Catholic that it was least Christian.
She also said TDs have received abusive literature by post.
Fine Gael's Peter Fitzpatrick has said the debate on the Eighth Amendment has not been 'respectful and honest' pic.twitter.com/j73rH2PgIe

— RTÉ News (@rtenews) January 18, 2018
Her fellow Fine Gael TD, Peter Fitzpatrick, said the committee did not look at the good that the Eighth Amendment had done and criticised the lack of pro-life witnesses at the committee.
He said he did not want to attack his colleagues on the committee, but wanted to set the record straight.