Taoiseach Leo Varadkar has given a "cautious welcome" to the British Prime Minister's keynote Brexit speech.
Theresa May delivered the speech in Florence, Italy, where she outlined the Brexit process and the future relationship between the European Union and the United Kingdom.
She proposed a two-year transition period for the UK after its leaves the EU, suggesting that Britain would continue to "honour its commitments" under the bloc's current budget.
Mrs May said Britain should be able to access the European single market during this period, adding that other EU members should not have to "pay more".
She also said that everything would be done to avoid friction at the borders. 
We need your consent to load this rte-player contentWe use rte-player to manage extra content that can set cookies on your device and collect data about your activity. Please review their details and accept them to load the content.Manage Preferences
Mrs May said there are "unique issues to consider when it comes to Northern Ireland".
She said the British and Irish governments, and the EU as a whole, have made it clear that progress made in Northern Ireland in recent years would be protected.
She said: "We and the EU have committed to protecting the Belfast Agreement and the Common Travel area.
"Looking ahead we have both stated explicitly that we will not accept any physical infrastructure at the border. We owe it to the people of Northern Ireland, and indeed to everyone on the island of Ireland, to see through these commitments."
Taoiseach gives cautious welcome to Theresa May's Brexit speech https://t.co/rVhPG8M2x0 pic.twitter.com/mOanjxUpty

— RTÉ News (@rtenews) September 22, 2017
Mr Varadkar welcomed that she had referenced the Common Travel Area, the Northern Ireland peace process and that both sides in the negotiations do not want any physical structures at the border.
"I think it is a genuine effort by the prime minister to move things along," he said this afternoon.
"We will, of course, need further clarity and further understanding as to how a transition period might work," he said.
However, he welcomed her proposal for a transitional period as a step in the right direction," Mr Varadkar said.
Both leaders will meet for talks on Monday.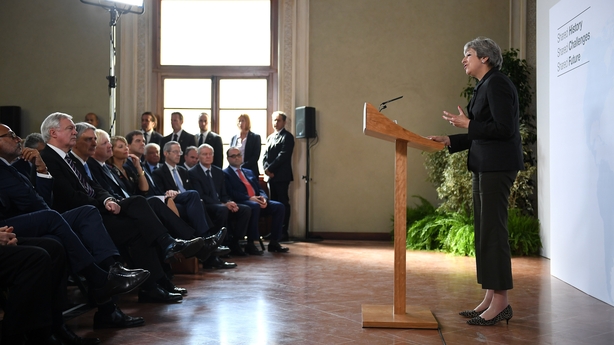 Foster says Brexit transition should be kept to 'absolute minimum'
DUP leader Arlene Foster has called for any Brexit transition period to be kept to a minimum and accused the EU of trying to damage Britain. 
In a statement following Mrs May's speech, Mrs Foster said she believed "aggressive EU negotiators ... seem determined to do as much damage as they can to the UK."
She described Mrs May's speech as a "positive vision."
She said: "Any transition period should be for the absolute minimum period. The wishes expressed in the [Brexit] referendum should be delivered without undue delay."
Sinn Féin's Brexit spokesperson David Cullinane said: "Theresa May's Brexit speech today was high on rhetoric, but short on detail. It does not deal with all of the key issues which impact on Ireland.
"It has not dealt with the issue of the potential of a border, it has not dealt with how the Good Friday Agreement will be protected and the rights of citizens in the North.
"The Good Friday Agreement has to be incorporated in full into the withdrawal agreement and we have to protect the rights of citizens in the north," said Mr Cullinane.
Simon Coveney: Theresa May's speech does not give the answers needed to allow the Brexit process to move on to phase two of the negotiations pic.twitter.com/YbvBkRE9kf

— RTÉ News (@rtenews) September 22, 2017
The Minister for Foreign Affairs has said that there was a lot in Mrs May's speech that was positive and to be welcomed, but more detail is needed.
Speaking on RTÉ's Six One, Simon Coveney said the speech does not give the answers needed to move on to stage two of negotiations, saying clarity is needed on the peace process and issues surrounding the border.
He reiterated his view that Britain should remain in the customs union, but said in the absence of that unique solutions would have to apply to Northern Ireland. 
Fianna Fáil's Brexit spokesperson said "a hard Brexit remains on the table". 
In a statement, Stephen Donnelly said the speech contained some "welcome elements", but he also said that it reinforced Mrs May's "commitment to a 'hard' Brexit by restating that the UK would be leaving the Customs Union and the Single Market. 
"It offered very little progress towards realistic solutions."