The call from the Taoiseach came through to the party chairman Martin Heydon at 3.15.pm yesterday. The long awaited parliamentary party meeting was going to be moved forward to 4.30pm.
Some TDs believe it was Enda Kenny trying to catch them on the hop one last time. Others certain it was timed to get maximum exposure on the RTÉ Six One News.
It was an emotional meeting with some in the party even wanting the Taoiseach to be "allowed" stay on as Leader. Senators Ray Butler and Paul Coughlan voicing this view on the plinth afterwards before a Fine Gael press officer intervened and pointed out that the official party position would be outlined by the Fine Gael chairman.
That was a polished statement praising Mr Kenny but also making it clear a leadership race was about to commence. Indeed nearly all TDs and Senators were thinking solely about the future by 5pm. Some were struck by the apparently friendly chat Simon Coveney and Leo Varadkar had had before leaving the parliamentary party rooms.
But the reality is the future won't be a very friendly place for one of them. And last night supporters of both, soon to be ratified, leadership candidates were less cordial in their conversations. Accusations of inflated numbers, dodgy polling methods and ridiculous spinning could be easily heard.
For all that though, there was something of an anti-climax in the air on Kildare Street last night. Leinster House was busy but there wasn't intense lobbying underway by either side.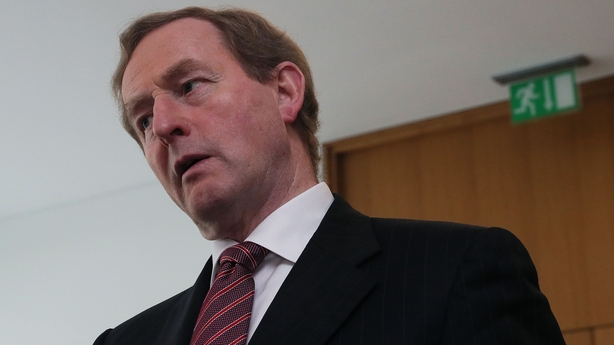 That's because all the early work has been done by the Varadkar and Coveney camps with several TDs and some Ministers likely to declare support in the next few days. The big names are all being pursued.
The view is that Ministers Heather Humphreys and Paschal Donohoe are certain to support Varadkar. Mr Kenny and Minister for Finance Michael Noonan won't get involved in the campaign but will vote for Simon Coveney.
Other announcements will be less high profile and not unexpected, but they will be significant in terms of geography. This would include the expected public declaration of support for Leo Varadkar by former Minister of State and Galway East TD Ciaran Cannon.
Some TDs are faced with the dilemma of knowing how their constituency colleagues will vote in the leadership contest, so they must decide if there is any choice but to look to the alternative candidate. Think of Tom Neville in Limerick West, said by many to be veering towards Leo Varadkar but aware that the other Fine Gael TD in his area, Minister of State Patrick O'Donovan is firmly aligned to the Dublin West TD. The outcome of seemingly small battles like this could be crucial.
This is because every gain made by the leadership contenders in the 73 member parliamentary party is more valuable than wins among councillors and members. This is due to the 65% weighting of this vote and also because of the immense influence it brings to bear on the voting intentions of the councillors that account for 10% of the vote and the grassroots membership which makes up the remaining 25%.
Right now it seems clear that Mr Varadkar has more declared supporters but the Coveney side insists this support base will soon plateau. All sides believe the scheduled debates with party members outside Dublin could prove significant in deciding who becomes the next Fine Gael leader on 2 June.
There is a belief that if Mr Varadkar is stronger in these debates, he could sway many undecided rural TDs, Senators and even councillors.
Such are the permutations on the minds of those plotting the next move in this leadership contest. But not all Fine Gael TDs and Senators are entirely captivated by this competitive battle, with some furtively mentioning the Oireachtas golf outing to Killarney, planned for 2  June.
There's even talk of a request to get the leadership result out of the way a day earlier to accommodate the trip. Surely it's a request that a leadership candidate might be able to help deliver as the campaign tees off!