The Taoiseach has lashed out at the Irish media in Canada for asking him when he planned to make an announcement about his departure as leader of Fine Gael.
Enda Kenny was speaking at a joint press conference with Canadian Prime Minister Justin Trudeau in Montreal after their bilateral meeting.
Mr Kenny had previously indicated he would deal with his future in the wake of last weekend's European Union summit.
When asked when he intended to address the matter, a visibly agitated Taoiseach said "I can't believe actually that you have travelled this distance to ask a question like that."
There had been an anticipation that the Taoiseach would discuss the matter at last night's Fine Gael parliamentary party meeting, but he missed the meeting as he was travelling to Canada to meet Mr Trudeau.
Taoiseach Enda Kenny refused to answer questions over his leadership during a press conference with Canadian PM Justin Trudeau pic.twitter.com/BzgLnSf7Xy

— RTÉ News (@rtenews) May 4, 2017
When pressed a second time about his intentions, Mr Kenny repeated that he could not believe the reporter had "travelled this distance to ask a question like that", adding that his function there was to have a discussion with the Prime Minster of Canada to discuss opportunities that present themselves for investment and job creation".
The Taoiseach was asked twice whether he would say how Ireland had voted on the appointment of Saudi Arabia to the UN Commission on the Status of Women.
Instead he said "I've raised the question of women's rights with Saudi Arabia and I was there myself a number of years ago on a trade mission".
He said that women's rights was "an issue that concerns us greatly", but that "it had been a long standing convention not to indicate the nature of the vote".
Mr Kenny was also asked about the comments made by French Presidential front-runner Emmanuel Macron today when he launched an attack on Ireland's corporate tax rate.
He said that he hoped that Mr Macron won the election because "he is very strongly pro-European and he has an understanding of what it is to be a Minister for Finance".
However he said Ireland's corporate tax rate was "our business."
He said "Ireland's tax rate has been 12.5% for many years across all sectors and it has not moved up, it has not moved down, and it will stay where it is".
You can watch the full press conference here. 
---
While the Taoiseach appeared to be directing his comments at the reporter who asked the question - Daniel McConnell, the Irish Examiner's Political Editor - he was asking the question on behalf of the entire Irish media pool.
In accordance with Canadian protocols, two Irish reporters and two Canadian reporters were permitted to ask questions.
Mr McConnell asked the Taoiseach about his leadership plans while RTE's Washington Correspondent, Caitriona Perry, asked him about Emmanuel Macron's comments, Theresa May's comments and how Ireland had voted in the how Ireland voted on Saudi Arabia's membership of the United Nations Commission on the Status of Women.
---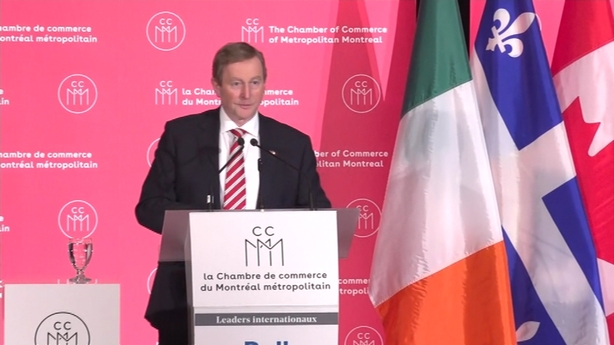 The recently signed CETA - Canada EU Comprehensive Economic and Trade Agreement - was top of the agenda for the meeting between Mr Kenny and Mr Trudeau, but the pair also discussed the close ties between Canada and Ireland.
Mr Trudeau said "it was a pleasure to welcome the Taoiseach to Canada", pointing to the "deep historical ties" between the nations.
He said there were "tremendous opportunities to build on" with the signing of the CETA deal, and through the leadership that Mr Kenny had shown in Ireland and across the EU.
The Taoiseach said it was a "privilege to be in Montreal for their first formal meeting".
The pair met briefly in Paris last year for the signing of the UN Climate Accord.
Mr Kenny said they were "singing off the same hymn sheet in terms of views on global importance and possibilities of trade".
He said Ireland and Canada had similar interests in the US and the new administration there.
He said both leaders would work with new administration to make effective trading agreements that would result in millions of jobs on either side of Atlantic and either side of border.
Earlier, Mr Trudeau sat down for an interview with RTÉ's Caitriona Perry - watch it here.