The Canadian Prime Minister has said that although he does not always agree with US President Donald Trump, trade between Canada and the US was "a long way from collapsing".
Justin Trudeau was speaking to RTÉ News in Canada ahead of a meeting there with Taoiseach Enda Kenny.
He also said that despite anti-EU sentiment in the US and parts of Europe, the EU was not facing an existential or relevancy crisis.
We need your consent to load this rte-player contentWe use rte-player to manage extra content that can set cookies on your device and collect data about your activity. Please review their details and accept them to load the content.Manage Preferences
He said that those in favour of independence for the province of Quebec had not been reinvigorated by the Brexit outcome, saying separation "doesn't make as much sense as it perhaps once did".
Last week US President Donald Trump threatened to collapse the North American Free Trade Agreement - NAFTA - a decades old trade deal between the US and Canada.
Taoiseach @EndaKennyTD arrives at @Concordia University School of Irish Studies; 1st stop on his Canada trip. @rtenews pic.twitter.com/kYD4muG4pt

— Caitriona Perry (@CaitrionaPerry) May 4, 2017
Mr Trudeau said there were "lots of challenges in any relationship between two close neighbours" like Canada and the US.
Although Mr Trudeau spoke with Mr Trump by telephone to dissuade him, he said there had not been "any awkward conversations".
He said "we may not always agree on the best way to go ahead but looking for ways to meaningfully improve the economic wellbeing of our citizens in something we agree on and we also recognise that countries that are so inter-connected can benefit each other".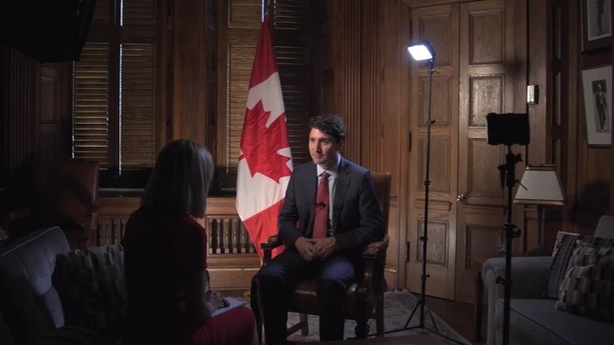 Earlier Mr Trudeau also said the CETA deal would provide great opportunities for "Canadian consumers to access goods and services from the EU and the opportunity for Canadian producers to sell the great things that we make and do here in Canada in the EU is going to make things better for everyone".
He said he was not concerned about damage to the EU caused by negative sentiments expressed in the wake of the Brexit decision, saying that agreeing the CETA deal was "a good sign" of "how the EU can and will serve its citizens".
Asked whether the decision of the UK to leave the European Union had reinvigorated the separatist movement in Quebec province he said that it had "not at all".
Mr Trudeau said "there are always people who feel passionately wrapped up in their identity and feel slightly more Quebecer than they do Canadian, but for the most part and particularly among young people there's a recognition that we're part of a larger world, and giving up on the Pacific Ocean, giving up on the great diversity in Canada and all the resources we have…. doesn't make as much sense as perhaps it once did".
Immigration and refugees
On the issue of resettling Syrian refugees in Canada, and the anti-immigrant rhetoric in the US that is causing immigrants to cross the US-Canadian border illegally, Mr Trudeau said that the Canadian people wanted to welcome people "who are desperate to build a better life for themselves and their family who want to work hard, who want to contribute, who want to be part of our country".
He said that was a "very positive and exciting thing" and pointed to the "waves of immigration" which had built Canada, including the Irish who had built his "home city" of Montreal.
Mr Trudeau said some traditional francophone Quebec names were originally Irish, names like Ryan and Murray he said.
He said that "understanding that immigration is a source of strength" was something that Canada would always "anchor on".
Canada has admitted several thousand Irish people on various visa programmes in recent years, with increased numbers during the recession.
Asked whether Irish people would continue to be welcomed in Canada, Mr Trudeau said that Canada did not discriminate on the basis of immigrants' backgrounds but were "just looking for people who were likely to succeed."
Past visit to Ireland
The Canadian Prime Minister said his favourite memory of Ireland was a tour of the country he made with his father when he retired from politics.
His father, Pierre was also prime minister of Canada.
He said his "best memory" was when they made that trip to Ireland and he was just a teenager and a very big W.B Yeats fan, and on a "very misty, cloudy, slightly drizzly morning" they had gone to visit "the Lake Isle of Innisfree and it was just something that burned into my mind of just extraordinary beauty".
Mr Trudeau and the Taoiseach will both speak at the Chamber of Commerce of Metropolitan Montreal International Leaders Luncheon after their bilateral meeting.
Mr Kenny will then travel onto Toronto were he has a number of business and Irish community engagements.
He will depart Canada on Saturday.