Minister for Foreign Affairs Charlie Flanagan has said a general election in the UK complicates the "fragile nature" of the situation in Northern Ireland as efforts continue to form an executive. 
He said it is Secretary of State James Brokenshire's intention to bring forward appropriate legislation next week that will allow for an executive to be formed in Northern Ireland on or before 2 May. 
Significant gaps remain between the two largest parties in Northern Ireland following an election there in March.
Mr Flanagan said he has spoken to Mr Brokenshire and conveyed his concern about the impact of a UK election on the ongoing NI talks process.
Speaking on RTÉ's Drivetime, Mr Flanagan said with the May deadline rapidly approaching and with the potential of Westminster elections, the focus of the political parties may not be on forming an executive.
He said that he is very concerned that an election has been called while there is no executive in Northern Ireland.
He said: "I think that presents a challenge, but I believe it's important that all the parties in Northern Ireland ensure that we can have a functioning executive and ease the instability that we've had since the election in the North on the 2nd of March."
UK election complicates 'fragile nature' of NI talks – Flanagan https://t.co/TBSLdu8qQF pic.twitter.com/r71QbyfYAQ

— RTÉ News (@rtenews) April 18, 2017
Mr Flanagan said: "The Secretary of State has two choices in the event that the talks process doesn't produce an appropriate and satisfactory result, that is: a series of fresh elections, or direct rule.
"And in that regard I made it quite clear to him the position of the Irish Government is such that we will not support, under any circumstances, direct rule from Westminster in Northern Ireland."
Minister Flanagan also said the British Prime Minister's announcement this morning came as a surprise. 
Earlier today he said the Government remains committed to ensuring the best possible outcome for Ireland in the upcoming Brexit negotiations.
In a statement, he said: "This announcement does not change the Government's commitment to ensuring the best possible outcome for Ireland in the upcoming Brexit negotiations where we will negotiate from a position of strength as one of the EU 27.
Mr Brokenshire said this evening that laws will be fast-tracked through Parliament restoring Stormont power-sharing by early next month should agreement be clinched.
The forthcoming general election did not change the talks process involving the parties in Belfast and the UK and Irish Governments, Mr Brokenshire added.
Mr Brokenshire said it remained his intention to introduce legislation at Westminster addressing immediate requirements including setting a regional taxation rate to allow rates bills to be issued by councils.
"In addition, I believe it is also right to introduce provisions that would enable an Executive to be formed in early May should agreement be reached.
"To have this legislation in force in time, I will be requesting that its progress through Parliament be fast-tracked," he said.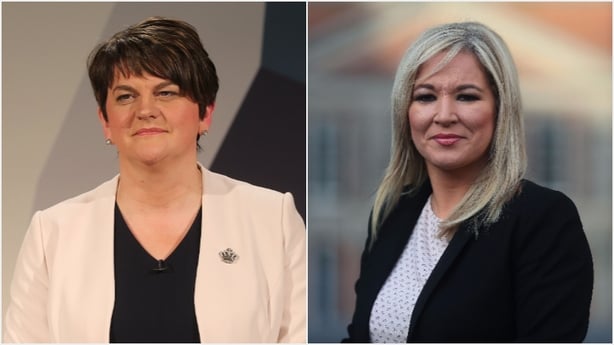 Separately, former Northern Ireland first minister DUP leader Arlene Foster said Mrs May's decision to seek a general election provides the people of Northern Ireland with the opportunity "to vote for the Union".
Sinn Féin's leader in Northern Ireland Michelle O'Neill, meanwhile, said the election will be an opportunity for voters to oppose Brexit and reject Tory cuts and austerity.
Mrs May is seeking to call a snap election on 8 June claiming that divisions at Westminster risked hampering the Brexit negotiations.
She will require the support of two-thirds of MPs to go to the country, with a vote on that scheduled in the House of Commons tomorrow.
My statement on today's announcement by the Prime Minister. #GeneralElection pic.twitter.com/Qtf1j4aeox

— Arlene Foster (@DUPleader) April 18, 2017
Issuing a statement on Twitter, Ms Foster said the "Democratic Unionist Party has been a strong voice for Northern Ireland at Westminster" and the party has used the mandate given to it "to ensure the interests of Northern Ireland are to the fore".
For her part Ms O'Neill said: "The Tory Party's reckless Brexit agenda offers nothing to the people of the North who are being dragged out of the EU against our will.
"The Tory party and their polices have been rejected by the people in the north in the past, and will be again in this election.
"Sinn Féin is ready to contest this election and it will be an opportunity for voters to oppose Brexit and reject Tory cuts and austerity.
"It is an opportunity to progress designated status for the North within the EU and for a future based on equality, respect, integrity and unity," she said.
So Ms May has called a British General Election. Sinn Féin is up 4 that! Another chance 2 vote against Brexit & 4 progress.

— Gerry Adams (@GerryAdamsSF) April 18, 2017