The Northern Ireland Assembly election is less than a week away, and for hundreds of thousands of young people it is a chance to identify the political issues that matter most to them as they consider who will get their vote.
"A big issue for me is the prospect of work," said 18-year-old Robyn McNerlin. She is a first-time voter and pupil at Limavady High School in Co Derry.
Ms McNerlin plans on going to university in September and is already thinking of future employment opportunities.
"We lose a lot of graduates to other countries. As someone who'd like to stay in Northern Ireland, I hope that wages will stay up with the inflation we're going through at the minute," she said.
This election has been billed as one of the most important in decades. If Sinn Féin becomes the largest party, as is anticipated, there would be a nationalist First Minister for the first time ever.
Meanwhile the DUP has said the Stormont Executive will not be restored unless issues around the Northern Ireland Protocol are resolved.
"We don't want another two years of no politicians in Stormont who are still getting paid for it, especially when that money could be used elsewhere," said Ms McNerlin.
"It's so disheartening to see the level of food banks in my community. Poverty is an issue here, and I think when we give a party the power, they should respect the position they've been given," she added.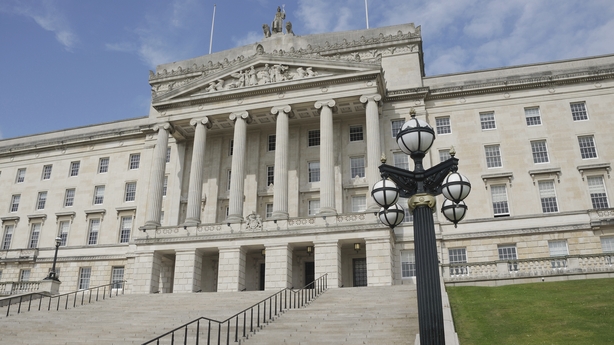 The Northern Ireland Life and Times Survey 2020 shows 49% of people aged 18-24 did not define themselves as either nationalist or unionist. But Ms McNerlin still sees segregation among her peers.
"It comes from families, and it comes from older people who instill those ideas into their children and grandchildren. But if schools were integrated more, I don't think it would be an issue," she said.
The pupils at Limavady High School are predominantly from a Protestant community background, while St Mary's, the school right next door, is Catholic.
But change is under way as the schools will soon become Northern Ireland's first completed shared education campus.
These arrangements allow pupils from different backgrounds in separate schools to come together to share classes and new buildings.
For Limavady High School student Miriam White, it is a welcome indication of a more progressive society. Her political priorities lie outside the labels between the two dominant communities.
"Specifically, one of the things that I'm focusing a lot on is that abortion in Northern Ireland was decriminalised in 2019, but since then nothing has really been put in place to make abortion and contraception resources that accessible.
"I think it's a serious issue because we're miles behind the rest of the UK," she said.
Ms White also cites mental health and climate change as being important matters for her generation. But what role does this play when she decides who will get her vote?
"It's difficult, because I find it's either a good party or a good person and they don't really line up that much. But I'm looking into specific people, specific candidates, what their values are and the values of the parties as well," she said.
Ms White is feeling excited ahead of her first opportunity to cast a ballot, but this sentiment is not shared by 25-year-old Oran McDaid.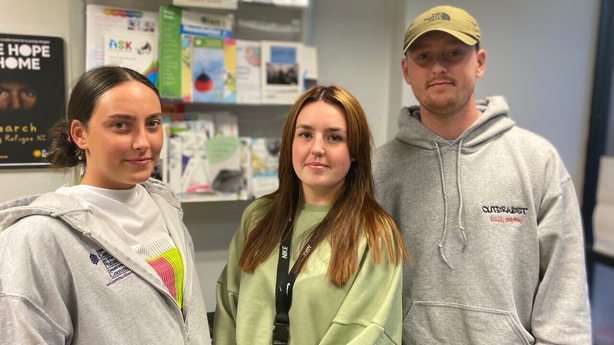 "I'll probably spoil my vote again. Probably, stupidly, out of anger. And who do I believe when they say they're going to make things change?," he said.
Mr McDaid is a youth worker in the Glenview Community Centre in Derry city.
"In the past 15 years, not much has changed in the sense of mental health. Working in a youth club and a school, I see it directly. I see young people affected by mental health," he said.
Mr McDaid said he finds it difficult to trust politicians and does not believe they can affect change in his community.
Did he always think this way?
"Not always. When I was younger, the naivety, I wanted to believe what they said. And as I got older, I don't see any changes that were promised," he explained.
He would like to see local politicians talking a lot more to young people in his area.
"Come and meet them and see first-hand the problems that they face every day. [Politicians] don't live that life. They're very well paid. They don't live on the breadline," he said.
Mr McDaid has mixed feelings about the significance of political issues such as the Northern Ireland Protocol, an Irish language act or which party will take the First Minister post.
He said he wants politics to deliver a better standard of day-to-day life.
"I see things from working with young people, I see directly issues that could be fixed quickly. See all the point-scoring politics that happens at Stormont? Forget about it. There are people suffering. Help them," he said.
Mr McDaid also thinks segregation has continued among his peers.
"We live in a really strange part of the world, and politics will always be green and orange I think.
"People vote for certain parties, probably because it's the only party they know, because their mammies and daddies are voting for that party," he said.
However, Mr McDaid is hopeful there will be positive change in the future if there is greater engagement between young people and politicians, and people stop voting solely along 'green and orange' lines.
"It needs to be understanding your local politician, understanding what they're looking for. Understanding what they're going to do for you and your family. And then vote," he added.