A proposed 20 cent levy on single-use coffee cups "sends the wrong message on sustainability" and the Government needs to rethink its strategy, according to a body representing the retail industry in Ireland.
The measure was announced earlier this year by the Government as part of the Circular Economy Bill, which is aimed at reducing waste and influencing behaviour.
Minister of State Ossian Smyth has said the levy is designed to wean people off single use containers and switch to reusable keep cups.
When announcing the measures contained in the bill in late March, Mr Smyth said the use of reusable cups for takeaway coffee dwindled during the Covid pandemic, but stressed that public health advice said they were safe and there should be no concerns about spreading Covid-19.
However, the Managing Director of Retail Excellence has now said the proposed levy sent out a mixed message to retailers.
Duncan Graham said the measure "does not make sense" and could have unintended consequences for businesses.
"The reality behind this, and where the Greens are taking us with this one, is the elimination of paper cups and the replacement of them with plastic reusable cups," he said on RTÉ's Morning Ireland.
"Paper cups are recyclable and are often compostable and we're replacing that with a plastic cup that potentially ends up in landfill, and that's a major cause of concern for us."
Mr Graham said the Government should look at providing workplaces with recyclable containers so that people can dispose of their takeaway coffee cups separately.
We need your consent to load this rte-player contentWe use rte-player to manage extra content that can set cookies on your device and collect data about your activity. Please review their details and accept them to load the content.Manage Preferences
He cited a UK study that claimed only 6% of people said they would move permanently towards a keep cup, whereas 8% would choose to forego a takeaway coffee if a levy was imposed.
He retailers do want to make sustainable changes, but the focus at the moment seems to be on reusing.
"We're just saying that alongside reuse, we also need to look at recycle, and the Government has its part to play in terms of providing those recycling points and not adding a significant cost to an industry at this moment in time."
Mr Graham also said that 80% of businesses recently surveyed by Retail Excellence wanted to become more sustainable, while 77% said they need to change some practices and adopt more sustainable products.
He said many "simply didn't know where to start" and needed advice and further direction.
Lessons from plastic bag levy
People were concerned about the plastic bag levy when it first came in but it has proven successful, a Dublin Green Party Councillor has said.
Speaking on RTÉ's Today with Claire Byrne, Cllr Donna Cooney said many coffee shops already offer a discount to customers who bring their own cup, but it has not been enough to encourage more people to do so.
She said she does not believe the levy will lead to less people purchasing takeaway coffee, as coffee has "never been more popular".
"I cannot see there being a reduction in people drinking coffee, it'll just mean that people will bring their keep cups," she said.
Cllr Cooney said councils spend a lot of money on waste collection services and this could be reduced if there were less coffee cups.
She said they are working towards a total circular economy and the reduction of packaging waste.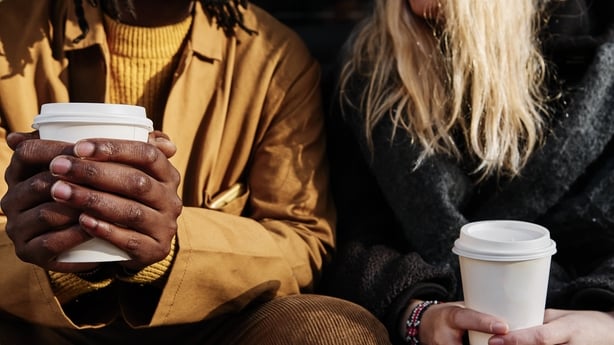 Colin Harmon from the 3fe coffee chain in the capital says the levy is a disproportionate step that will be detrimental to a number of businesses.
He said coffee shops have been involved in sustainability for many years, pointing out that 3fe first sold a keep cup in 2009.
He said his business also gives a discount to those customers who use a keep cup.
Mr Harmon said coffee shops will be worse off as a result of this move, while people will be 'hoodwinked' into thinking that coffee cups are the big problem when transport and agriculture pose much bigger environmental problems.
It is a very small problem relative to other waste, he said.
He said that he believed coffee shops were growing in popularity because they are becoming hubs where people can go and meet.
This is a good thing, he said, but costs are rising for these shops and it is getting harder and harder for business owners.
Retail Excellence is launching a Sustainable Irish Retail Action initiative tomorrow in conjunction with Champion Green to support businesses to take practical steps in becoming more sustainable.