A prototype of the world's first zero emissions hydrogen electric ambulance has been unveiled by the National Health Service (NHS) at the COP26 climate summit in Glasgow.
Parked alongside the venue for the duration of the conference, the prototype uses both electric battery and a hydrogen fuel cell for recharging.
The vehicle needs to go for road testing and safety sign off before it could be produced at scale to decarbonise the NHS fleet.
Dawn Baxter, a paramedic with the NHS, said there is already an electric ambulance working in the west midlands of England, "but the problem is with all the equipment on, just having an electric battery, we wouldn't get the right range, it doesn't go quite so far, so the hydrogen element extends the range of the vehicle, to maybe 250 miles (400km)."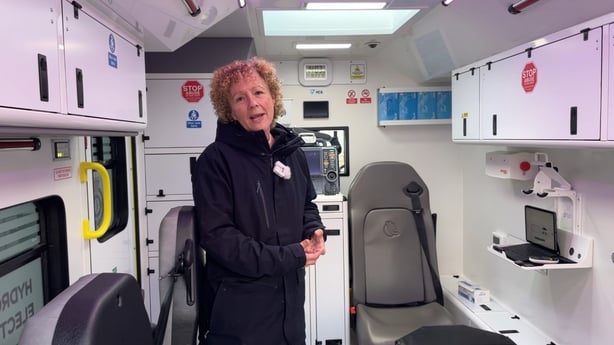 "We produce a lot of emissions from the NHS, and if we decarbonise our fleet we can reduce our emissions per year, the equivalent to 72,500 flights from London to New York."
Inside the ambulance Dawn said that the life pack - lifesaving equipment in the event of cardiac arrest - along with the lights and trolley bed all require energy from the battery.
The hydrogen tank sits in the roof of the ambulance to one side and the hydrogen fuel cell extender, which charges the battery using hydrogen, sits in the other side.
Dawn said that the battery takes roughly an hour to charge, and then as the battery wears down the hydrogen element kicks in to recharge.
Developed by the NHS and ambulance trusts in partnership with industry and funded by Innovate UK, the zero emissions ambulance is the first to integrate electric vehicle technology with a hydrogen fuel cell.