Staff at Italy's busiest airport are using augmented reality helmets to scan passenger temperatures.
Fiumicino Airport in Rome is now the first in Europe to use 'smart helmets' to check the temperature of travellers.
The helmets are equipped with portable thermoscanners that can screen people for symptoms of the new coronavirus at a very safe distance of up to seven metres away.
Airport staff wear the big black Robocop-style helmets along with masks, gloves and their uniforms.
The thermoscanner measures body temperature and a view of the scan is transmitted to the visor inside the augmented reality helmet, so whoever is wearing it can see the full body scan right in front of their eyes.
"This is a smart helmet, a helmet equipped with a thermal camera capable of detecting the infrared heat emissions of bodies passing through its range and a normal camera," explained Massimiliano Moretto, senior engineer of Sielte Spa, one of the companies that developed the helmet.
"It is able to detect the temperature of the single person but also of groups and can signal to the operator if there is a person with a temperature above a threshold set by the Italian National Institute of Health," he said.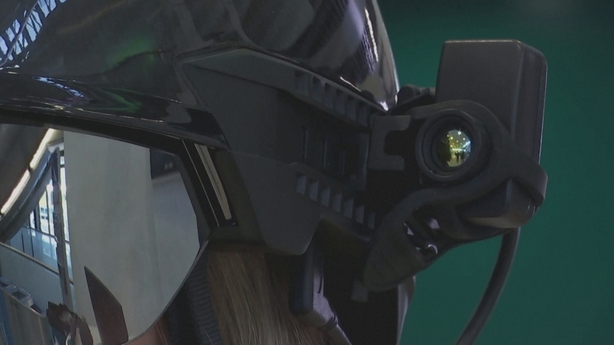 So far, three smart helmets are operational in the airport, used by staff walking around the terminals.
They hope to increase the number to five in the near future as passengers gradually begin to start travelling again.
The same type of helmets are already in use in airports in Asia.
Fiumicino airport has ramped up its safety measures after Italy began 'phase two' on Monday (May 4), a gradual lifting of its strict lockdown measures that have been in place for almost two months, sanitising every nook and cranny of the terminals from the roads outside to the suitcase trollies.
Fiumicino is Italy's busiest airport. In 2019 it had over 43.5 million passengers and in January of this year, there were over 2.7 million passengers in just one month.
Since the Covid-19 crisis, passengers are down by over 95% compared to the same period last year.
The airport closed Terminal 1 in March and has massively downsized their boarding areas.
Staff at Italy's busiest airport are using augmented reality helmets to scan passenger temperatures | Read more: https://t.co/ppaFyuQ1I1 pic.twitter.com/TxiCttAgdE

— RTÉ News (@rtenews) May 7, 2020