With negotiations under way to form the government of the 33rd Dáil, attention has moved away from last Saturday's general election.
However, one aspect of last weekend's election that should not be around to see a government formed are the election posters dotted on lampposts around the country.
The number of posters being put up by prospective TDs has fallen this time around, with more than 200 towns and villages taking part in a campaign calling on candidates not to erect posters made of single-use plastics in their areas.
The PosterFree campaign started last year around the local elections, with 160 towns and villages taking part.
The organisers of the campaign said it received a positive response, with most candidates respecting requests not to put up their posters, while those that did were asked "very kindly" to take them down.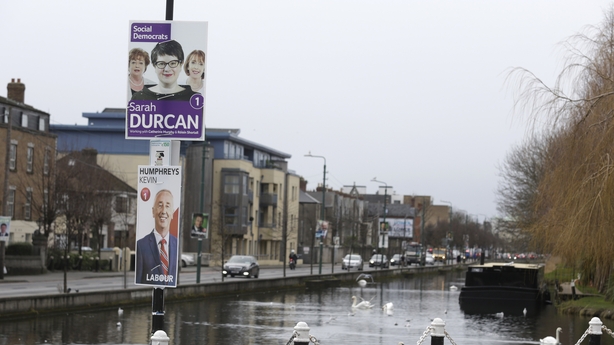 However, while the campaign meant many town and village centres did not have posters, the highways and byways of the country were still decorated with the faces and promises of candidates from all parties and none.
The erection - and removal - of election posters is covered by legislation that dictates when they can be put up, where they can be put up and also when they come down.
---
When should they come down?
The rules for election posters are covered in section 19 of the Litter Pollution Act 1997 and the Electoral (Amendment) (No. 2) Act 2009.
It stipulates that posters can go up no more than 30 days before an election, or, in the case of a referendum, not before the relevant minister signs the polling order determining the day of the vote.
Some candidates in the 2020 election jumped the gun and had their posters up before Taoiseach Leo Varadkar had even formally announced he was seeking the dissolution of the Dáil - including Mr Varadkar himself!
Regardless of when posters go up, they must be removed within seven days of polling day - including any cable ties - so campaigners have until Saturday night to take posters down.
---
On The Trail: Are you sick of seeing election posters?
We need your consent to load this rte-player contentWe use rte-player to manage extra content that can set cookies on your device and collect data about your activity. Please review their details and accept them to load the content.Manage Preferences
---
What's the penalty?
Election or referendum posters put up too early or not taken down on time are subject to an on-the-spot litter fine of €150. 
---
How do you know who put a poster up?
Posters must include the name and address of both the printer and the publisher. Failing to include this information on the face of a poster is an offence, punishable by a fine of up to €634.87 or imprisonment for up to three months, or both.
---

Are there restrictions on where posters can go?
Under the Road Traffic Act 1961, posters may not be erected if they obstruct a traffic sign, could be confused with a traffic sign, or obstruct road users' view of the road.
---
What about billboards?
Election messages on billboards are commercial advertising and are not covered by the same rules. Advertising can be bought at any time of year. Billboards are covered by planning regulations. 
---
More information on the rules can be found on the Department of Communications, Climate Action and Environment website.