Footage has emerged of queues of climbers on Mount Everest last week.
In the footage, climbers are seen holding ropes as they climb upwards.
Eighteen-year-old Rizza Alee from Kashmir, who abandoned his climb last week due to a faulty oxygen regulator, spoke of "massive traffic jams" on the mountain.
The number of dead or missing mountaineers on the world's highest mountain has risen to nine on the Nepali side during the current climbing season.
Yesterday, a 61-year-old American climber died on the descent from the summit, a Nepalese official said. The cause of Christopher John Kulish's death was unclear.
Last week, a search was called off for Irishman Seamus Lawless who had been missing. The Trinity College professor fell during his descent from the mountain at an altitude of 8,300 metres, in an area known as the balcony near the summit. He had reached the summit earlier that morning.
Kevin Hynes, another Irish climber, died while descending Mount Everest in recent days.
My Hynes, originally from Co Galway and living in London, died after he turned back during the climb before reaching the summit. The 56-year-old died in his tent at 7,000 metres in the early hours of the morning.
Ten tonnes of rubbish collected from Everest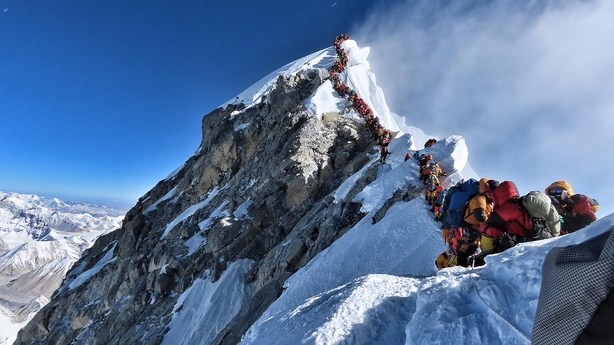 Many of the deaths on Everest this year have been attributed to exhaustion and tiredness, exacerbated because a crowded route to and from the summit has led to delays.
The route, also called the South Col route, was pioneered by New Zealander Sir Edmund Hillary and Nepalese Sherpa Tenzing Norgay in 1953.
About 5,000 people have scaled the Everest summit so far and about 300 have died on its slopes.
Two climbers are also confirmed dead on the Tibetan side of Mount Everest this climbing season.
A record 381 climbers had been permitted to scale the summit from the Nepali side this season.
About 130 others were tackling Everest from the mountain's northern side in Tibet.