An Irish climber has died while descending Mount Everest in the early hours of this morning.
Kevin Hynes, a father of two, died after he turned back during the climb before reaching the summit. The 56-year-old died in his tent at 7,000 metres in the early hours of this morning.
Mr Hynes was part of a group from UK-based climbing company 360 Expeditions which was attempting to scale the world's highest mountain.
His family said they are devastated at his death and appreciate the kinds words and sympathy they have received following his loss.
They confirmed that Kevin, originally from Newbridge, Ballinasloe, Co Galway, felt unwell while on his way to the summit of Everest, turned back and while resting in a tent at camp, he passed away.
Kevin Hynes was living in London for the last 27 years and regularly visited home. An avid and passionate mountain climber, he had achieved the summit of Everest in April 2018.
He is survived by his wife of 32 years, Bernadette, daughter Erin and son James.
In a statement, 360 Expeditions said: "It is with the greatest sadness that we have to confirm that one of our Everest team has passed away.
"Kevin was one of the strongest and most experienced climbers on our team, and had previously summited Everest South and Lhotse."
The company said Mr Hynes reached Camp 3 at 8,300 metres on Wednesday.
The statement said other climbers in the team continued up the mountain yesterday but Mr Hynes began his descent accompanied by experienced Sherpa Dawa Sangee, who had himself made the summit of Everest South twice, Everest North and Makalu twice.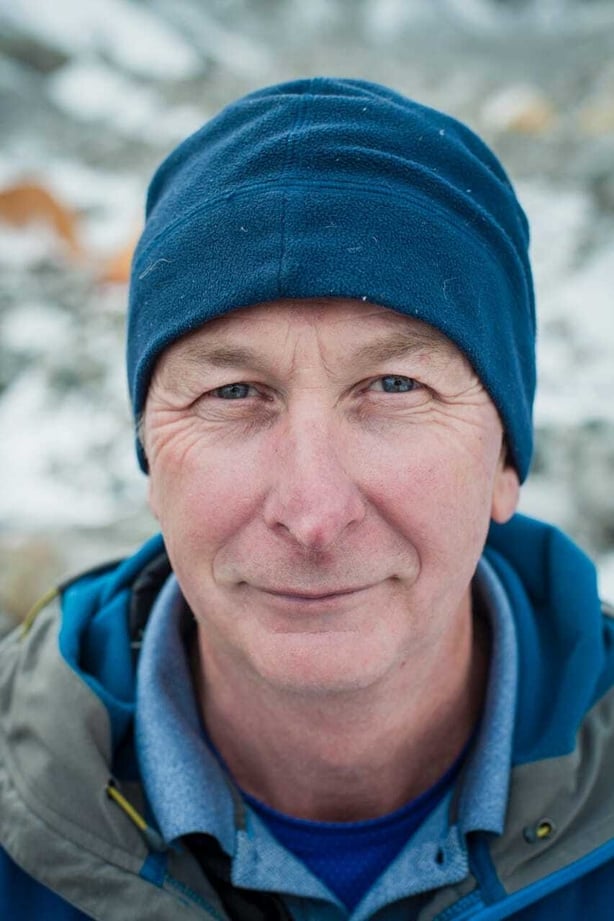 "His wonderful wife, Bernadette and two children, Erin and James are comforted by all the communication that Kevin sent out from his expedition, letting them know that, 'this was proving the most fun he had had on any one of his expeditions and the team was amazing and that he was loving being with (mountaineer) Rolfe Oostra'."

The company added: "Our heartfelt thoughts and condolences are with all Kevin's family and his friends. He really was a wonderful man and it was a great privilege to have him on our team."
We need your consent to load this rte-player contentWe use rte-player to manage extra content that can set cookies on your device and collect data about your activity. Please review their details and accept them to load the content.Manage Preferences
Former colleagues in the UK described the Irish climber as "a lovely guy". He had worked for a UK company as a contractor.
The managing director said he was "dedicated, hard working and conscientious" and "a man who followed his passions".
His death comes a week after Trinity College professor Seamus (Shay) Lawless, from Bray, Co Wicklow, fell during his descent from the peak having achieved a lifetime ambition of reaching the summit.
The search for Seamus has been called off.
Paul Devaney, co-founder of Irish Seven Summits, said Kevin Hynes had an "impressive CV" as a climber but was private about his achievements.
"He had climbed a lot of peaks in India. He had been on at least three 8,000-metre peaks. He'd summited Everest from the Nepal side last year, so he was a pretty experienced climber," said Mr Devaney.
"I think he'd been there last year so he knew the terrain a little bit. He was going back from the north side to have a different experience. He was excited about that. He'd have been on expeditions like this before in Pakistan or on Lhotse. He was used to the preparation required. He was an old hand at it, I suppose. He was looking forward to the whole expedition experience and getting back on the mountain."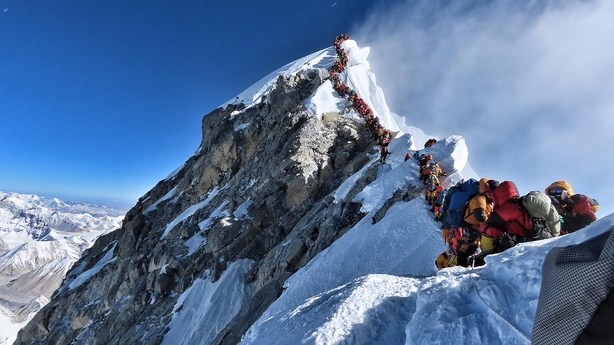 Mr Devaney said that the crowds of climbers attempting to reach the summit this week would have made the journey more difficult.
"The pictures you're seeing, that's kind of the culmination of a lot of people on the mountain this year with a very, very slim weather window. There's been two weather windows of significance. The first around the 16 of May and now we're into the second which started around the 22. So there were a lot of people vying to get through that window this year and it makes it very difficult from High Camp, from Camp 4 when you get over 8,000 meters, from there the terrain is difficult and the margins are razor thin on that ridge, so to try and focus when you're in a long group is difficult. To try to get some momentum is difficult. It must have been a very frustrating experience for those that were involved," he said.
Mr Devaney also said that the loss of two Irish climbers this week is "heartbreaking" for the local climbing community.
"A lot of people will, through different experiences, know Shay or know Kev. They'll either have been on climbs with them before or know them through different communities. It's been heartbreaking for everyone in the community and we've just been trying to do everything we can small or big to support the families.
"What you saw this year with Irish climbers on Everest - there were six Irish climbers on Everest this year - that's pretty normal. We've had 5-6 climbers every year on Everest now for the best part of a decade, so the trends in terms of the number of Irish people going there has not really moved. But clearly the trend in terms of global footprint on the mountain has. These two unfortunate fatalities are away from that narrative. They're separate and both in their own way unfortunate, very sad."
Meanwhile, four other climbers, two women and a British man among them, have died of exhaustion while descending the slopes of Everest, Nepali officials said yesterday.
The deaths took the toll from a deadly week on the world's highest peak to 10, expedition organisers and officials said.
"A British climber made it to the summit this morning, but collapsed and died only 150 metres down," said Murari Sharma of Everest Parivar Expedition.
More than 120 climbers scaled the world's highest mountain yesterday, but some of them were caught in the crowd of people on the slopes, leading to exhaustion, dehydration and death, Nepali officials said.
Hiking officials say between five and ten climbers die on Mount Everest in an average climbing year.
Additional reporting: Colm Ó Mongáin